Saturday, July 30, 2022 at 11:30 a.m. ET to 7 p.m. ET
SAAM Arcade returns to the Kogod Courtyard this year! Join SAAM for our beloved annual celebration of creativity and innovation in games. This year, we're welcoming visitors back to the museum, featuring the 2022 Indie Developer Showcase and a curated selection of eight indie games presented by their developers! Visit the museum for a day full of new games as well as classic arcade and console games from MAGFest. A special scavenger hunt that connects video games and SAAM's collections will be available at the information table.
For video game lovers who can't make it in person, we're also excited to announce our 2nd annual SAAM Arcade Game Jam!
Centered around the theme of  Color, Line and Form,  SAAM Arcade 2022 explores the essential elements of visual expression. Armenian-American artist Arshile Gorky said "abstraction allows man to see with his mind what he cannot see physically with his eyes." When we break something down into its most basic features, innovation and creativity emerge in new and unexpected ways. Game developers use these same essential elements to create an interactive experience for players, relying on color, line and form to tell complex narratives and engage broad audiences.
SAAM Arcade has always centered around questioning the boundaries of art, and 2022 is no different! If  Color, Line and Form are the essential elements of visual expression, what are the essential elements of a game? Is it the code or the control? What about the rules or rewards? SAAM is proud to display independent games that reimagine how color, line, and form can be used to create unique experiences for developers, players, and observers.
SAAM Arcade is made possible by the generous support of Events DC.
What is an Indie Game?
At SAAM, we define an indie game as a game that has not been produced with support from or published by a major games publisher. However, we like to keep our definition broad and invite a variety of developers—from single individuals who create in their spare time to game development teams or studios with existing ties to the industry—so everyone can participate in and enjoy SAAM Arcade's Indie Developer Showcase. At past SAAM Arcade events, we've hosted games from university game labs, developers who are still in high school, professional game developers, and artists who create interactive experiences.
SAAM Arcade 2022 Game Jam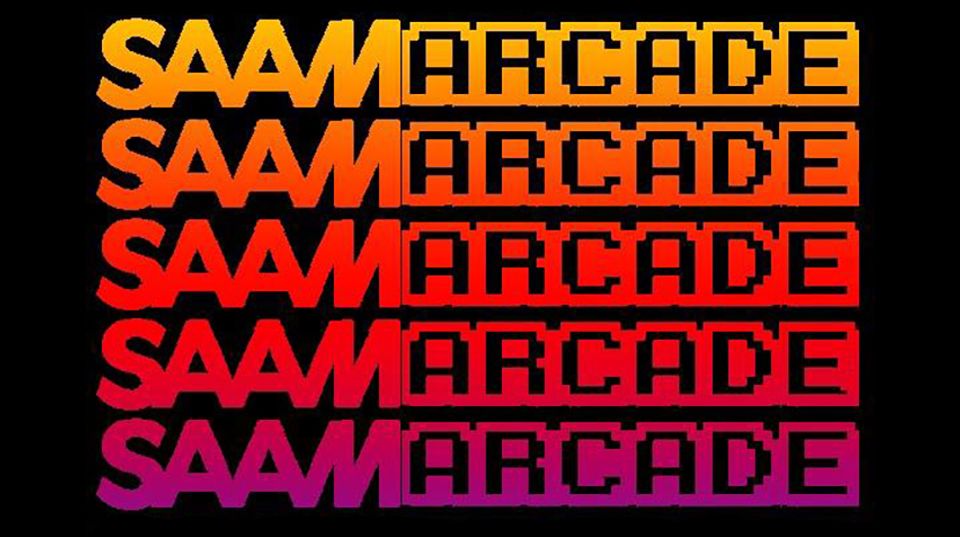 Thursday, July 28-Sunday, July 31
As part of this year's SAAM Arcade programming, we will once again be hosting Game Jam: an online opportunity to create and submit your very own game! This jam is open to all, and participants can work solo or as part of a group. Games of all formats--print-and-play tabletop games, mobile games, online games, etc--are welcome. In addition to this year's SAAM Arcade theme, we also encourage participants to draw inspiration from the collection of the Smithsonian American Art Museum and to look to the extraordinary creativity and diversity of American voices as they create games for this jam.
This is the perfect opportunity to try your hand at making your own video or tabletop game. Interested developers, artists, and creators are given one week to create brand-new games centered around our theme of community and individuality. We are partnering with IGDA DC to present this new SAAM Arcade format that allows for our community to come together to develop new and innovative games. Develop and submit a game on your own or form a collaborative team and create with friends, peers, or colleagues. The jam will be hosted on itch.io, a virtual open marketplace for independent digital creators focused on playing, building, and sharing independent video games.
A dedicated Discord server will be hosted and moderated in collaboration with IGDA DC. As the local DC chapter of the Independent Game Developers Association, IGDA DC will offer technical assistance to participants and help the long-standing SAAM Arcade community come together virtually and develop new and innovative games.
What is a Game Jam?
A game jam is an opportunity for communities of developers, artists, designers, writers and gaming enthusiasts to come together to develop brand new never before seen or played games. Often focused around a central topic or theme, jam participants try to make a game from scratch. Depending on the format of the jam, participants may work independently, or in teams. Jams are often set for a duration of time usually ranging from 24 hours to 48 hours, but some jams can last as long as a month. A jam is an opportunity to experiment, get creative and explore advancements in independent gaming.
SAAM Arcade 2022 Game Day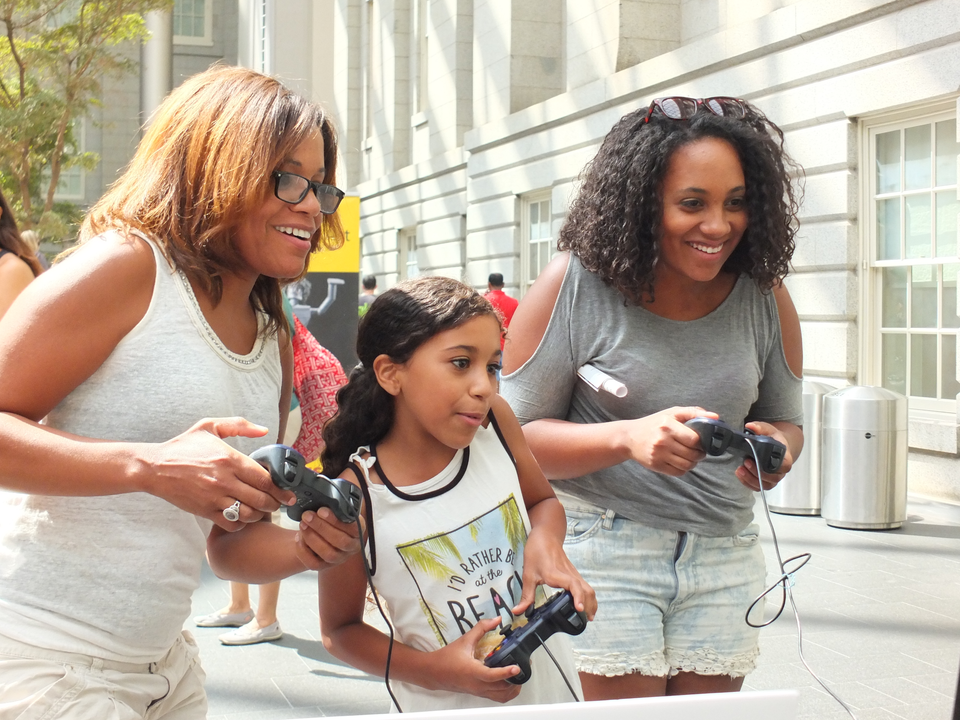 If you are looking to play games rather than develop them, SAAM Arcade 2022 Game Day is for you!
Be the first to play the latest and greatest independent games. Beginning August 1, the games created during the SAAM Arcade 2022 Game Jam will become available for play on itch.io to revisit and enjoy indefinitely. This is your chance to play brand-new cutting-edge games and celebrate the community of developers, artists, designers, writers, and gamers that make SAAM Arcade such a special annual event.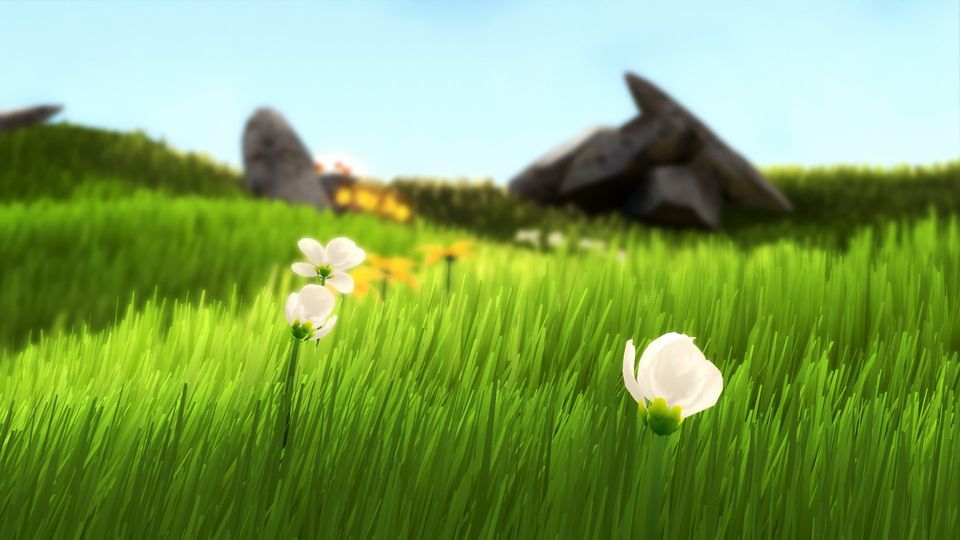 Read more about the current and past SAAM Arcade programs, explore the themes, and and learn more about what makes a game jam on the Eye Level blog. 
Read About Previous SAAM Arcade Events
SAAM Arcade 2020
Online, Saturday August 1 – Sunday August 2, 2020
In 2020 SAAM moved its annual SAAM Arcade activities online. During this two-day virtual program, participants were able to explore how video games act as a medium for expanding the way Americans tell and experience stories. We offered exclusive limited-time access to play the latest independent games featured in our Indie Developer Showcase. Additionally a special screening of the feature-length documentaries Indie Game: The Movie and Not for Resale premiered online. Finally, families were encouraged to let their creativity shine with step-by-step instructions for video game–inspired crafting at home.
2020 SAAM Arcade Indie Developer Showcase
The 2020 SAAM Arcade Indie Developer Showcase honors the 100th anniversary of the ratification of the 19th Amendment, granting women suffrage. Each of our featured games explores the role of women in affecting major change in society, the political sphere, and the gaming industry.
The struggle to change the status quo has always been present in video games. Many of the most notable relationships in game narratives are centered on the underestimated individual, striving against the dominant force. The most iconic game characters—Mario, Lara Croft, Ms. Pac-Man—face ongoing struggles that can only be overcome by a combination of resourcefulness, skill, and tireless dedication. The American mythos shares this legacy with video games. Our nation's greatest heroes go against the grain, fighting to create a better world for themselves, their friends, families, and the American people.
The fight for women's suffrage was not the first fight for American rights, nor was it the last. To this day, we look to great reformers and activists as American heroes and celebrate individuals who stand up against tyranny and injustice and work toward a better future for themselves and their descendants.
The games featured in our Indie Developer Showcase are either made by women, feature women's narratives, or memorialize women's history in America. Check out each of these game-changing developers and the stories they share through their work.
Each game featured in the Indie Developer Showcase is appropriate for all ages.
Developers: Elizabeth LaPensee, Nichlas Emmons, and Weshoyot Alvitre
When Rivers Were Trails is a 2D point-and-click adventure game that reveals the impact of colonization on Indigenous communities in the 1890s. Developed with the collaboration of two Indigenous women, Elizabeth LaPensee and Weshoyot Alvitre, this game features gameplay focusing on strong women and two-spirit Indigenous characters. Over thirty Indigenous writers contributed to character scenarios, each speaking to the importance of recognizing Indigenous voices in video games.
Developers: Catherine Croft, Keegan Herschel, Gabriel Lewis, Elizabeth Cherry, Lisa Harrison, Eeshan Joshi, Xander Schaaf, and Oliver Steenman
Starsmith is a dice-rolling battle game where players act as popular constellations from the night's sky to capture elements from the galaxy to build their own stars. Players take on the role of constellations with female and male namesakes who duel each other through dice rolling and card drafting. Embedded within the game are concepts of chemistry and STEM, which allow players to learn without realizing it throughout the game. Created by a female neuroscientist and game designer with a passion for board games, this creative, non-violent battle game represents gender equality, with equal distributions of roles despite the overwhelming dominance of male-attributed constellations present in the night sky. Play Starsmith online or print-and-play with a ten-sided die.
Half
Developer: Emma Kidwell
Half is a text-based game that touches on the struggle of identity growing up mixed-race, where players walk through the experiences of a mixed-race woman. Half examines the nuances and complexities that come with being on the fringe of two identities through personal anecdotes. Developed using the open-source tool Twine, this text-based game emphasizes plot and storytelling as a vehicle for progress gameplay. This model allows the developer's story to take precedence over aggressive gameplay mechanics and visuals.
The Girl With The Gray Hair Awakens
Developers: Heiden
The Girl With The Gray Hair Awakens is a game of perseverance and resilience. Play as a girl who wakes up in a room with no memory, forced to investigate her surroundings to piece together what previously transpired. Inevitably during gameplay, the player will encounter a death scene, forcing them back to the main menu. When the player starts again, the character and surroundings shift slightly. Only by playing through multiple times and persevering through multiple failures will the girl, and the player, finally reach the true ending to accomplish great things.
Developers: Tabea Iseli, Dominik Wolfinger, Dragica Kahlina, Stjepan Lukac, and Lauren Moses 
AVA is a tarot card game that features puzzles hidden within a picture, which must be solved. There is an emphasis on aesthetics, story, and music while the game mechanics are kept simple. The game's fairy-tale narrative explores issues of gender, discrimination, prejudice, and mental health. Players will be able to engage with topics and subjects raised by the game in a passive and safe environment and use online social systems to invoke discussion and debate among players. AVA shows that games can be poetic, nonviolent, and tell a wholesome, touching story that promotes empathy and understanding. Available for download in the IOS and Android app store.
Crafting At Home
Do you love video games? Do you have some extra cardboard boxes lying around the house? Bring the world of video games to life with these simple crafts. Depending on how large of a creation you want to make, this craft should take anywhere from 30 to 60 minutes.
Since we can't admire your creativity in person, please share a picture of your completed creations by using #AtSAAM on social media.
Create Your Own Pixel Artwork 
Supplies needed: 
Scissors
Cardboard Box
Glue
Markers/Crayons/Colored Pencils
On a piece of paper, plan out the pixel design you want to make.
Cut out two pieces of cardboard and draw a grid onto both pieces.
Once you have drawn the grid on each sheet of cardboard, cut out the individual squares on the first sheet of cardboard. On the second sheet, mark where each pixel will be placed.
Glue pixels to your carboard sheet.
Color in each pixel.
Create Your Own Shield 
Supplies needed:
Scissors
Cardboard Box
Glue Markers/Crayons/Colored Pencils
Print out the shield template.
Cut out the shield template.
Paint the shield.
SAAM Arcade 2019
Kogod Courtyard, Saturday, August 3 – Sunday, August 4, 2019
The SAAM Arcade 2019 theme, "breaking barriers," showcased projects that recognize and relish the diversity of gaming audiences, allowing a wide-array of players to see themselves and their interests reflected on screen.
At SAAM, we believe that video games are a medium that has a great capacity for expanding the way Americans tell and experience stories. We also believe that this potential will only be fully realized when game makers, players, characters, companies and cultures are diverse and when all participants receive equitable and respectful treatment within these communities. SAAM Arcade strives to highlight traditionally underrepresented segments within the gaming world by celebrating diversity within this artistic medium.
2019 Keynote Talk
2019 Blog Posts
Eye Level, June 27, 2019, "SAAM Arcade: Breaking Barriers"
Eye Level, July 11, 2019, "SAAM Arcade: Empathy in Gaming"
Eye Level, July 30, 2019, "SAAM Arcade 2019: Representation Matters"
Eye Level, August 15, 2019, "Game Over: Images from SAAM Arcade 2019"
For more information, email us at SAAMArcade@si.edu
For more information about IGDA DC and technical assistance during the SAAM Arcade 2022 Game Jam join the IGDA DC - SAAM Arcade Discord server. The server goes live soon.