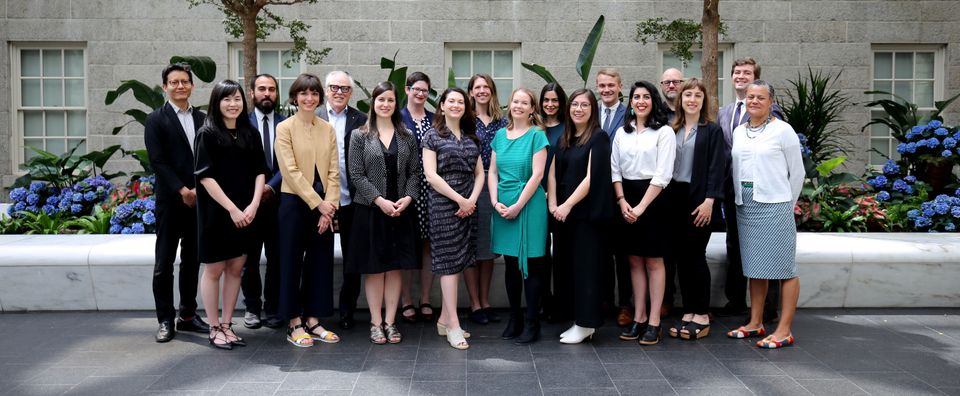 The Smithsonian American Art Museum (SAAM) and its Renwick Gallery invite applications to its premier fellowship program, the oldest and largest in American art. Scholars from any discipline who are researching the art, craft, and visual culture of the United States are encouraged to apply. Fellowships are residential and support full-time research in the Smithsonian collections. SAAM seeks a diverse pool of applicants and especially welcomes candidates with an understanding of the experiences of groups historically underrepresented in the field of American art.
The museum hosts a number of fellows each year through the Smithsonian Institution Fellowship Program (SIFP), and also awards its own named fellowships to candidates from this general pool. Only one application is necessary. All candidates should apply to the SIFP. The deadline is November 1, 2022.
Applicants must identify a member of SAAM's research staff to serve as primary advisor for the fellowship in order to hold a residency at this museum. They are encouraged to notify the potential advisor in advance of their application. To identify an advisor, browse the museum's staff listings in the Smithsonian Opportunities for Research and Study guide or search our Staff Bios. Applicants to the SIFP who propose a SAAM primary advisor will automatically be considered for the museum's named fellowships:
The Will Barnet Foundation Fellowship funds a full year of research on a topic related to American modern art, including its influence on later generations.
The Joe and Wanda Corn Fellowship is endowed by their former students Mike Wilkins and Sheila Duignan and supports scholars whose research interests span American art and American history. The recipient will be jointly appointed at SAAM and the National Museum of American History and will draw on the resources of both museums.
The Douglass Foundation Fellowship in American Art supports a full year of predoctoral research in American art.
The Patricia and Phillip Frost Fellowship is offered to support research in American art and visual culture.
The George Gurney Fellowship funds a six-month research appointment in American sculpture in honor of the distinguished career of SAAM's former curator of sculpture. Residencies should take place June–December 2023 or January–August 2024. Contribute to this fund
The Joshua C. Taylor Fellowship is intermittently awarded and is supported by alumni and friends in memory of the museum's former director and founder of the fellowship program. Contribute to this fund
The Terra Foundation Fellowships in American Art expand narratives of American art by fostering inclusive and equitable research that centers undervalued and underrepresented artists and communities. Fellowships of three to twelve months are available at the predoctoral and postdoctoral levels, and ten-week summer graduate fellowships are open to MA and PhD students who have not yet advanced to candidacy. Eligible projects may focus on the art and visual culture of any period, including contemporary art, provided that it engages with historical American art, U.S. history, or American art history and relates to the collections of the Smithsonian Institution.
The William H. Truettner Fellowship supports six months of research in recognition of Mr. Truettner's career of nearly fifty years as a curator of painting and sculpture at SAAM. Residencies should take place June–December 2023 or January–August 2024. Contribute to this fund
The Windgate Foundation supports a yearlong fellowship for the study of American craft.
The Wyeth Foundation Predoctoral Fellowship is awarded for the advancement and completion of a doctoral dissertation that concerns the study, appreciation, and recognition of excellence in all aspects of American art.
Applicants conducting research with Indigenous communities should provide information on the current state of consultation, appropriate contacts, and plans for sharing research findings with these communities. A tribal letter of approval or tribal community endorsement will strengthen a proposal and may be submitted as an additional reference letter.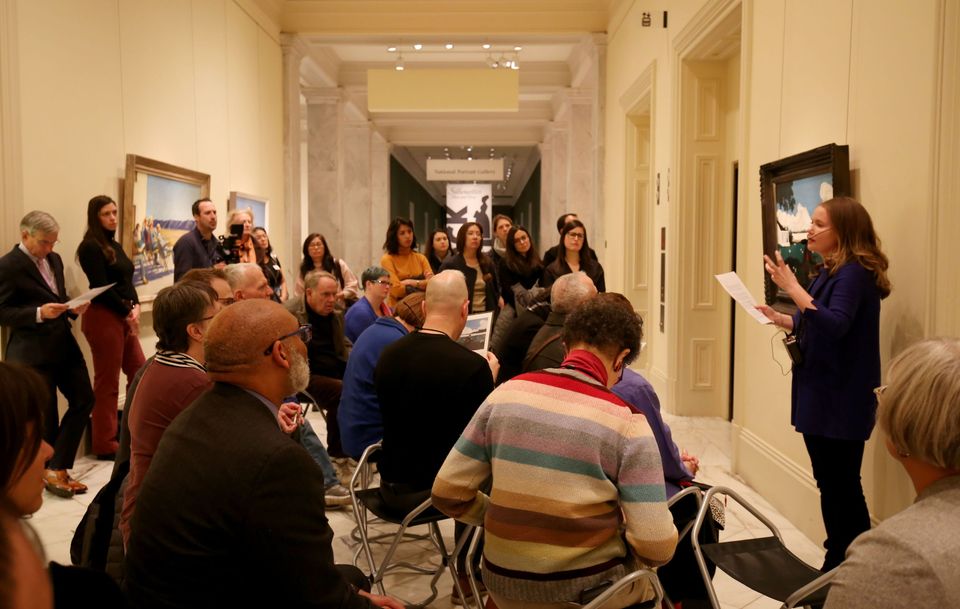 Fellowships are available for graduate students, PhD candidates, postdoctoral researchers, and senior scholars from any discipline who are pursuing research on American art:
Graduate student fellowships support independent research by MA and PhD students who have not yet advanced to candidacy. Students must be formally enrolled in a graduate program of study at a degree-granting institution and must have completed at least one full-time semester or its equivalent at the time they apply.

Predoctoral fellowships are for those who have completed coursework and preliminary examinations for their doctoral degree and are engaged in dissertation research.

Postdoctoral fellowships are available to support specific research projects by scholars who have earned a PhD or equivalent within the last seven years.

Senior fellowships are intended for scholars with a distinguished publication record who have held their doctoral degree for more than seven years or who possess a commensurate record of professional accomplishment.
Applications will be evaluated on the originality and quality of the proposed research project; its compatibility with Smithsonian collections, facilities, staff, and programs; its contribution to a more equitable and inclusive history of American art; and the applicant's academic standing, scholarly qualifications, and experience. SAAM believes that recruiting and maintaining an equitable, inclusive, and diverse cohort of fellows is critical to our mission. We welcome applications from qualified persons of color; who are Indigenous; with disabilities; who are LGBTQ+; first-generation college graduates; those from low-income households; and who are veterans. The Smithsonian does not discriminate on grounds of race, color, religion, sex (including gender identity, sexual orientation, and pregnancy), national origin, age, or disability.
No employee or contractor of the Smithsonian Institution may hold a Smithsonian fellowship during the time of their employment or contract, nor may an award be offered to any person who has been employed by or under contract to the Institution in the previous year, without the prior approval of the Office of Academic Appointments and Internships.
The stipend for a one-year fellowship is $42,000 for predoctoral scholars and $55,000 for postdoctoral and senior scholars, with an allowance of up to $5,000 available for short research trips. Additional allowances may be provided to help with temporary relocation to the Smithsonian and the cost of health insurance. The standard term of residency is twelve months, but terms as short as three months are available with prorated stipends. Residencies must take place between June 1, 2023, and August 31, 2024.
Graduate student fellowships are available for ten-week terms and are awarded a stipend of $8,000. An additional allowance may be provided to assist with temporary relocation to the Smithsonian. Residencies are available in June, July, and August.
The Smithsonian Office of International Relations will assist with arranging J-1 exchange visas for fellowship recipients who require them.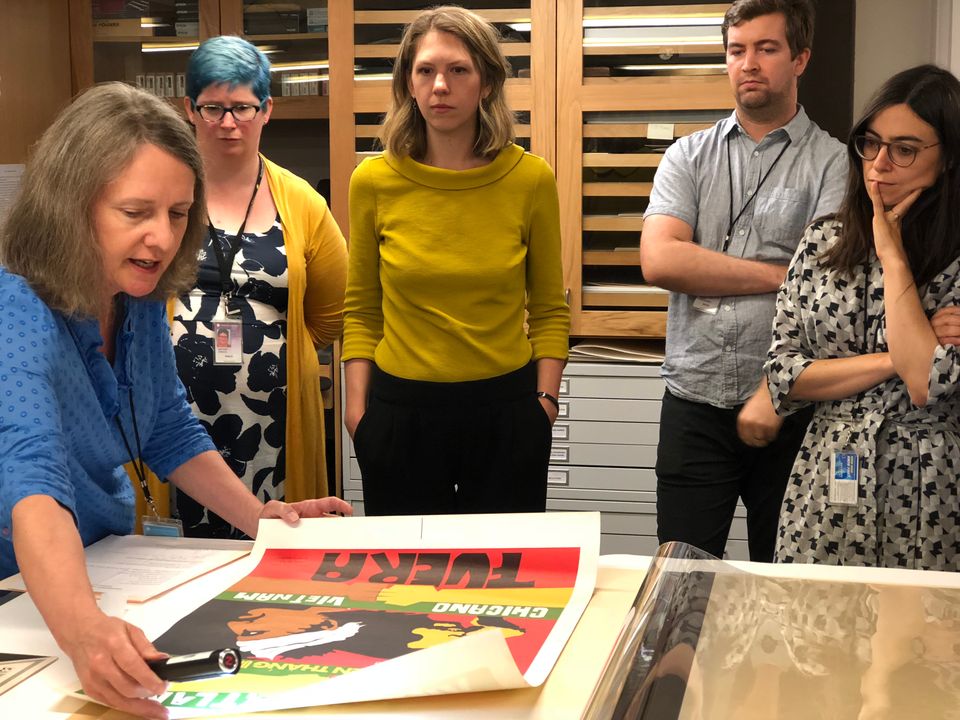 The holdings of the Smithsonian American Art Museum reveal the United States' rich artistic and cultural history from the colonial period to today. This unparalleled collection of over 45,500 works by more than 13,000 artists includes special strengths in nineteenth- and twentieth-century sculpture, nineteenth-century landscape painting and imagery of the American West, Gilded Age and American impressionist painting, twentieth-century realism, New Deal art, photography and graphic art, self-taught art, Latinx art, work by African American artists, and time-based media. The collection is housed in a National Historic Landmark building—shared with the National Portrait Gallery (NPG) and the Archives of American Art—where the expansive holdings of the Luce Foundation Center, a three-story visible art storage facility, can be accessed on a daily basis. Contemporary American craft and decorative art are featured in the Renwick Gallery, a branch of the museum located across from the White House.
Each scholar is provided a study carrel in SAAM's Research and Scholars Center, situated across the street from the museum. There, fellows have access to a 180,000-volume library that specializes in American art, history, and biography; the Archives of American Art; the graphics collections of SAAM and NPG; the Joseph Cornell Study Center; and the Nam June Paik Archive, as well as a variety of image collections and research databases. Located in downtown Washington, D.C., SAAM's Research and Scholars Center is a short walk from other Smithsonian museums and libraries, the Library of Congress, the National Archives, and the National Gallery of Art. Regular lunchtime seminars, workshops, public lectures, and symposia provide a forum for lively scholarly exchange and professional advancement.
SAAM Also Hosts Fellows From These Programs
For Other Smithsonian Opportunities