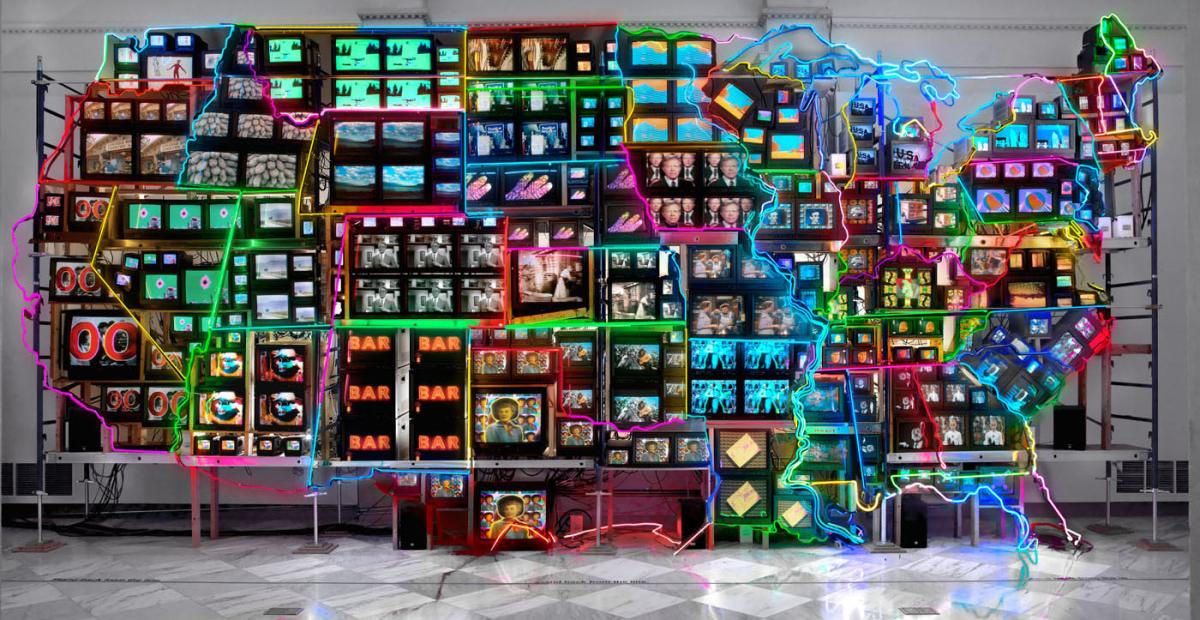 Where Will American Art Take You?
We are pleased to welcome you to the Smithsonian American Art Museum and Renwick Gallery
Thank you for your continued support as we gradually reopen. We are delighted to welcome visitors back into our galleries and hope you enjoy your visit!
Know Before You Go: What's New
Please review the recent changes below as you plan your visit. 
SAAM is open Tuesday through Sunday from 11:30 a.m. to 7 p.m. The Renwick Gallery is open Tuesday through Sunday from 10 a.m. to 5:30 p.m.
Masks are not required when visiting Smithsonian museums or the National Zoo. Visitors may choose to wear a mask during their visit.
Double Take Online: Feast Your Eyes
Bring your appetite for art and food history and dig into breakfast tacos with two Smithsonian experts. Join SAAM and the National Museum of American History for this engaging virtual program that reveals the personal and cultural significance of the foods we eat. Register now.
Stephanie Stebich, the Margaret and Terry Stent Director, discusses the 50th anniversary of the museum's Renwick Gallery as the nation's premier museum dedicated to American craft and the Renwick's new exhibition This Present Moment: Crafting a Better World. Read more.
This Present Moment: Crafting a Better World showcases American craft like never before! Celebrate the 50th anniversary of SAAM's Renwick Gallery as the nation's premier museum dedicated to American craft with a stunning exhibition that activates both floors of gallery space. Highlighting more than 170 artworks from the museum's permanent collection, many never before seen at the Renwick, these artworks push the boundaries of what we interpret the handmade to be in the 21st century. Now on view.
Latest Blog Post
New exhibition celebrates the 50th anniversary of SAAM's Renwick Gallery
Drawn to Art: Ten Tales of Inspiring Women Artists
Drawn to Art is a comic series that illuminates the stories of ten women artists whose artwork is represented in the SAAM's collection, some of whom may not have received the attention they deserved in their lifetimes.
The daughter of a Haitian father and an Ojibwe mother Lewis overcame many obstacles before finding success as a sculptor in Rome, where her fame brought countless visitors to her studio.
Read the Story
Born in Berlin, Albers studied at the prestigious Bauhaus, the innovative school of art and design. There, she discovered weaving and began to incorporate her own ideas using unexpected materials such as yarn, cellophane, and metallic thread. Her life changed when she moved to America to flee Nazi persecution.
Read the Story
Kay Sekimachi and her family were forced into a Japanese incarceration camp during WWII. There, she spent her time making art. After the war, she discovered weaving and her mastery of techniques earned her the sobriquet "the Weaver's Weaver."
Read the Story
Celebrated artist Sonya Clark discusses how her work speaks to intersecting themes of history, race, and culture in the United States. From human hair and combs to flags and U.S. currency, Clark utilizes unconventional craft materials to create powerful artworks that inspire reflection on who we are individually, collectively, and as part of an imperfect nation. 
Clark's work Monumental will be featured in the upcoming exhibition This Present Moment: Crafting a Better World, opening at SAAM's Renwick Gallery on May 13.
Discover artworks recently added to the collection in New Acquisitions.
View New Acquisitions
Learn more about recently acquired artworks on SAAM's blog 
 
Looking for an elegant and dazzling location to host an event in 2021, and beyond? Contact us, and let us help you make your event unforgettable.
Local and national programs for teachers, students, and adult learners offer year-long professional opportunities for growth, learning, and professional development.
Immerse yourself in Google Street View's 360° museum images from anywhere.
Museum from Home: Crafting Edition
Enjoy the latest step-by-step guide to at-home crafting with SAAM's craft master, and check out our video library of crafting projects from past Handi-hour events.