Artist
Albert Pinkham Ryder
born New Bedford, MA 1847-died New York City 1917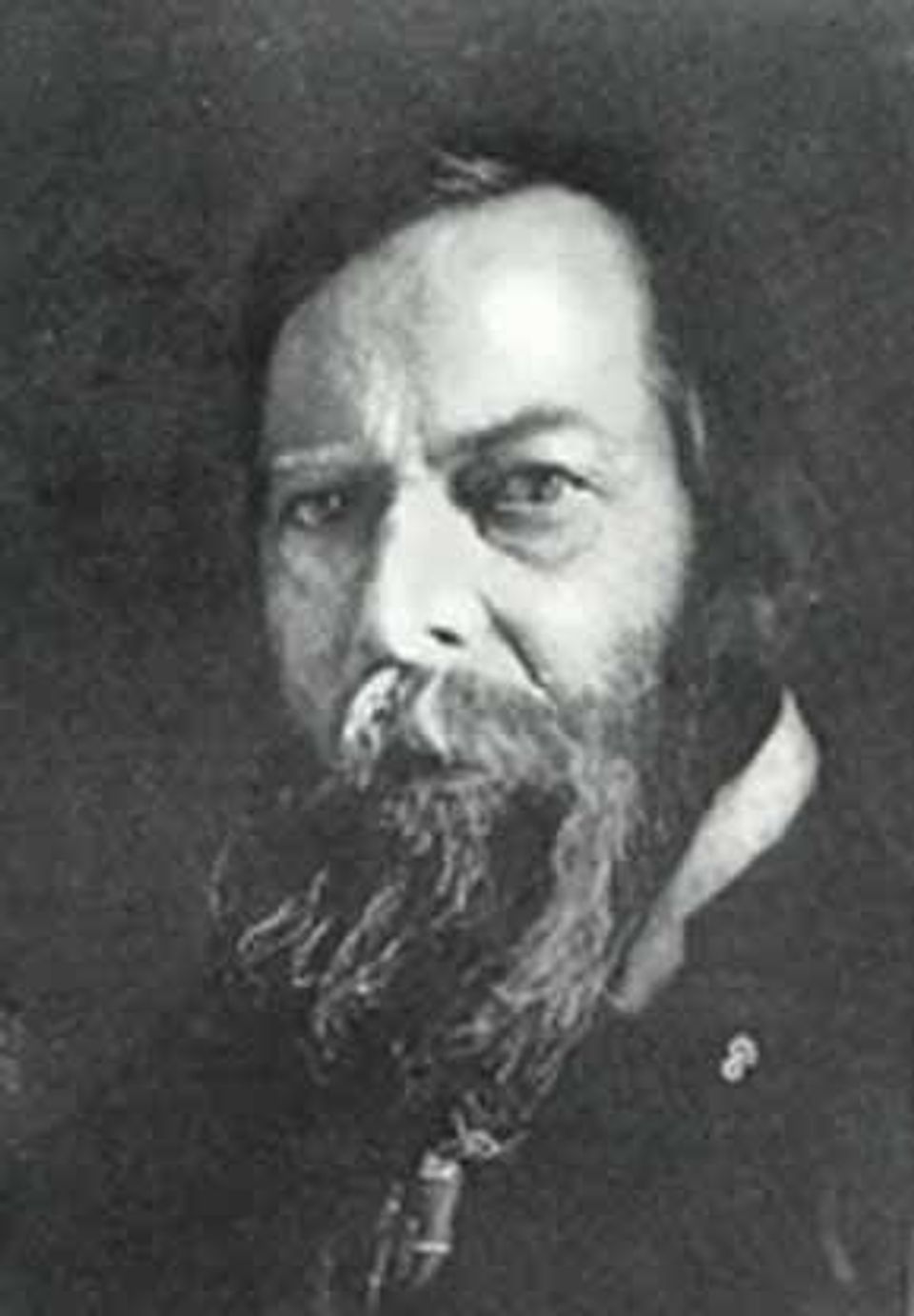 Biography
Painter. Themes of nature, literature and religion dominate his visionary, romantic and highly imaginative paintings. The Race Track (Death on a Pale Horse) (ca. 1880s–90s) is a significant work.
Joan Stahl American Artists in Photographic Portraits from the Peter A. Juley & Son Collection (Washington, D.C. and Mineola, New York: National Museum of American Art and Dover Publications, Inc., 1995)
Artist Biography
Albert P. Ryder was a descendant of Cape Cod families, and his paternal grandparents belonged to a strict Methodist sect whose women dressed Quaker fashion. In 1840 the family moved to New Bedford, then the greatest whaling port in the world, and it was there that Albert was born in 1847. In 1879 the family moved to New York, Ryder's home for the rest of his life.
He studied for a time at the National Academy of Design, and also under the portraitist and engraver, William Marshall. His first recorded exhibition at the National Academy was in 1873. In 1877 he went to London for a month and in 1887 and 1896 he crossed and recrossed the Atlantic on a ship captained by a friend of his.
The preceding information is a selection of the facts of Ryder's biography; [T]he facts do not illumine his gifts and his personality. As Barbara Novak observed, Ryder's entire oeuvre, religious or secular, might be seen as an act of devotion. Ryder painted two versions of the Easter morning encounter of Christ with the Magdalene, another version of the Way of the Cross, the extraordinary Jonah, and many small seascapes. The latter are the work of a visionary and a romantic, one who sees all of nature within the purview of the Almighty, as is also the case in his Jonah.
In studying Ryder's work, it is interesting to discover that the human figure is most fully realized in the paintings with religious subject matter; in the two paintings of Christ and the Magdalene, and the Joan of Arc, the figure is larger in scale, and rendered with more detail, and more psychic identity than is the case in his other works. In the filtered daylit or moonlit land- and seascapes (actually the terms land- and seascapes with their suggestion of horizontal extension in space do not seem appropriate for these glimpses of nature distilled by the hand and the spirit of Ryder), the human figures are embedded in nature, their posture and gestures hardly distinguishable from their setting.
Lloyd Goodrich says that Ryder is "one of the few authentic religious painters of his period" in whom religion was not mere conformity, but deep personal emotion. The life of Christ moved him to some of his most tender and impressive works."
Because of Ryder's method of working on his canvases over long periods of time, applying layers of pigment upon earlier coats which were not entirely dry, his paintings are in fragile condition. Many of them can only survive in entirely controlled and stable conditions.
Jane Dillenberger and Joshua C. Taylor The Hand and the Spirit: Religious Art in America 1700–1900 (Berkeley, Cal.: University Art Museum, 1972)
Luce Artist Biography
Albert Pinkham Ryder moved to New York with his family in the late 1860s. He applied to the National Academy of Design but failed the entrance exam. On his second try he passed, but rebelled against the traditional discipline and eventually abandoned realistic painting to express his feelings in "great sweeping strokes." In 1878 he was asked to join the Society of American Artists, a group protesting the strict requirements of the academy. Ryder became a recluse as he grew older, maintaining contact with the world only through a few trusted friends. He would often spend months or even years reworking a canvas. One frustrated client claimed that he had to leave instructions for his funeral procession to stop at the artist's studio in order to collect his long-awaited painting. Ryder supposedly replied that "it couldn't go out then unless 'twas done." (McBride, "News and Comment," quoted in Broun, Albert Pinkham Ryder, 1989)