Since its founding in 1987, American Art has been an indispensable source for scholars, educators, curators, museum-goers, collectors, and professors and students at colleges and universities worldwide. The journal critically engages material and conceptual conditions of art and provides a forum for the expanding field of American art history. It considers the role played by art in the ongoing transnational and transcultural formation of America as a contested geography, identity, and idea. Full-color plates and concise prose offer broad appeal.
Learn more about American Art's new professional development program, Toward Equity in Publishing.
Current Issue – Spring 2023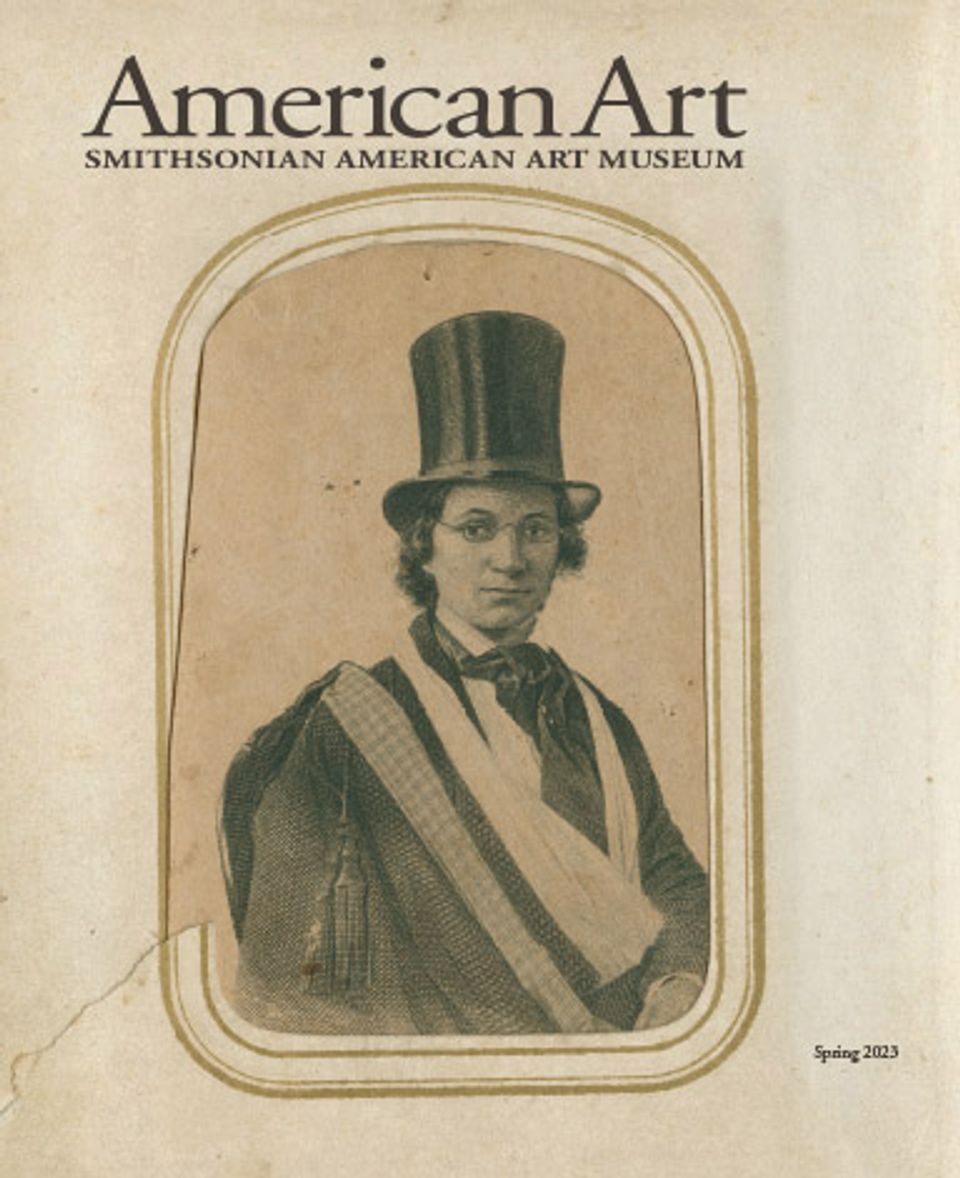 Subscribe to American Art
A one-year subscription for individuals costs $50, and provides full online access to all back issues of American Art. Members of Friends of the Smithsonian, Smithsonian National Associates, American Studies Association, and the College Art Association receive subscriptions at the discounted price of $40. The rate for students is $35. Higher rates apply for institutions.
For information on subscribing, purchasing single issues, or submitting articles to the journal, which is published for the museum by the University of Chicago Press, please visit http://www.journals.uchicago.edu/amart. This link also acts as a portal to the electronic edition of the journal.
Call for Papers: "Questionnaire: The Animacy of Objects"
Deadline: August 15, 2023
American Art seeks to publish papers demonstrating cultural perspectives that recognize objects as animate beings. Authors are invited to submit brief essays in reply to this question, posed by co-organizer heather ahtone (Choctaw/Chickasaw Nation): How does acknowledging and engaging with objects as animate beings—recognizing them as relatives and respecting that they carry a form of peoplehood—expose the knowledge they hold and carry, knowledge that is otherwise invisible and unrecognized?
Contributors are encouraged to interrogate how the Western discipline of art history, and particularly the focus of this journal — the role played by art and related visual culture in the ongoing transnational and transcultural formation of "America" as a contested geography, identity, and idea — would benefit from these perspectives. Toward this goal, essays are welcome from scholars who are working both within and beyond North American topics, as well as those coming from other disciplines and fields, including artists, art historians, linguists, cultural specialists, and others working on philosophical questions related to the animacy of objects. Diverse orthographies are welcome and will be accommodated whenever possible. Please click here for more information.
The journal's standard guidelines on originality, quality, and submission format apply; click here for details. Please submit manuscripts of 1,500 to 2,000 words (including notes) with 1 – 4 images, to AmericanArtJournal@si.edu by August 15, 2023. Selected articles will be workshopped with authors, rigorously edited and fact-checked, and published in American Art in 2024. Inquiries are welcome.
heather ahtone, First Americans Museum
Kirsten Pai Buick, University of New Mexico
Mary Coffey, Dartmouth College
Anne Collins Goodyear, Bowdoin College Museum of Art
David J. Getsy, University of Virginia
Michael Hatt, University of Warwick
Chon A. Noriega, University of California, Los Angeles
Jolene Rickard, Cornell University
Cherise Smith, University of Texas at Austin
Shawn Michelle Smith, School of the Art Institute of Chicago