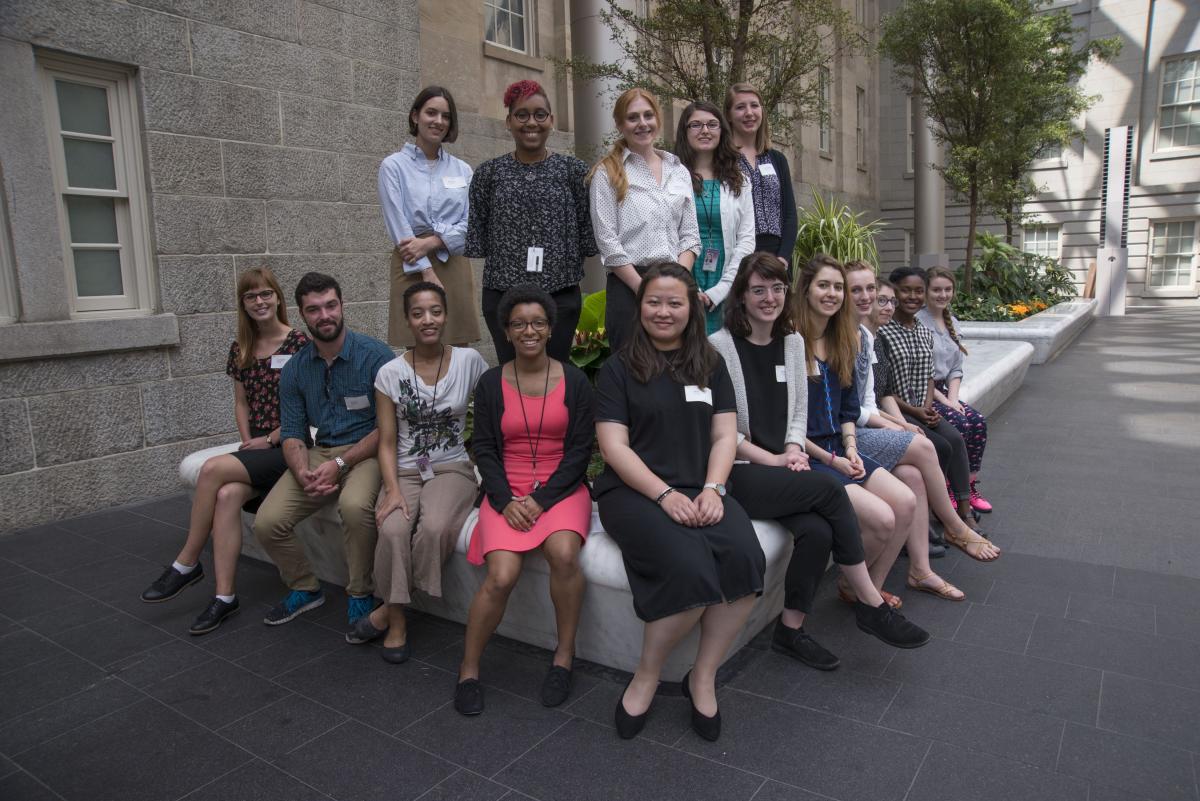 Information for Prospective Internship Applicants:
Due to the COVID-19 virus, many of our internship positions are still virtual, and some positions are a hybrid (both virtual and on-site). More information will be provided at the time a student is selected for a position.
An Overview of Our Programs
Two Internship programs are offered that coincide with the academic calendar: 
The Advanced-Level Program takes place during the fall and spring semesters
The Summer Program is an eight-week program that begins early to mid-June
Since 1968, the Smithsonian American Art Museum and the Renwick Gallery have provided instruction and inspiration to over one thousand graduate and undergraduate students, as well as others seeking self-enrichment. Former interns have achieved success in professional positions in the art and museum fields, both nationally and internationally.
We welcome Individuals from all different backgrounds, experiences, abilities and perspectives. The Smithsonian does not discriminate on the basis of race, color, religion, sex (including pregnancy and gender identity), national origin, political affiliation, sexual orientation, marital status, disability, genetic information, age, membership in an employee organization, retaliation, parental status, military service, or other non-merit factor. There are no fees charged to students for program participation and academic enrollment is not required. Mentoring relationships between interns and staff are promoted and program alumni are encouraged to maintain contact for networking purposes; an alumni reunion is held yearly during the College Art Association conference.
Application Information for Both Programs
Application deadlines for both programs:
THE APPLICATION DEADLINE FOR THE ADVANCED-LEVEL PROGRAM IS JUNE 1, 2023.
THE APPLICATION DEADLINE FOR THE SUMMER PROGRAM IS FEBRUARY 15 EACH YEAR.
What you need to submit:
A statement of purpose: explaining personal career interests, the skills the applicant hopes to acquire and why the Smithsonian American Art Museum has been chosen as a possible learning center.
A resume: detailing the applicant's academic coursework and experience, paid or unpaid (a curriculum vitae will also be accepted).
Official or unofficial transcripts: from all schools attended above the high school level.
Two current letters of recommendation: academic and /or professional.
A statement of financial need should be added to the above application materials ONLY if the applicant is requesting consideration for the full-time Kasok Family Internship in Museum Studies.
All materials (listed above) must be submitted via Smithsonian Online Academic Appointment system (SOLAA).
Application materials received later than the required deadline dates will be wait-listed.
Summer Program applicants will receive notice of their application status during late March to early April. Advanced-Level program applicants will receive notice of their status in late June to early July. Applications (resumes and statements) received after the deadline dates above will be wait-listed.
Questions:
If you have any questions about the application process, please send inquiries to AmericanArtInternPro@si.edu. If you have questions concerning the SOLAA application, please go to the Help section on the SOLAA website.
An Overview of the Program:
The Advanced-Level Program provides its participants with a comprehensive overview of museum operations by combining hands-on project experience with professional instruction. The program structure is designed encourage and support their career development. 
Who is Eligible: This program is excellent for: graduate students, as a supplement to their academic programs or for others interested in developing a career focus prior to attending graduate school.
Stipend: $1,250 - $20,000 *
Duration: Thirteen weeks fall and spring semesters
Application Opens: November 1 each year
Deadline: June 1, 2023
Qualification: Students should have some previous experience in an art or history related organization. Applicants may be graduate students, exceptional college seniors, individuals with a four-year college degree (enrollment in an academic program is not required) or international students. Pre-doctoral candidates, who have had little previous museum experience, will also be considered on an individual basis. 
All internship positions carry stipends. Stipend awards are meant as a supplement to the student's total living expenses.
Students selected for part-time internships will automatically be considered for funding from endowments established by very generous donors to the Advanced Museum's internship program: Harry and Beverly Mandil, Jack and Marjorie Rachlin, and Allan J. and Reda Radwan Riley. (Award amounts may vary yearly; no additional paperwork is required for consideration.)
* The Steven and Stephanie Kasok Museum Studies award provides a $20,000 stipend for one highly qualified individual who wishes to participate in a full-time internship for two-semesters. Students requesting consideration for this stipend should submit a statement of financial need, along with the other required application documents. 
Summer Internship Program
An Overview of the Program:
The Summer Program is an introduction to museum work. Interns in the Summer Program concentrate on one assigned department or office, compatible with his or her interests or career goals instead of moving through different museum areas.
Who is Eligible: Primarily undergraduate students who have little or no previous museum experience. 
Stipend: $1250
Duration: Eight weeks
Application Opens: November 1 each year
Deadline: February 15, 2023
Qualification: Students with a four-year college degree and undergraduate college seniors and juniors (students completing their sophomore year at the time of application) may apply. Graduate students will be considered for this program on an individual basis.  Students must be available for eight weeks, beginning early to mid-June, ending late July or early August. Participation is 40 hours weekly, Monday - Friday. 
Please note that an overview of all museum departments is not possible during the short duration of the Summer Program. 
All internship positions carry stipends. Stipend awards are meant as a supplement to the student's total living expenses.
 
Academic Credit or Graduation Certification for Internships
Students from all universities and colleges are eligible to earn academic credit from their home institution, in contractual arrangement with the Smithsonian American Art Museum.
When an intern requires academic credit or graduation certification for his or her internship, the Smithsonian American Art Museum requires the home college, university or sponsoring organization to provide a facility and instruction fee payment. This payment is in recognition of the highly structured program format, facilities, staff support system, evaluations and other services being provided by the museum. The amount of this fee is a percentage of the tuition amount the student is paying to his or her home institution. If the student is receiving graduate certification as an integral part of the student's academic program, then the fee is determined by the length of the internship. For a semester-long internship, the facility and instruction fee may not be less than $1,000. 
Students who wish to receive academic credit or certification must notify the Intern Program Officer at the time of application. Appropriate information and instructions will be provided. Approval for the Facility and Instruction fee arrangement must be obtained from a supervisory staff person in the student's academic institution prior to the commencement of the internship. Fees paid to the Smithsonian American Art Museum go directly into the Intern Program Fund account, which is used exclusively to support and maintain the high standards of these two exceptional training programs. 
Deans and university faculty who wish to enhance their curricula with one or both of the Museum's two internship programs are invited to contact the Office of Intern Programs at AmericanArtInternPro@si.edu. At the institution's request, a detailed program presentation and consultation with a Smithsonian American Art Museum representative may be arranged; the host college or university pays travel and lodging.