Artist
Benjamin West
born Springfield, PA 1738-died London, England 1820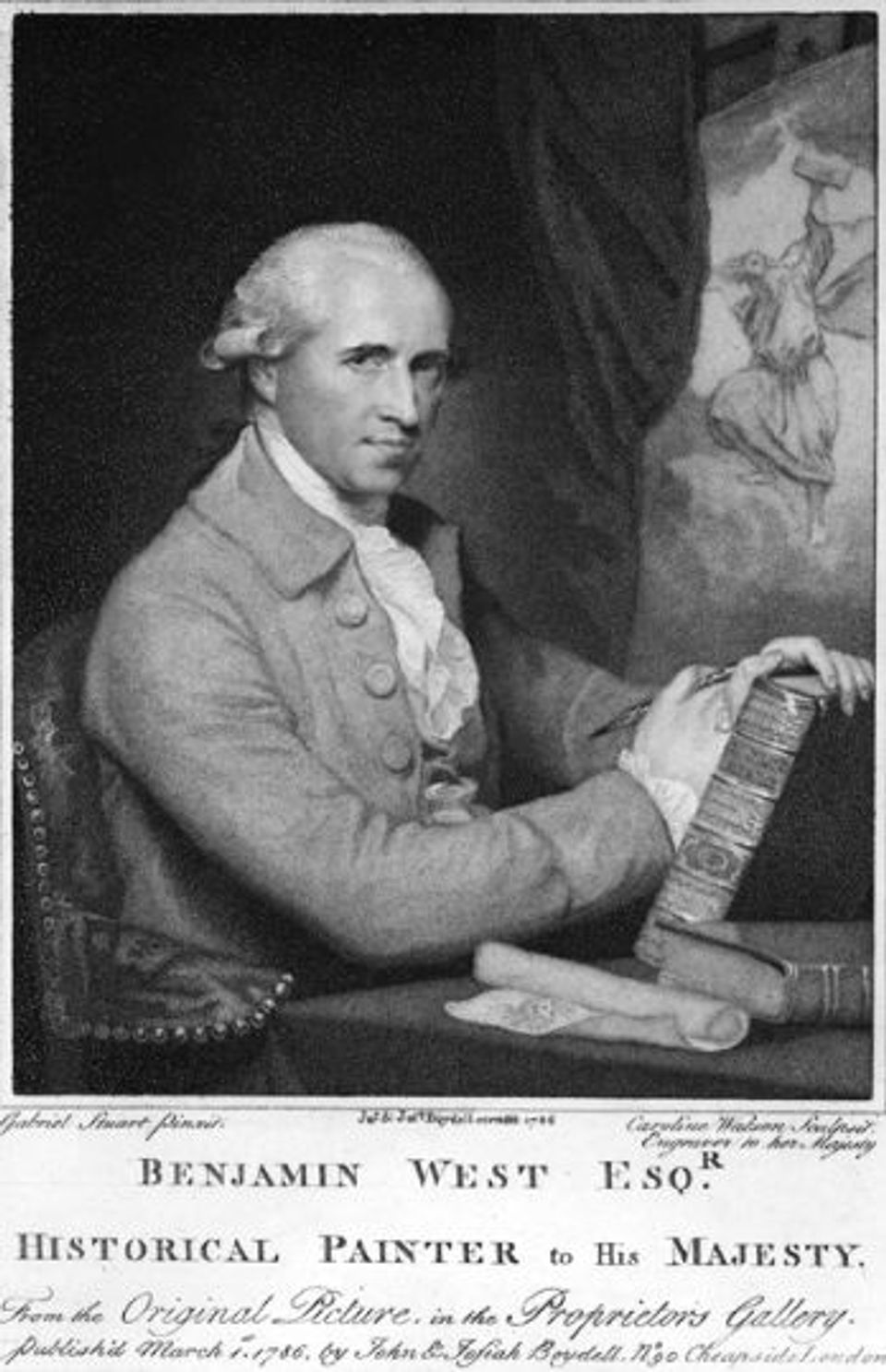 Biography
Born in Pennsylvania, studied art abroad, worked mostly in England. His well-executed paintings of mythological and historical subjects are found in major collections; his portraits include Mary Hopkinson (c. 1764) and a final Self-Portrait (1819), both at the Smithsonian American Art Museum.
Charles Sullivan, ed American Beauties: Women in Art and Literature (New York: Henry N. Abrams, Inc., in association with National Museum of American Art, 1993)
Artist Biography
From the humble circumstances of his birth as the youngest of ten children in Pennsylvania, Benjamin West became one of the most acclaimed artists of his day. Surrounded by little in the way of art in these Quaker surroundings, the precocious young artist moved to Philadelphia to paint portraits. Here he saw the work of William Williams, Gustavus and John Hesselius, and John Wollaston. At the age of twenty-one, West went to Italy to further his art training, which was made possible by the financial assistance of wealthy friends and patrons, which his amiable nature was to win for him throughout his career. The first in a long line of Americans to study abroad, West never returned to his native land, although he ultimately played an important role in its art.
In Rome West was attracted to German archaeologist and art critic Johann Winckelmann's theories on eclectic neoclassicism and the quest for ideal beauty through a study of classical art. West also studied the work of Italian Renaissance and Baroque masters.
On his way home to America, West stopped off in London, where he met with enough success to convince him to remain. West's history painting in the new neoclassical style attracted public attention and eventually King George III himself. Within five years of West's arrival in London he became a charter member of the Royal Academy. As a result of the acclaim given his painting The Death of General Wolfe (1770), in which the hero wore a contemporary uniform rather than the traditional classical garb, West was appointed historical painter to the king in 1772 and given a residence and studio at Windsor Castle. His agreeable manner and good looks won him favor in society, enabling him to retain the confidence of the king throughout the turmoil of the American Revolution. In 1792 West was appointed to succeed Sir Joshua Reynolds as president of the Royal Academy, a position he held, except for one year, for the rest of his life.
West's fresh approach to history painting was not the only reason for his important place in American art. As a counselor, teacher, and friend to three generations of American artists who came to England to study, West provided everything from advice, instruction, and food to money and, in many cases, a job as his studio assistant. In addition, he was an avid collector of paintings, drawings, and prints of the old masters, and casts of classical sculpture. His home and studio thus provided his American students, as well as English artists, with a gallery of art readily available for study, at a time when no such public collection existed.
National Museum of American Art (CD-ROM) (New York and Washington D.C.: MacMillan Digital in cooperation with the National Museum of American Art, 1996)
Luce Artist Biography
Benjamin West made his reputation in England as the official painter to King George III. He was born a Quaker in Springfield, Pennsylvania, where his parents ran a small inn. Growing up, West showed talent for painting and moved to Philadelphia to further his education. Two families paid for his trip to Italy, where he made copies of European paintings for them. West then traveled to England and showed his paintings of historical scenes to great acclaim. On the advice of his American patrons, he decided to stay in London, where he lived the rest of his life, earning an international reputation as a history painter. His legacy also included the establishment of the Royal Academy of Art, becoming its second president, and the training of three generations of American artists who traveled abroad to study with him.