Artist
Bob Blackburn
born Summit, NJ 1920-died New York City 2003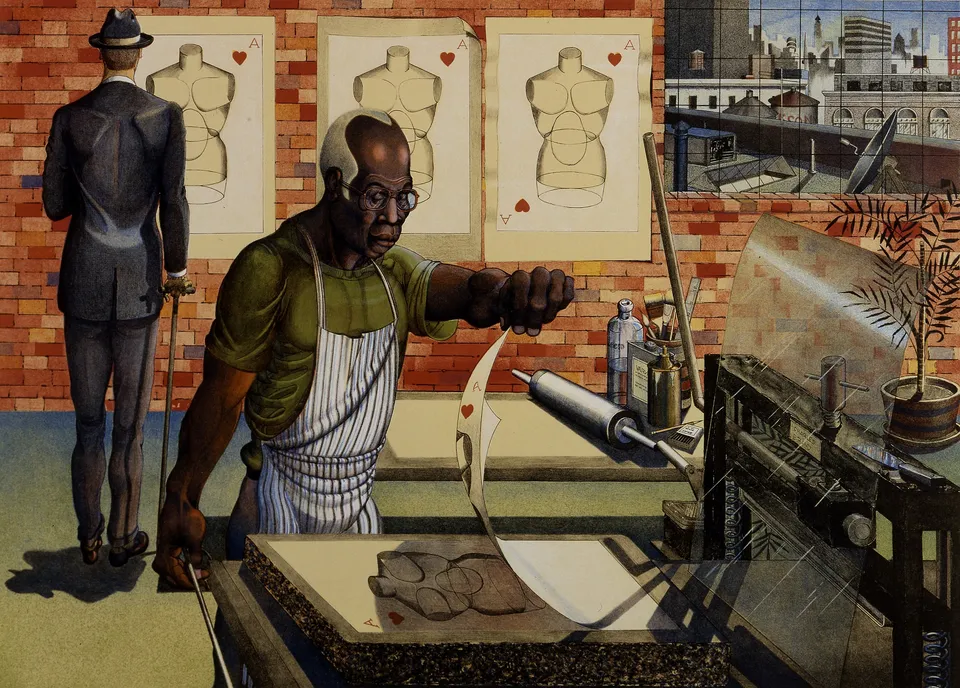 Also known as

Robert Hamilton Blackburn
Robert Blackburn

Active in

New York, New York, United States
Biography
Robert Hamilton Blackburn was known as a "printmaker's printmaker"; if you wanted to make prints you made your way to his workshop in Chelsea [New York City]. The shaky elevator doors would open by a tiny crammed office full of paperwork, the phones constantly ringing. If he wasn't in that office, you'd find him farther back, in the rambling, sunny loft, full of intaglio and litho presses, graining sinks, and rosin boxes, cluttered with tables and mismatched chairs and flat files. Every wall was full of shelving, and every shelf stuffed with papers and tools. Dozens of limestones filled the slots. Off the main space, little rooms opened up: edition rooms for private concentration, a darkroom, the print collection.
Blackburn was born in Summit, New Jersey, on December 12, 1920, and he passed away on April 21, 2003, in New York City. In between, he quietly but doggedly influenced the course of American art with his own graphic work. His legendary generosity and the effortless diversity of the workshop have been frequently acknowledged, as well as the impressive fact that he was the first master printer at Universal Limited Art Editions (ULAE). There he produced the initial seventy-nine editions for artists including Helen Frankenthaler, Grace Hartigan, Jasper Johns, Robert Rauschenberg, and Larry Rivers. Blackburn's own experimental color lithography before the "print boom" of the early 1960s was crucial. After twenty years of single-minded commitment to lithography, his talents and predilections shaped the forms of printmaking adopted by these better-known artists.
Growing up in Harlem, Blackburn was influenced by the intellectual and artistic legacies of the Harlem Renaissance, American social realism, Mexican modernism, and European abstraction. In middle school, he studied with poet Countee Cullen and sculptor William Artis. At age thirteen, he enrolled in Charles Alston's Harlem Arts Workshop classes, where he met artist and teacher Ronald Joseph. When Alston initiated his historic "306" salon, Blackburn was one of the youngest participants. From 1934 to 1935 he attended art classes at the Harlem YMCA, and around 1936 became friendly with artists Jacob Lawrence and Gwendolyn Knight. With Joseph, they attended Augusta Savage's Uptown Art Laboratory. At DeWitt-Clinton High School from 1936 to 1940, Blackburn published his work in the fabled Magpie. He also attended the Harlem Community Art Center, the WPA's largest New York community center, where he learned lithography with Riva Helfond. From 1940 to 1943 he honed his skills at the Art Student's League with mentor Will Barnet. After graduating from the league, and scrambling for arts-related freelance work, Blackburn opened the Printmaking Workshop in 1948.
With the exception of a European hiatus on a John Hay Whitney Traveling Fellowship (1953–54) and a fairly full-time stint at ULAE (1957–63), Blackburn spent the rest of his life heading up his workshop. His own artistic production suffered as a result of this fifty-four year commitment. But when his graphic oeuvre is assessed, we can see why he quickly developed a reputation for complex, multi-stone color lithographic experimentation and technical excellence. His key works shift between cubistic arrangements and color abstractions. In contrast to many African American artists of his generation, Blackburn chose to sidestep the weighty issues brought to the fore by figurative work. He placed his viewers before a window and plane simultaneously, at times conjuring three dimensions but always playfully insisting on the conventions of picturing, and always referring to the sheet, the stone, and the block.
Concerned with the idea of the printmaking process itself, Blackburn treated his stones with tremendous fluidity, reworking images from all sides, reorienting the image as he progressed and at times signing both the top and bottom. His thinking was horizontal, across the surface of the stone as he moved around on the press bed, calling to mind critic Leo Steinberg's description of Rauschenberg and his reorientation of the viewer down toward the work surface of the artist's table.
Blackburn also challenged the idea of lithography as a high craft process in his own work as well as in the democracy of his studio. His widely disparate proofs often did not arrive at an edition at all, evacuating the notion of rigidly identical reproduction. His playfulness and continual variations luxuriate in process, not finish. While his prints were exhibited internationally, a lack of documentation, coupled with his extreme personal modesty, contributed to a lack of appreciation of his achievements.
Deborah Cullen "Appreciation: Robert Blackburn (1920–2003): A Printmaker's Printmaker." American Art journal 17, no. 3 (Fall 2003), pp. 92–94