Artist
Byron Browne
born Yonkers, NY 1907-died New York City 1961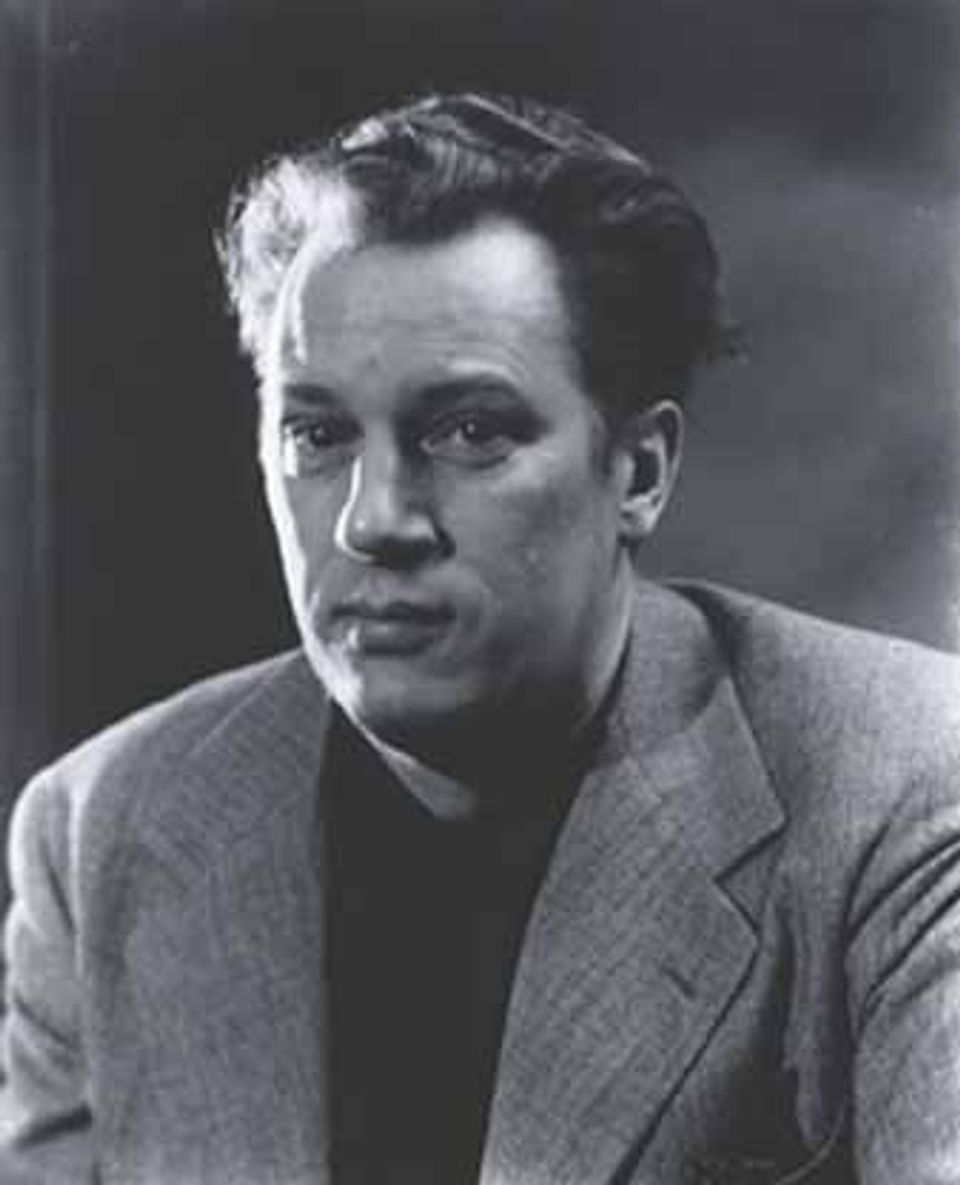 Biography
Modernist painter and one of the founders of American Abstract Artists, a New York City organization devoted to exhibiting abstract art. Browne specialized in still life in the style of Synthetic Cubism, influenced by his friends John Graham, Arshile Gorky, and Willem de Kooning.
Joan Stahl American Artists in Photographic Portraits from the Peter A. Juley & Son Collection (Washington, D.C. and Mineola, New York: National Museum of American Art and Dover Publications, Inc., 1995)
Artist Biography
Byron Browne was a central figure in many of the artistic and political groups that flourished during the 1930s. He was an early member of the Artists' Union, a founding member of the American Abstract Artists, and participated in the Artists' Congress until 1940 when political infighting prompted Browne and others to form the break-away Federation of Modern Painters and Sculptors. Browne's artistic training followed traditional lines. From 1925 to 1928, he studied at the National Academy of Design, where in his last year he won the prestigious Third Hallgarten Prize for a still-life composition. Yet before finishing his studies, Browne discovered the newly established Gallery of Living Art. There and through his friends John Graham and Arshile Gorky, he became fascinated with Picasso, Braque, Miró, and other modern masters.
The mid 1930s were difficult financially for Browne.(1) His work was exhibited in a number of shows, but sales were few. Relief came when Burgoyne Diller began championing abstraction within the WPA's mural division. Browne completed abstract works for Studio D at radio station WNYC, the U.S. Passport Office in Rockefeller Center, the Chronic Disease Hospital, the Williamsburg Housing Project, and the 1939 World's Fair.(2)
Although Browne destroyed his early academic work shortly after leaving the National Academy, he remained steadfast in his commitment to the value of tradition, and especially to the work of Ingres.(3) Browne believed, with his friend Gorky, that every artist has to have tradition. Without tradition art is no good. Having a tradition enables you to tackle new problems with authority, with solid footing.(4)"
Browne's stylistic excursions took many paths during the 1930s. His WNYC mural reflects the hard-edged Neo-plastic ideas of Diller, although a rougher Expressionism better suited his fascination for the primitive, mythical, and organic. A signer, with Harari and others, of the 1937 Art Front letter, which insisted that abstract art forms "are not separated from life," Browne admitted nature to his art—whether as an abstracted still life, a fully nonobjective canvas built from colors seen in nature, or in portraits and figure drawings executed with immaculate, Ingres-like finesse.(5) He advocated nature as the foundation for all art and had little use for the spiritual and mystical arguments promoted by Hilla Rebay at the Guggenheim Collection: When I hear the words non-objective, intra-subjective, avant-garde and such trivialities, I run. There is only visible nature, visible to the eye or, visible by mechanical means, the telescope, microscope, etc."(6)
Increasingly in the 1940s, Browne adopted an energetic, gestural style. Painterly brushstrokes and roughly textured surfaces amplify the primordial undercurrents posed by his symbolic and mythical themes. In 1945, Browne showed with Adolph Gottlieb, William Baziotes, David Hare, Hans Hofmann, Carl Holty, Romare Bearden, and Robert Motherwell at the newly opened Samuel Kootz Gallery. When Kootz suspended business for a year in 1948, Browne began showing at Grand Central Galleries. In 1950, he joined the faculty of the Art Students League, and in 1959 he began teaching advanced painting at New York University.
1. When she met him in October 1934, Rosalind Bengelsdorf Browne recalled that her future husband's daily diet consisted of a quart of milk, a box of cornmeal, a head of lettuce, and some raisins. See Rosalind Bengelsdorf Browne Papers, Archives of American Art, Smithsonian Institution, Washington, D.C.
2. Browne was also involved with Léger's mural project for the French Line terminal building that was canceled after officials discovered Léger's communist sympathies. See Rosalind Bengelsdorf Browne Papers, Archives of American Art, Smithsonian Institution, Washington, D.C.
3. The abstract quality of Ingres's work held special appeal not only for Browne, but for John Graham and Arshile Gorky. Rosalind Bengelsdorf Browne remembered Gorky waving an Ingres reproduction around at the opening of the first American Abstract Artists annual exhibition and proclaiming that the French master was more "abstract" than all the work in the exhibition. See Rosalind Bengelsdorf Browne Papers, Archives of American Art, Smithsonian Institution, Washington, D.C.
4. Gorky is quoted in Melvin P. Lader, "Graham, Gorky, de Kooning and the "Ingres Revival" in America," Arts Magazine 52, no. 7 (March 1978): 99.
5. The classical drawings, a group of which was exhibited at Washburn Gallery in 1977, show heads (often of cross-eyed women) and classically garbed and garlanded seated figures. They have important stylistic parallels to John Graham's paintings and drawings of the period.
6. Quoted in Gail Levin, "Byron Browne in the Context of Abstract Expressionism," Arts Magazine 59, no. 10 (Summer 1985): 129. Browne's notebook is in the collection of his son Stephen B. Browne. Theidea of portraying matter visible through telescope or microscope parallels the fusion of scientific and artistic vision discussed by Rosalind Bengelsdorf.
Virginia M. Mecklenburg The Patricia and Phillip Frost Collection: American Abstraction 1930–1945 (Washington, D.C.: Smithsonian Institution Press for the National Museum of American Art, 1989)
Luce Artist Biography
Byron Browne worked at a lumberyard to pay his tuition at the National Academy of Design, where he enrolled in 1925. He was inspired by European artists such as Pablo Picasso and Joan Miró and in 1930 burned several of his realistic works as a gesture against conventional painting. He was a founder of the American Abstract Artists and in 1935 led a march protesting museums that did not collect modern work. After World War II, Browne exhibited frequently at the Kootz Gallery, which ardently supported avant-garde American artists. While abstract expressionism dominated New York's art world, Browne's paintings, which still showed recognizable figures and objects, failed to draw an audience. The gallery sold all of Browne's work in a department store sale at "50% off," dealing a heavy blow to the artist's career. (Rogers, Byron Browne, A Seminal American Modernist, 2001)