Artist
Chaim Gross
born Wolowa, Austria 1904-died New York City 1991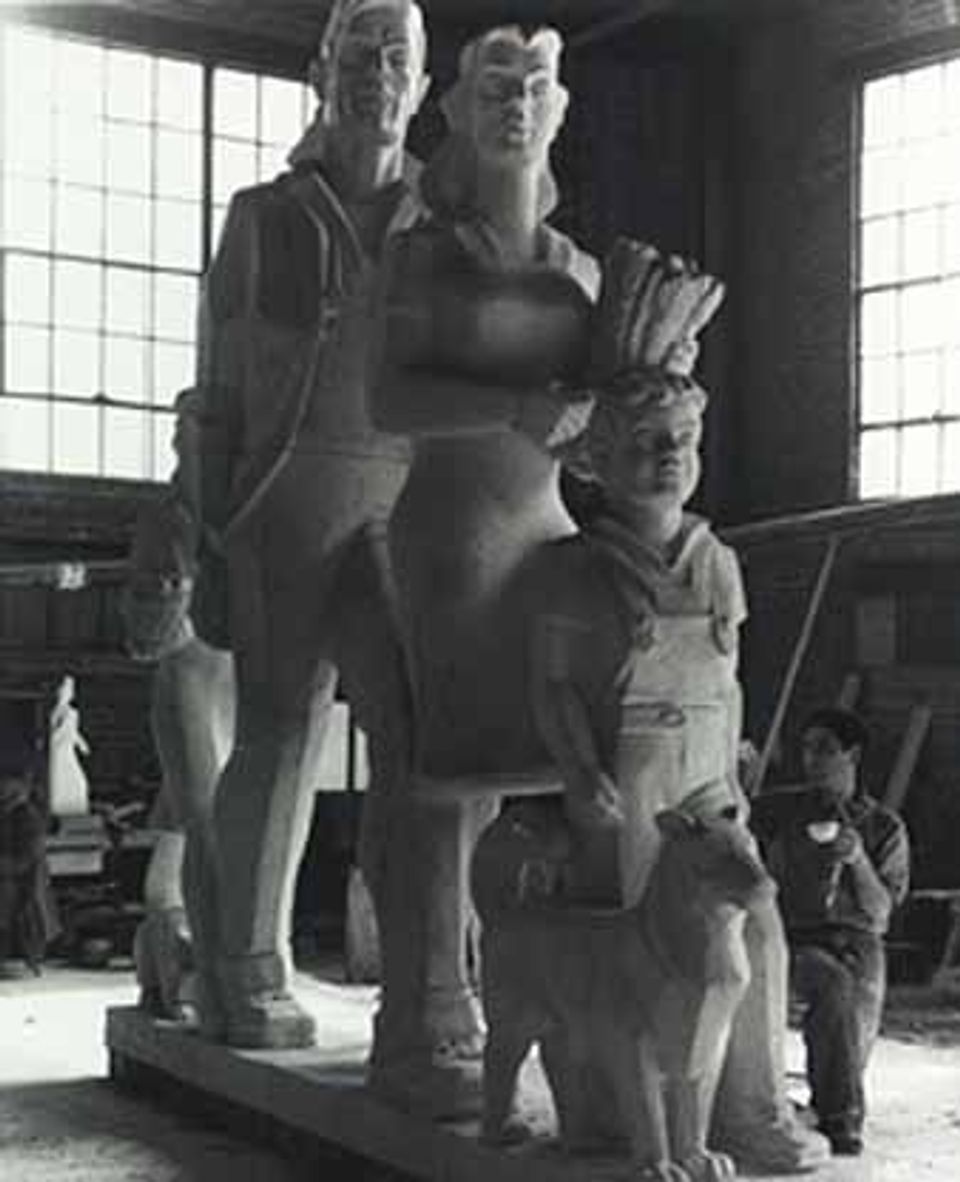 Biography
Born in Austria, Gross studied in Budapest and Vienna before settling in the United States in 1921. Gross sculpted in wood, using a direct carving technique. He is best known for his semi-abstract interpretations of the human form.
Joan Stahl American Artists in Photographic Portraits from the Peter A. Juley & Son Collection (Washington, D.C. and Mineola, New York: National Museum of American Art and Dover Publications, Inc., 1995)
Artist Biography
Chaim Gross (1904 Austria–1991 USA) will always be remembered as one of the foremost American sculptors who practiced direct carving in wood. This installation of graphic works and sculptures in wood and bronze, executed between 1932 and 1976, celebrates his long, prolific career and the beneficent gift of his Acrobatic Performers from the Renee and Chaim Gross Foundation.
Born in the Carpathian Mountains in Austrian Galicia, Gross was the son of a lumber merchant. He displayed an interest in drawing at an early age and throughout his life produced a prodigious number of graphic works, many of which were preparatory studies for his sculptures. After a turbulent nomadic existence caused by World War I, Gross immigrated to New York City in 1921. He first studied drawing in night classes at the Educational Alliance art school while working during the day as a delivery boy.
A friend's remark that Gross's drawings had a very sculptural quality provided the impetus to study this medium at the Beaux-Arts Institute of Design, where he was briefly taught by Elie Nadelman. In 1927 he attended the Art Students League, receiving only two months of instruction in direct carving from Robert Laurent. That same year he quit his job in order to concentrate on art and to begin a teaching career in sculpture at the Educational Alliance, which would continue until 1989. In 1932, in the midst of the Depression, Gross had his first solo exhibition at The Gallery 144 in New York. Like many other artists, he benefited greatly from the support of the New Deal's Public Works of Art Project. In the late 1930s the Treasury Department's Section of Painting and Sculpture commissioned him to execute several works for federal buildings; these helped to establish him as a major contemporary sculptor.
Gross gained renown as an advocate of direct carving. Between 1926 and 1949, seventy-five percent of his works were in wood and ten percent in stone. Although he used hand tools exclusively, he preferred the hardest woods, particularly those with a dark color or pronounced grain. In contrast, however, he favored soft but colorful stone. His sculptures were predominantly totemic, figurative images of women. The human body became a source of abstract invention in which Gross simplified forms to stress dynamic rhythms; realism was secondary. Every carving represented a synthesis of form and medium. He distorted forms to retain the cylindrical sensation of the block of wood. A sense of compression in the shapes infused them with an expansiveness and a monumentality.
After World War II, Gross began to explore different subjects and techniques. The loss of family members in the Holocaust provoked an interest in Judaic subject matter. By 1957, sculptures modeled in plaster on an armature for casting in bronze began to outnumber his direct carvings. In contrast to his carvings, the bronzes revealed a new freedom to extend forms into space and incorporate space into his compositions. In building up the plasters, he utilized carving techniques that contributed to the angular forms characteristic of his bronzes.
For more than sixty years Chaim Gross's art has expressed optimistic, affirming themes. His acrobats, cyclists, and mothers and children convey joyfulness, exuberance, love, and intimacy. This aspect of his work remained consistent with his Hasidic heritage, which teaches that "only in his childlike happiness is man nearest to God."
George Gurney Chaim Gross: A Celebration (Washington, D.C.: Smithsonian American Art Museum, 1996)
Luce Artist Biography
Chaim Gross is best remembered as one of America's foremost sculptors, known for his hardwood carvings, figurative sculptures, and graphic work. He is also considered one of the pioneers of the direct carving method. Born in Wolowa (now part of Poland), Gross immigrated to the United States in 1921 and was quickly embraced by New York's artists, including Elie Nadelman, another Jewish émigré. He studied at the Beaux-Arts Institute of Design with Nadelman, and the Art Students League with Robert Laurent. Gross carved families, children at play, and the acrobats that came to his small town of Wolowa in the summer. He worked almost exclusively in hardwoods because they reminded him of his father, a lumberjack who whittled small figurines in his spare time.