Artist
Herzl Emanuel
born Scranton, PA 1914-died Norwalk, CT 2002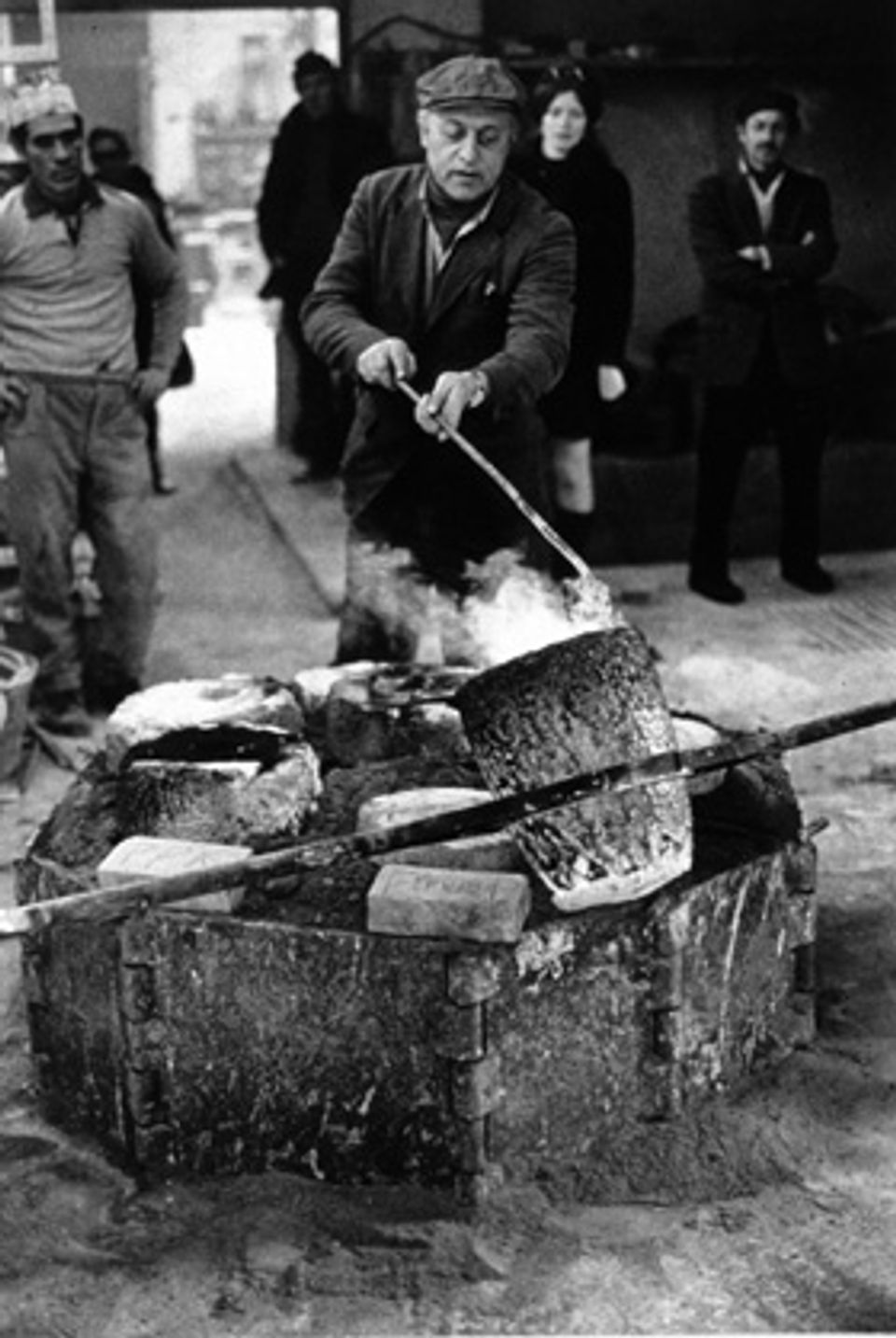 Died

Norwalk, Connecticut,

Active in

New York, New York, United States
Rome, Italy
Weston, Connecticut,
Paris, France
Biography
As a teenager, Herzl Emanuel studied art at the Rochester Memorial Art Gallery in Rochester, New York. Emanuel quithigh school in 1931, and, with the assistance of several patrons who recognized his talent, went to Paris, hoping to study with Emile-Antoine Bourdelle. Although the French master died with Charles Despiau and Fernand Léger and attended lectures given by André Lhote. He was soon joined by Hananiah Harari, then a student at Syracuse University, with whom he shared a studio and later accompanied to Palestine. In Paris, the two young men were intrigued by contemporary art. They felt its validity and power without fully understanding why Picasso, Matisse, and others could so successfully do such violence to the figure.(1) Believing the answer to their questions lay deep in the history of art, Emanuel and Harari spent a year drawing from the collections at the Louvre. Beginning with Hittite and Egyptian art, they worked their way chronologically to the nineteenth century, seeking to understand the structure and logic of the art of the past. In the Louvre, Emanuel says, we learned the grammar of art. We learned its syntax, its alphabet, until contemporary art represented no mystery. We learned its rationale, where it came from, the basic language. We saw its connection with the art of the past."(2) Although in Paris whenAbstraction-Création wasbeing formed, Emanuel and Harari saw such publications but paid little attention to the theories or the movements germinating around them.
As fascism threatened Europe, Emanuel and Harari left for Palestine where they worked on a kibbutz for over a year. Although the kibbutz regimen left little time for art, the experience enriched them philosophically. After a brief stay in Jerusalem, Emanuel returned to the United States and in 1936 joined the sculpture division of the New York Federal Art Project.(3) During the mid 1930s, Emanuel was sympathetic with leftist political causes. By participating in the WPA, he said, "we felt we were working directly for society."
When war came, Emanuel went to work for a shipyard, and afterwards made his living doing display work. Later he worked as an illustrator. During the mid 1950s he taught illustration, sculpture, and a foundation course at the School of Visual Arts in New York. After six years, he gave up his teaching position to return to Europe. In Rome, he set up a studio that he still maintains.
Throughout his career, Emanuel's art has been centered in a deeply felt humanism. Art for him offers a way to come to terms with the human condition. Though he still finds inspiration in Romanesque and Italian Renaissance art, it was Picasso's Guernica that had the most dramatic impact in his life. Calling it the most significant work of art of the twentieth century, Emanuel has sought to achieve in his own work a fusion of abstracted form with tragic content that parallels Picasso's powerful statement. Since the 1930s, his sculpture has evolved from an Analytical Cubist format to an Expressionism in which the human form is distorted to convey the human condition. Yet by intertwining limbs and connecting gazes in multifiguralcompositions, he offers up human relationships as notes of hope that temper the effects of a tragic existence.
Emanuel participated in exhibitions of the American Abstract Artists for only a few years during the late 1930s. His fascination with Cubist formal structure, apparent in Head of the Prophet (1935) and Lower Manhattan from Apartment in Brooklyn (1937), later yielded to an expressionistic outlook. The growing domination of purist geometric abstraction within the group's program conflicted with Emanuel's evolving aims for his own sculpture, and he let his membership lapse.
1. Herzl Emanuel interview with Virginia M. Mecklenburg, 10 December 1988. I am grateful to Mr. Emanuel for speaking with me about his art and life.
2. Ibid.
3. Most of Emanuel's WPA sculpture was destroyed when the project came to an end. He was able to retrieve several pieces before the rest of his work, along with a large body of sculpture created by other sculptors on the project, was dumped into the East River.
Virginia M. Mecklenburg The Patricia and Phillip Frost Collection: American Abstraction 1930–1945 (Washington, D.C.: Smithsonian Institution Press for the National Museum of American Art, 1989)
Luce Artist Biography
Herzl Emanuel studied art at the Rochester Memorial Art Gallery in New York, and left high school at the age of sixteen to work with leading artists in Paris. He remained there for four years and spent a great deal of time sketching at the Louvre in order to understand the history of art, working from Egyptian art to the present. Emanuel was a founding member of the American Abstract Artists group in 1936, a time when the New York art scene was receiving significant attention from the rest of the world. He was also active in the sculpture division of the Federal Art Project, a New Deal program that supported art education across the United States. In 1962, Emanuel moved to Rome, where he lived for more than twenty years, running his own foundry and creating dramatic bronze sculptures and reliefs.