Artist
I. Rice Pereira
born Chelsea, MA 1902-died Marbella, Spain 1971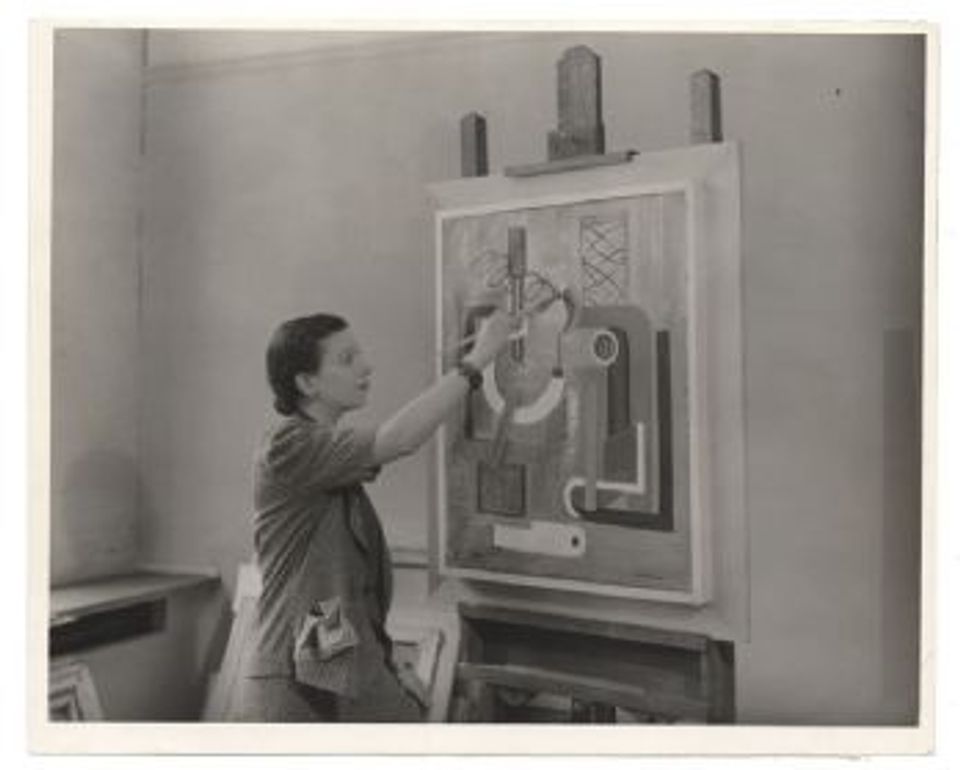 Also known as

Irene Rice
Irene Rice Pereira
Irene M. Rice
Irene Rice Pereira Reavey

Died

Marbella, Spain

Active in

Paris, France
New York, New York, United States
Biography
More than any other member of the American Abstract Artists, Irene Rice Pereira took to heart the principles of the Bauhaus. Assessing its importance, she wrote in 1939 that the Bauhaus "exerted the greatest influence on our entire social order. . . ."(1) In her paintings, her commitment to machine-age materials, and in a philosophy that called for a merging of technology and the transcendental, she was among the most avid Bauhaus proponents in the United States.
Pereira had experienced a difficult childhood. Born in Boston in 1902, she began supporting her family at an early age after her father's death.(2) In 1927, while working as a designer during the day, she enrolled in night classes at the Art Students League. Over the next four years, she and fellow students Burgoyne Diller, David Smith, and Dorothy Dehner, came to know modernism through the instruction of Jan Matulka and Richard Lahey. By 1931, Pereira had saved enough money for a trip to Europe and North Africa.(3) She attended criticism sessions given by Amédée Ozenfant at the Académie Moderne in Paris. But much of her year abroad was spent traveling—in Italy, where she studied the brilliant color of Italian Primitive painting, and in North Africa, where the light and dramatic space of the Sahara had a lasting effect on her life and on her aspirations for her art.
In 1935, Pereira helped found, and began teaching at, the Design Laboratory, a cooperative school of industrial design established under WPA auspices. She believed deeply in art's social function andconsidered abstract art the key to the future:
The importance of abstract art lies in the fact that it is an experimental art—These artists are not concerned with literary documentation—but experimentation which conveys its influences to our architecture—our typography—photography—industrial design—It is an art which performs a definite social function.(4)
The curriculum at the Design Laboratory paralleled that of the Bauhaus. Students were required to take a basic course (patterned after the Vorkurs taught by Albers and Moholy-Nagy) that introduced them to the chemistry, physics, and mechanics of traditional as well as new art materials. Much of the instruction took place in laboratories. The students experimented with materials in order to gain a practical grasp of physical properties. They then applied this knowledge to the design of objects that could be easily mass produced. "Truth to the materials" was a basic precept and the use of surface ornament was actively discouraged. Although the traditional media of clay, wood, and stone were listed as materials to be explored in the class schedule, by 1937, Pereira's students were also working in glass, plastic, and metals.
Inherent in the philosophies of both the Bauhaus and the Design Laboratory was the notion that the individual genius was subordinate to broad social considerations. The needs of society dictated the program. Courses were taught in the social implications of technological developments, as well as the psychology, chemistry, and physics of color. Music, painting, literature, and architecture rounded out the academicschedule.
Experimentation also lay at the core of Pereira's own artworks. The paintings in her 1933 exhibition at American Contemporary Artists Gallery were semi-abstract compositions based on nautical motifs—smokestacks, ventilators, anchors, and the like—while in her 1934 and 1935 exhibitions at ACA she presented canvases in which abstracted human forms were juxtaposed against the shapes of giant machines. Machine Forms #2 (also called Power House), and the study that preceded it, are among the last works in this vein. Painted early in 1937, Machine Forms #2 was inspired by the view from her studio window: "I used to look in at a power house on 16th Street where I was living, to get the feeling of power house; and then made my own."(5)
Later in 1937, when Pereira began painting nonobjective canvases, the principles of the Bauhaus and Russian Constructivism became apparent in her work. She was especially concerned with finding a way to bring light into her work, and over the next ten years incorporated a wide range of unusual paints, as well as glass, plastic, gold leaf, and other reflective materials into her art. By 1946 she had experimented with radium paint—these works would emitghostly patterns when lights were extinguished—and she madeglass constructions in which she painted on smooth, pebbled, and corrugated glass surfaces, then layered them together to emphasize a shallow, planar depth.(6)
Pereira continued to work in an abstract vein for the remainder of her life. She said abstraction offered "a wider range for experimentation and for clarifying the problems concerning pictorial presentation."(7) Increasingly, though, she attempted to articulate her ideas in poetry and essays, the metaphysical tone of which often obscured rather than clarified her thoughts.
1. Irene Rice Pereira, "New Materials and the Artist," lecture given in 1939 at Columbia University; see notes in Irene Rice Pereira Papers, Archives of American Art, Smithsonian Institution, Washington,D.C., roll 2395: 153.
2. I am grateful to Karen A. Bearor for alerting me to Pereira's correct birthdate of 1902. Throughout published sources on the artist, the date has been given as 1905, a date Pereira herself had provided. For a detailed study of Pereira's work and beliefs about art, see Karen A. Bearor, "Irene Rice Pereira: An Examination of Her Paintings and Philosophy" (Ph.D. diss., University of Texas at Austin, 1988).
3. The dates given for this trip vary in published sources on Pereira's work, but her trip apparently took place sometime after her first marriage in 1929.
4. Pereira, "New Materials and the Artist."
5. Pereira, manuscript for Eastward Journey, 1953, Pereira Papers, Archives of American Art, roll D223: 0032.
6. For an illustrated discussion of this technique, see Dorothy Gees Seckler, "Pereira Paints a Picture," Art News 51, no. 5 (September 1952): 34–37, 54–55.
7. Pereira, letter to Emily Genauer, 25 April 1947, Emily Genauer Papers,Archives of American Art, roll NG-1: 373.
Virginia M. Mecklenburg The Patricia and Phillip Frost Collection: American Abstraction 1930–1945 (Washington, D.C.: Smithsonian Institution Press for the National Museum of American Art, 1989)
Luce Artist Biography
Irene Rice Pereira worked as a stenographer before turning to painting in the 1920s. She studied at the Art Students League in New York and helped to found the Federal Art Project Design Laboratory, a school patterned after Germany's Bauhaus school. Trips to England, France, Italy, and North Africa fostered an almost mystical attachment to the qualities of light in space. In the 1950s, Life magazine ran a profile of Pereira as it had for the abstract expressionists, although that predominantly male group never accepted her work or her assertive personality. Pereira showed her works with other women artists and minorities in New York and Washington, including students coming up through Howard University's program. She remained as interested in the company of writers as in painters and in the last decade of her life wrote books and poems exploring the mysteries of space, time, and vision (New York Times, January 13, 1971; Schwartz, "Demystifying Pereira," Art in America, October 1979).