Artist
Louise Nevelson
born Kiev, Russia (now Kyiv, Ukraine) 1899-died New York City 1988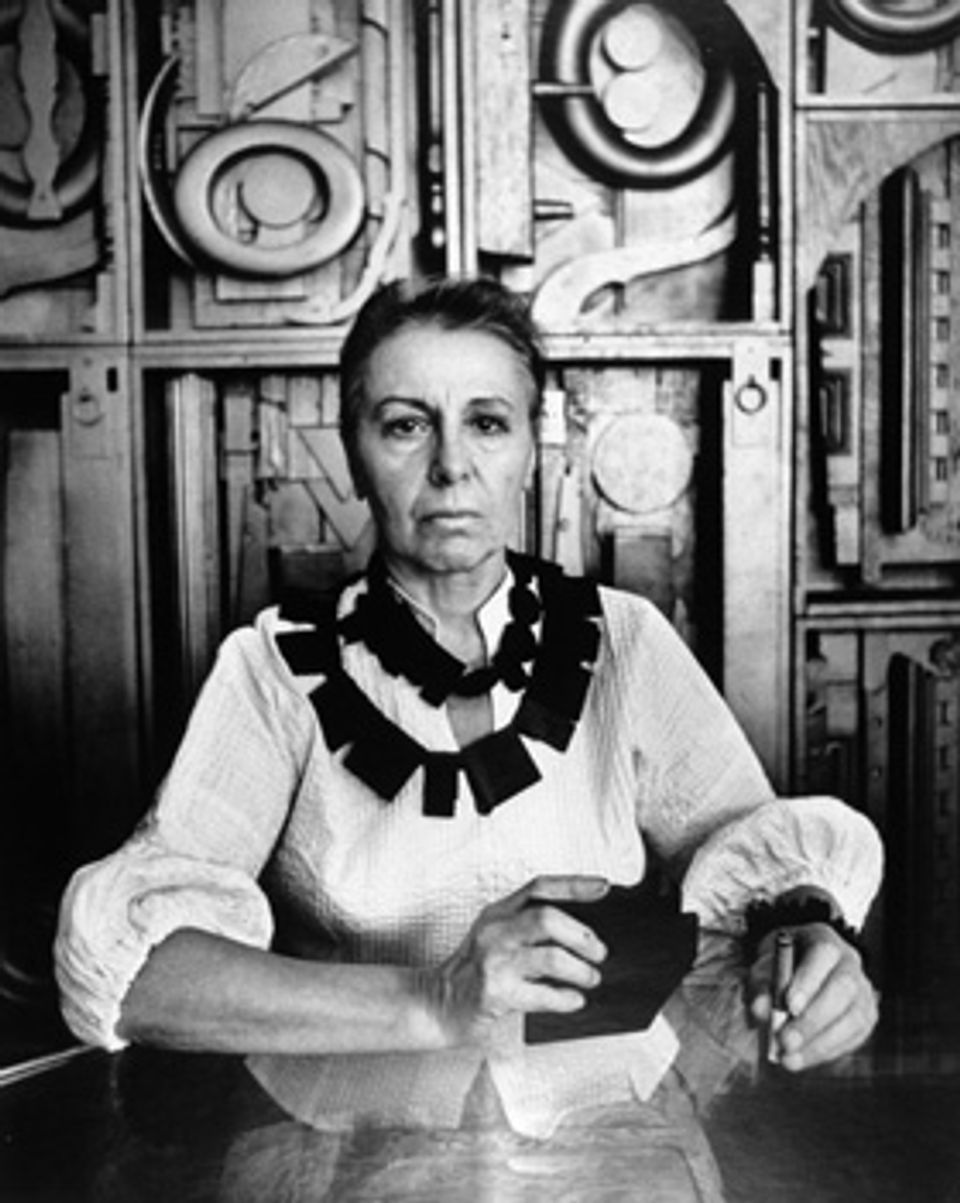 Also known as

Louise Berliawsky
Leah Berliawsky
Leike Berliawsky

Born

Kiev, Russia
Biography
Born in Russia, brought to Maine in 1905, lived in New York City starting in 1920. Internationally famous artist who created striking assemblages of found wooden forms, and sculptures in steel, aluminum, Plexiglass, and other materials. Her etchings are not as widely known.
Charles Sullivan, ed American Beauties: Women in Art and Literature (New York: Henry N. Abrams, Inc., in association with National Museum of American Art, 1993)
Artist Biography
Nevelson came to the United States as a child with her family, settling first in Rockland, Maine. At age twenty she went to New York to study voice and drama as well as painting and drawing. She attended the Art Students League in 1929 and 1930, then traveled to Munich to study with Hans Hofmann. Two years later she was working as an assistant to Diego Rivera, who introduced her to pre-Columbian art; her first solo show in 1941 featured terra cotta and wood sculptures based on Mayan and other primitive imagery. Not until the mid 1950s did Nevelson's far-ranging interests coalesce into dramatically conceived constructions for which she became world-renowned. Nevelson's sculptures are about myth and mystery, and although she took motifs from the world around her, she stated that she identified with ideas "more than with nature." Although she was fascinated with the living quality of wood, in the 1960s she added plastics and formica to her repertoire of media and in the 1970s began to create monumentally scaled pieces in aluminum and steel.
Virginia M. Mecklenburg Modern American Realism: The Sara Roby Foundation Collection (Washington, D.C.: Smithsonian Institution Press for the National Museum of American Art, 1987)
Luce Artist Biography
Louise Nevelson remembered painting, drawing, and carving soap sculptures when she was only five years old. Born in Russia, she moved with her family to Rockland, Maine, in 1905. She felt like an outsider while growing up and apart from her art classes, she did not enjoy being in school. She married Charles Nevelson in 1920 and moved with him to New York. The marriage did not last, however, and Louise left her husband and son to go to Germany, where she worked with abstract expressionist painter Hans Hofmann. She returned to New York after only a few months, feeling a strong connection to the country of her youth and seeing far greater possibilities for the development of her work: "I could be a leaf on the tree in Paris, but I could be the whole tree in America." Nevelson struggled to gain recognition for many years but eventually achieved success during the 1950s, creating dreamlike constructions that evoked dramatic cityscapes. She built boxes and walls from dismantled furniture, ornaments, and scraps of wood that she found on the street, and often painted them in single colors to emphasize the effects of light and shadow.