Artist
Paul Manship
born St. Paul, MN 1885-died New York City 1966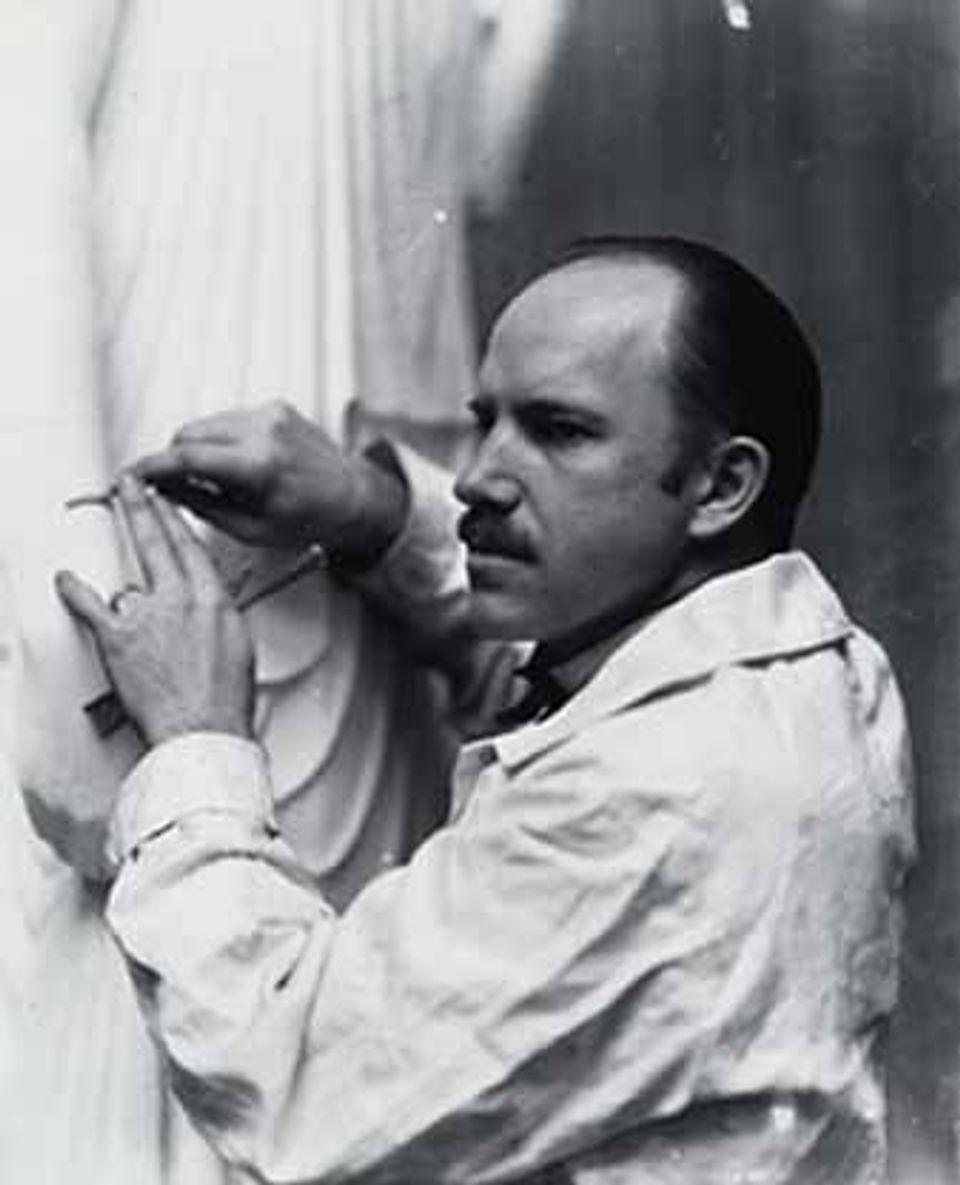 Also known as

Paul Howard Manship
Paul H. Manship

Active in

Gloucester, Massachusetts, United States
Biography
Sculptor. The country's most famous exponent of Art Deco, he embraced archaic vocabularies of Greek, Roman, and Indian art to create decorative, stylized, Neoclassical works. The statue in the fountain in New York City's Rockefeller Plaza, Prometheus (1933) is one of his famous works.
Joan Stahl American Artists in Photographic Portraits from the Peter A. Juley & Son Collection (Washington, D.C. and Mineola, New York: National Museum of American Art and Dover Publications, Inc., 1995)
Artist Biography
By the time he was fifteen years old, Paul Manship had decided he wanted to become a sculptor. He was born the day before Christmas, in 1885, in St. Paul, Minnesota, the youngest of seven children. After attending Mechanical Arts High School, he took evening classes at the St. Paul Institute School of Art, but left to work as a designer and illustrator.
In 1905 he enrolled in the Art Students League in New York City and after a few months of formal study became an assistant to the sculptor Solon Borglum, whom he considered a critical influence on his work. After further study he received a three-year scholarship to study in Rome where he fell under the spell of Greek antiquity and the beauty of classicism. He traveled extensively before returning to the United States in 1912 where he became an immediate success, launching a career that would last fifty years.
The critics and public unanimously acclaimed him a major new talent. There was a rising tide of enthusiasm for his graceful work, and he sold all of the ninety-six bronze statutes he showed in his first exhibition. One year later he received his first important commissions for garden and architectural sculpture from New York architects.
Early in his career Manship became attracted to animal sculptures and showed a great interest in mythical stories and characters. He became known for his freely modeled forms and dramatic gestures. "I like to express movement in my figures. It's a fascinating problem which I'm always trying to solve," he said. He also noted, "I'm not especially interested in anatomy, though naturally I've studied it. And, although I approve generally of normally correct proportions, what matters is the spirit which the artist puts into his creation—the vitality, the rhythm, the emotional effect."
Some of Manship's well-known works are the Prometheus Fountain in Rockefeller Center, the gates to the entrances of the Bronx Zoo and the Central Park Zoo, and the Time and Fates Sundial and Moods of Time sculptures installed in front of Trylon and Perisphere at the 1939 World's Fair in New York City.
Nora Panzer Mythology and the Art of Paul Manship, teachers' guide (Washington, D.C.: National Museum of American Art, Smithsonian Institution, 1989)
Luce Artist Biography
Paul Manship turned his attention from painting to sculpture after discovering that he was color-blind. As a teenager, he devoted so much time to sculpting that he neglected his studies and dropped out of school. Manship's early work was influenced by Rodin's expressive style, but when the younger artist was awarded a three-year internship at the American Academy in Rome, he had the opportunity to study Greek and Roman art firsthand. He fell in love with archaic Greek sculpture, and also studied Egyptian, Asian, and Assyrian art. The sculptures that Manship created from this point were unusual because they were very stylized but still representational. The artist's work was hugely popular upon his return from Rome, and he sold all ninety-six pieces from his first show in New York. Manship worked on a number of monumental projects, and became an influential sculptor in America. Artists openly borrowed and applied his style in many media, especially in illustration
.
By the end of his career, Manship had produced more than seven hundred works and won many prestigious medals. One of his most famous pieces is the fountain sculpture
Prometheus
at Rockefeller Center in New York City.