Artist
Richard Hunt
born Chicago, IL 1935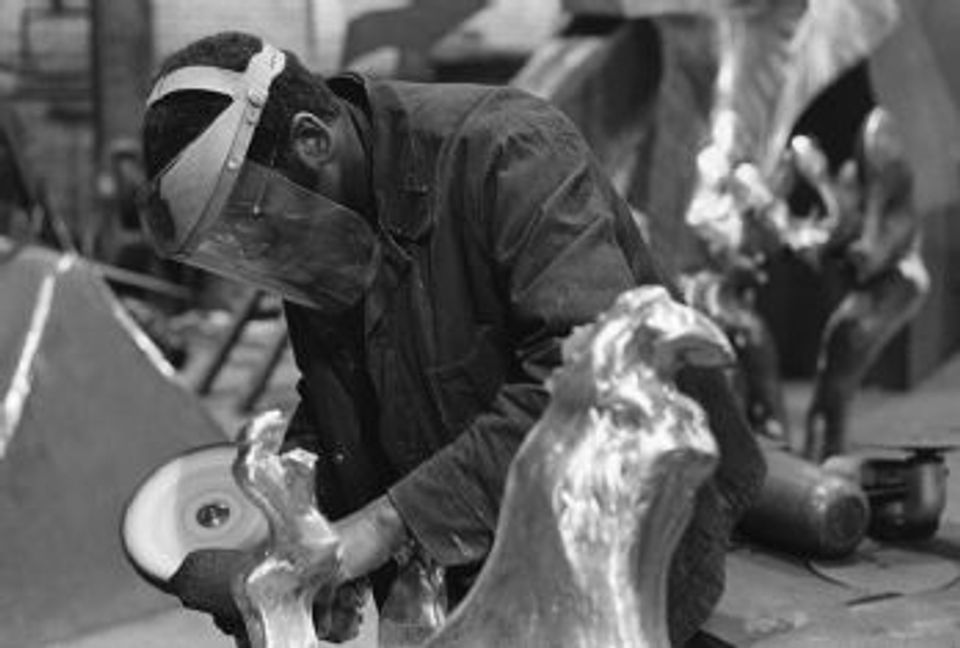 Biography
"In some works it is my intention to develop the kind of forms Nature might create if only heat and steel were available to her." — Richard Hunt quoted in Exhibition flier, Richard Hunt, (Notre Dame, Indiana: University of Notre Dame Art Gallery, 1966).
For more than three decades Richard Hunt's status as the foremost African-American abstract sculptor and artist of public sculpture has remained unchallenged. Executed in welded and cast steel, aluminum, copper, and bronze, Hunt's abstract creations make frequent references to plant, human, and animal forms. Hunt prefers to be called a "Midwestern sculptor," and is one of the few well known African-American sculptors who still resides and works in his hometown.
Hunt was born on September 12, 1935, the younger of two children of Howard and Inez Henderson Hunt, a barber and a librarian respectively who lived on Chicago's predominantly black South Side. Both of Hunt's parents provided invaluable influences during his childhood. He acquired an early interest in politics from conversations he overheard while working in his father's barbershop. His mother instilled in him a love of reading and classical music, and took him to local black opera companies.
Hunt began drawing during his childhood, and enrolled in a summer program at the Junior School of the Art Institute of Chicago where he received his initial training in sculpture under Nelli Bar. In 1950 Hunt set up a studio in his bedroom, and began to model in clay. One of his earliest influences was the work of Julio González in an exhibition, Sculpture of the Twentieth Century, held at the Art Institute of Chicago in 1953. Within two years Hunt had taught himself to master the welded-metal technique. Hunt's career at the Art Institute was outstanding. He was awarded the prestigious Logan, Palmer, and Campana prizes, and the James N. Raymond Foreign Traveling Fellowship in 1957, which permitted him to visit England, France, Spain, and Italy. Hunt was a Guggenheim Fellow in 1962, a Cassandra Foundation Fellow in 1970, and a Tamarind Fellow (awarded under the auspices of the Ford Foundation) in 1965. He has had numerous one-man and group exhibitions, has received a number of honorary degrees, and has served as Visiting Artist and Professor at many schools and universities. In 1969 Hunt became the first African-American sculptor to be honored with a retrospective exhibition at the Museum of Modern Art in New York.
More than thirty examples of Hunt's sculptures are located in and around Chicago's libraries, community centers, universities, apartment houses, and office buildings. An equal number may be seen elsewhere in the Midwest, South, New York, and Washington, D.C. Hunt's early works of the 1950s were more figural than the later examples, and frequently reflected classical themes. During the 1960s and early 1970s Hunt used automobile junkyards as his quarries, and transformed cast-off automobile bumpers and fenders into elegant abstract welded sculptures.
The public sculptures of Richard Hunt undeniably bridge the gap between abstract art and the black experience in America, as is evident in such works as Freedmen's Column at Howard University and I Have Been to the Mountain, a memorial to Dr. Martin Luther King, Jr., in Memphis, Tennessee, where King was killed. Hunt's success and popularity as a sculptor of public pieces can be attributed to the universal appeal of his work and his remarkable ability to produce abstract works that are suggestive of themes and people of his immediate world.
Hunt is also an accomplished printmaker who prefers lithography. Many of his lithographs, such as Untitled—Bones of 1964–70, reflect the same elegant abstract forms seen in his metal sculptures. Some of his lithographs were studies for his outdoor pieces and smaller sculptures.
Regenia A. Perry Free within Ourselves: African-American Artists in the Collection of the National Museum of American Art (Washington, D.C.: National Museum of American Art in Association with Pomegranate Art Books, 1992)
Luce Artist Biography
Richard Hunt started welding in his parents' basement, and today his studio is a converted trolley station on the north side of Chicago. The sculptor needs this enormous space to hold the industrial welding material he uses to create his works. Hunt scours junkyards for old car parts that he can combine to form sweeping organic shapes. Back in his studio, he spends up to ten hours a day cutting, burning, beating, and plating scrap metal to create the forms "that nature would use if only heat and steel were available to her" (Flanigan, Going Forward, 1996). Hunt makes monumental sculptures for public spaces, and has works in Washington, D.C., his hometown of Chicago, New York, and as far away as Vienna and Jerusalem.