Artist
Robert Turner
born Port Washington, NY 1913-died Sandy Spring, MD 2005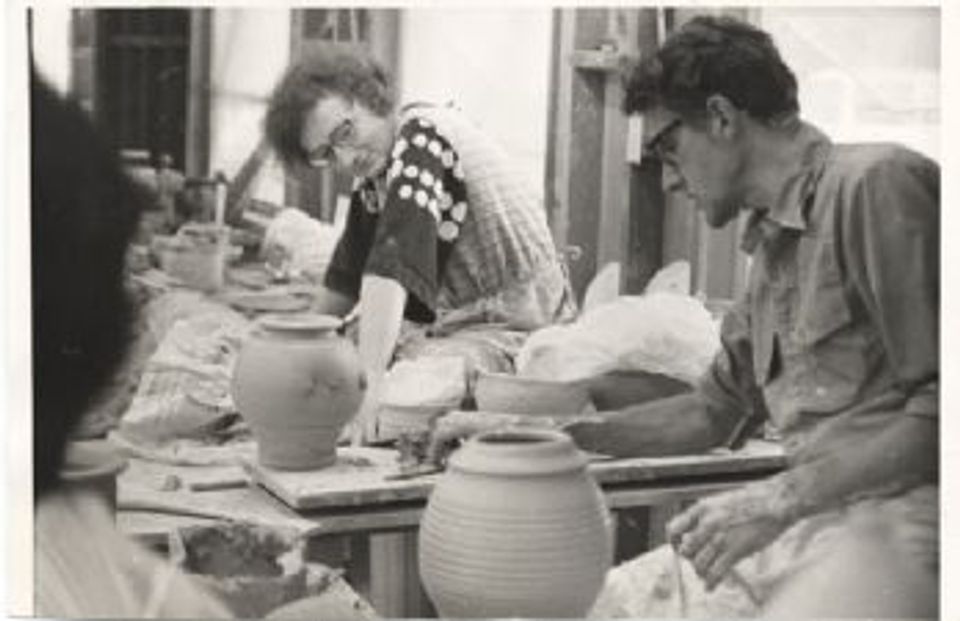 Biography
During the 1950s and 1960s, functional potter Robert Turner helped develop and refine a stoneware aesthetic that was synonymous with American ceramics of the era. His high-fired, reduction wares were classics of their kind. Timeless and universal in shape, they had gradually evolved, first from a careful study and testing of vessel forms derived from ancient China and Greece, and then, in the 1950s, under aesthetic influences from Japanese folk pottery and Zen Buddhism, the Bauhaus, and contemporary Scandinavian ceramics. The simple, elegant forms of his wheel-thrown casseroles, vases, bowls, and covered jars were based on straight lines that were modified only sparingly by sweeping curves. Each refined and disciplined form was superbly fitted to its primary function—cooking, holding, pouring.
By the late 1960s, however, Turner's pottery had reached a such degree of perfection in both form and expression that he perceived it as a "dead end." At mid-career, feeling he had exhausted his original reasons for vessel making, he began to experiment. Building on the formal transformations of potter Peter Voulkos, he began to reconfigure the essential geometry of the pot. With form no longer following function, Turner became one of the leading makers of organically abstract "art" pots during the 1970s.
In 1971–72, drawn by the power of African sculpture, and wishing to imbue his work with a greater sense of universality, Robert Turner traveled to Nigeria and Ghana. The trip proved transformational. In West Africa he was deeply moved by the way in which art was ingrained in daily experience, and by the beauty of traditional forms of architecture, pottery, ceremonial objects, and decoration. After his return, Turner began to produce series of distinctive vessel types named after African kingdoms and peoples—Ashanti, Ife, Oshogbo, Akan. The first is a squat, lidded pot; the others are cone and cylinder shapes.
In these variations on formal themes, he endeavored to express his perception of the cultural spirit of the various tribal centers he had visited, as well as evoking the shape, color, and texture of the local landscape. The canyons, desert landscape, and adobe architecture of the American Southwest also deeply attracted Turner's attention at this time, resulting in his ongoing series of de Chelly vessels—a fourth cone and cylinder variant.
Limiting his formal vocabulary in the 1970s and 1980s to a handful of distinctive cone and cylinder shapes inspired by his African sojourn, Turner also restricted the colors and his clays and glazes to three basic hues: blue-black, red-brown, and tones of white. The outsides of his pots were often sandblasted to create chromatic variations and more inviting and tactile surfaces.
Akan (1984) [1993.54.20] exemplifies Robert Turner's mingling of influences from his experiences in West Africa. Peter Voulkos' ceramics, and his own decades-long interest in reworking and refining the essential geometry of the vessel. Like his other types of pots, this dark-toned Akan is composed of two elementary, wheel-thrown shapes—a wide-based cone that firmly supports a cylinder.
The generalized form serves as the armature for rectangular strips of clay that look like steel bars that Turner juxtaposes on its surface. Along with other surface additions, these strips are placed in such a way as to suggest movement both up and around the sculptural pot. In the artist's words, the added strips "begin to move as a structure, as in a dance, spanning space like a bridge—almost as though I could take the pot away and they could exist by themselves."
Jeremy Adamson KPMG Peat Marwick Collection of American Craft: A Gift to the Renwick Gallery (Washington, D.C.: Renwick Gallery, National Museum of American Art, Smithsonian Institution, 1994)
Luce Artist Biography
Robert Turner started his career as a painter and attended the Pennsylvania Academy of the Fine Arts before traveling to Europe to study the old masters. In the late 1940s he made the switch to ceramics and earned a master's degree in industrial ceramic design from New York's Alfred University. He taught at Black Mountain College in North Carolina, a center for avant-garde art, music, and drama during the 1940s and '50s. In 1951 he left Black Mountain and moved to a remote farm in Alfred Station, New York, where he worked in a pottery studio converted from an old barn. Turner traveled the world, exploring the art of different cultures, from Nova Scotia and Cape Cod to Italy and Nigeria. His pots explore the idea of enclosed space, which he equated to the "inside of a crater" or "in between the walls of a canyon." (Turner, "Born Remembering," The Studio Potter, June 1982)