Artist
Theodore Robinson
born Irasburg, VT 1852-died New York City 1896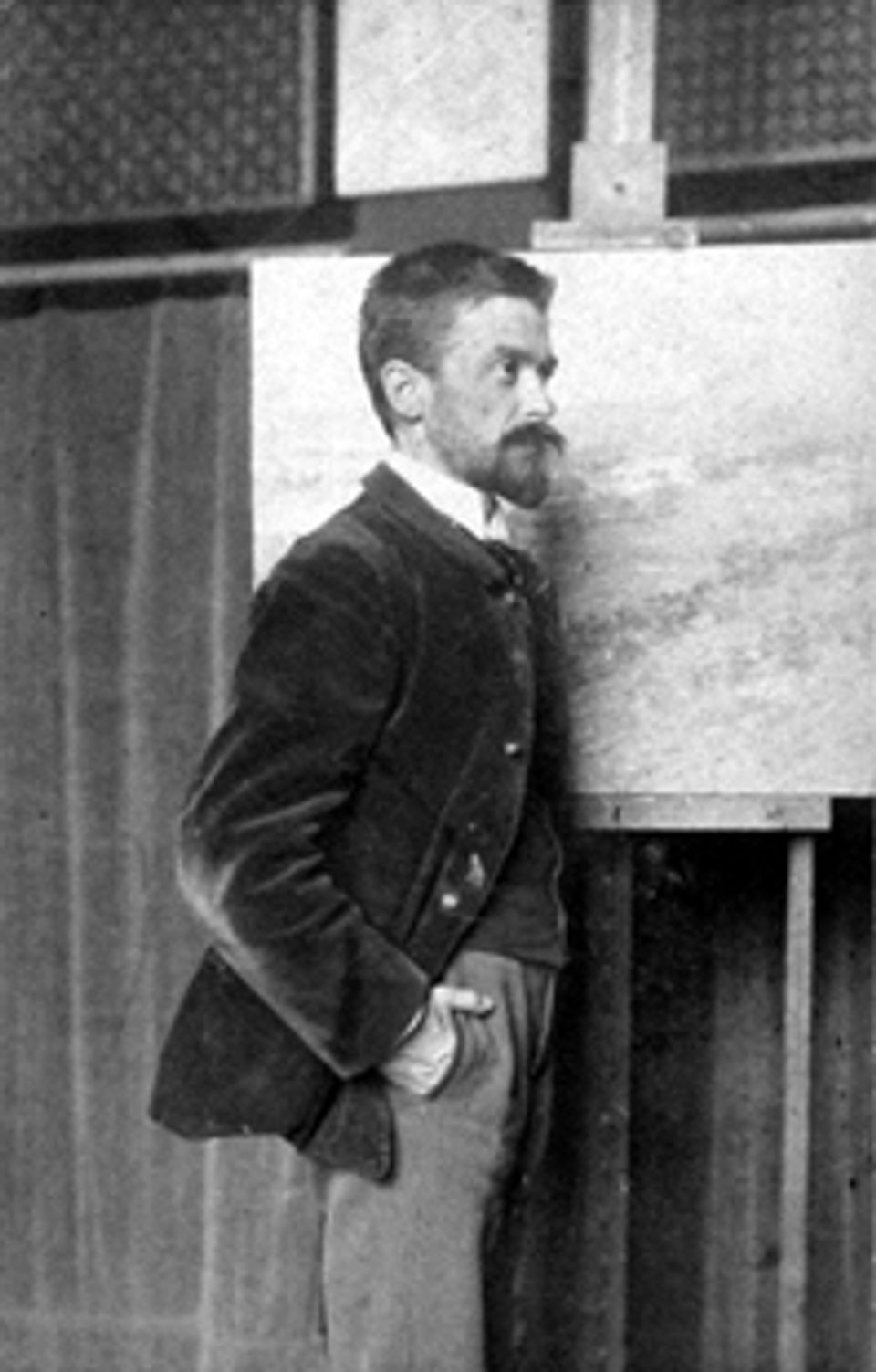 Born

Irasburg, Vermont, United States
Biography
Born in Vermont, studied and worked for many years abroad. Painter who lived in Giverny, 1887–92, was greatly influenced by Monet, and is generally considered to be the leading American Impressionist.
Charles Sullivan, ed American Beauties: Women in Art and Literature (New York: Henry N. Abrams, Inc., in association with National Museum of American Art, 1993)
Artist Biography
Theodore Robinson was born in Irasburg, Vermont, but at the age of three his family moved to Wisconsin. Robinson's earliest art study was done at the Art Institute of Chicago in 1869. Soon thereafter, he went to Paris where he continued his studies with conservative masters Carolus-Duran and Jean-Léon Gérôme. Broke and hungry he returned to New York, where he found friendship and employment with John La Farge. Financial considerations recurrently obliged him to teach, a chore he never enjoyed. This may have been because from childhood he suffered severe asthma attacks, which seriously depleted his energy and ultimately led to his premature death.
During these early years a persistent theme emerged in his work. He often painted realistically rendered rustic genre scenes of single female figures in landscapes somewhat in the earlier manner of Winslow Homer and Eastman Johnson.
In 1884, Robinson returned to France where he remained for eight years, moving soon to Giverny where he became a close neighbor and friend of Monet, frequently enjoying the hospitality and critiques of the aging master. There his painting acquired the attributes of the French impressionist school, the high color and flickering light, the broken brush stroke and repeated diagonal areas of mottled color, but never losing the form and structure of the American aesthetic.
His skills and his proximity to Monet propelled him to the center of the American coterie at Giverny and gave him the authority and influence to communicate impressionist attitudes and techniques to his compatriots.
In 1892 he returned to America to apply his impressionist vision to his native landscape. He worked with Weir and Twachtman at Cos Cob in Connecticut, painted the picturesque canals of New York State, and finally gravitated to a Giverny of his own in his home state of Vermont. But within four years of his return, ill health overcame him and he died alone and penniless. His final canvases, lacking patrons, were auctioned at an estate sale.
Emery Battis Artist Biographies for the exhibition American Impressionism: Treasures from the Smithsonian American Art Museum (Washington, D.C.: Smithsonian American Art Museum, 2000)
Luce Artist Biography
Theodore Robinson studied art in Chicago and moved to New York City after he had earned enough money "doing crayon portraits and enlarging photographs." He won a medal for life drawing at the National Academy of Design, and his confidence led him to continue his studies in Paris, where he made sketches in the Louvre and trained with noted French painters. Some years later, Robinson met Claude Monet at his home in Giverny. He described Monet as "the most aggressive, forceful painter. The one whose work is influencing this epoch the most." Monet encouraged his friend to experiment with impressionism, and Robinson was one of the first artists to bring this radical new style of painting back to the United States. Once settled in New York, Robinson taught, experimented with photography, and wrote critical essays when he was not painting (Mayer, First Exposure: The Sketchbooks and Photographs of Theodore Robinson, 2000).