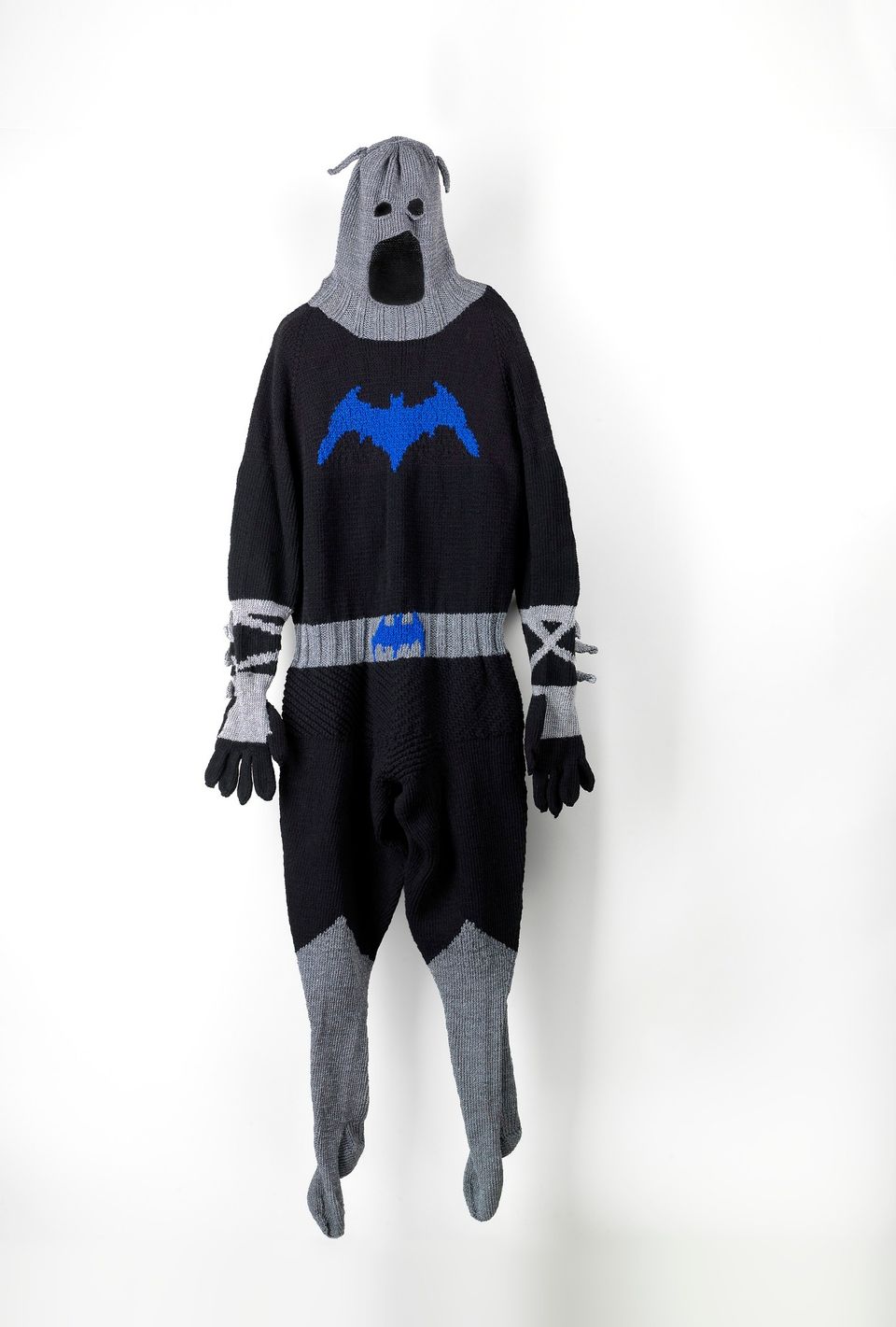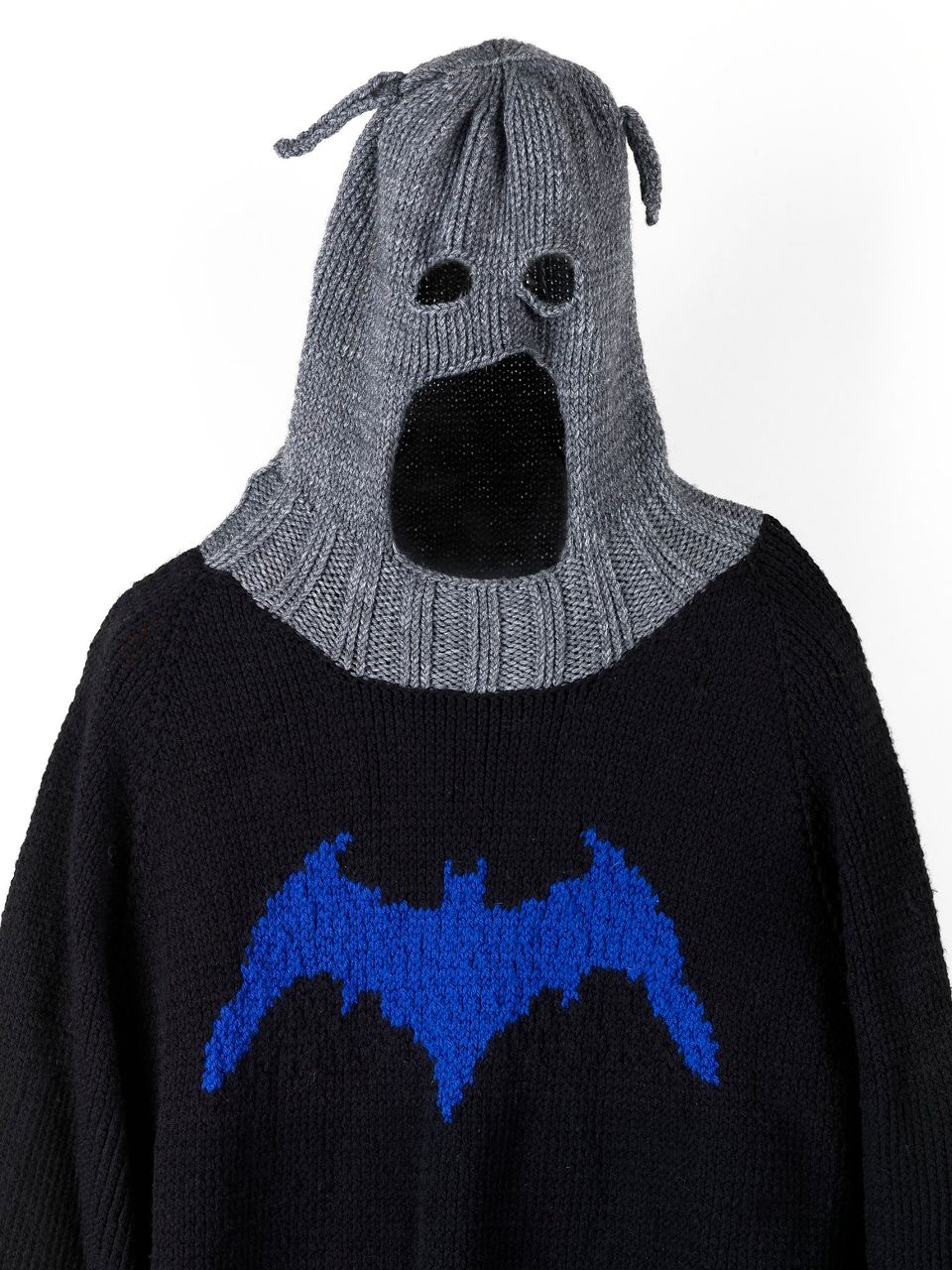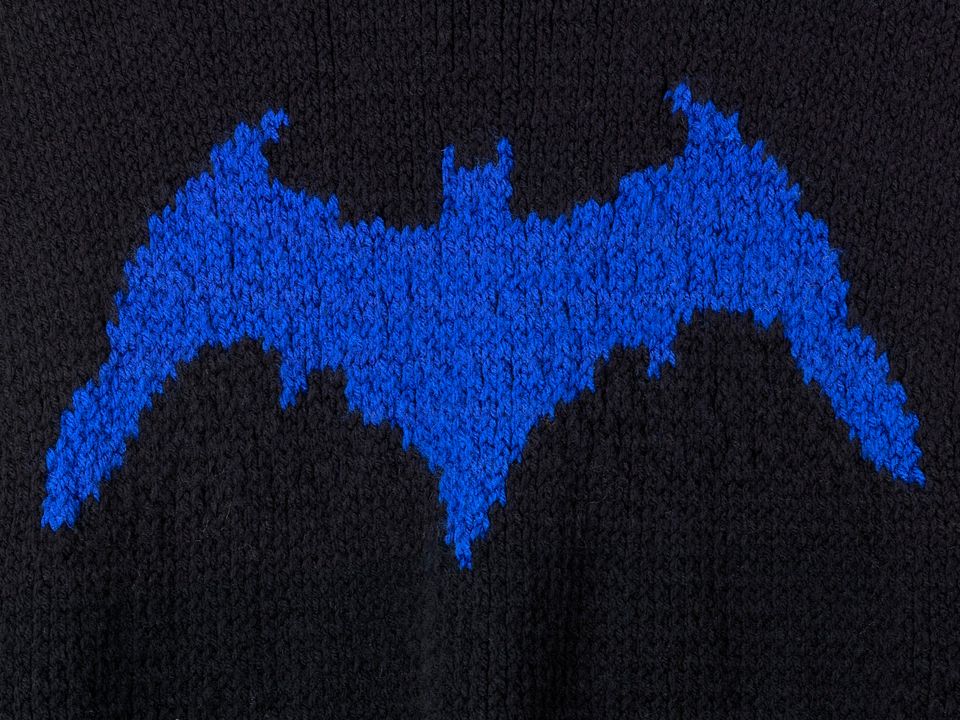 Copied
Mark Newport,
Batman 2
, 2005, acrylic and buttons,
76
x
26
x
6
in. (
193
.
0
x
66
.
0
x
15
.
2
cm), Smithsonian American Art Museum, Museum purchase through the Richard T. Evans Fund, 2010.20, © 2005, Mark Newport
Artist

Dimensions

76

x

26

x

6

in. (

193

.

0

x

66

.

0

x

15

.

2

cm)

Copyright

© 2005, Mark Newport

Credit Line

Museum purchase through the Richard T. Evans Fund

Mediums Description

acrylic and buttons

Classifications

Keywords

Cartoon — comics — Batman

Object Number

2010.20
Mark Newport knits costumes for superheroes such as Batman, Superman, and Spiderman. These protagonists first appeared in comic books and were further popularized in cinema and television, the media that brought theater to the masses. Some of Newport's other subjects include fictionalized heroes of the American West, such as Rawhide Kid and Two Gun Kid, and characters of his own invention, such as Sweaterman. Knitting is more readily associated with craft than high art, so Newport's lowbrow process, emphasized by his use of acrylic yarn, affirms his message about the influence and pervasiveness of the popular.
A superhero's sleek suit generally functions as a shield from injury, but the only protection that Newport's homey outfits offer is from the cold. They underscore the false security promised by fantastic beings. Far from skintight, the suits droop and sag. When displayed on a hanger they are lifeless, shroudlike vestments that seem to mock the implied physical power of the familiar emblems and color schemes. Though the artist creates them to his own proportions, their misshapenness indicates that they will fit no one well and everyone adequately. This is evident in Newport's prints, which are visual narratives about characters wearing his costumes. The artist sometimes knits in public while wearing one of his knitted suits. He performs in the everyday arena transformed by his dress; the most ordinary locales have the potential to be his stage.
Batman 2 was featured in the museum's exhibition and book Staged Stories: Renwick Craft Invitational 2009.
Staged Stories: Renwick Craft Invitational 2009 exhibition label