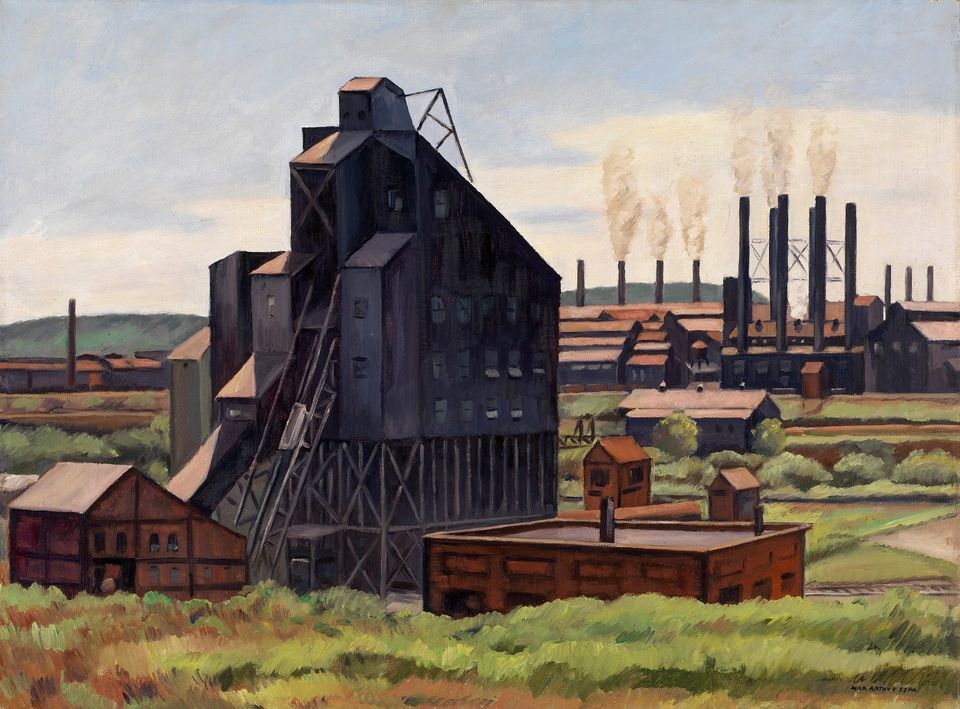 Copied
Max Arthur Cohn,
Bethlehem Steel Works
, 1938, oil on canvas, Smithsonian American Art Museum, Gift of Mr. Max Arthur Cohn, 1978.41.1
Title

Bethlehem Steel Works

Artist

Location

Dimensions

24

x

32

in. (

61

.

0

x

81

.

4

cm)

Credit Line

Gift of Mr. Max Arthur Cohn

Mediums

Mediums Description

oil on canvas

Classifications

Keywords

Architecture Exterior — industry — Bethlehem Steel Works

Object Number

1978.41.1
Max Arthur Cohn painted Bethlehem Steel Works in 1938, during the Great Depression and a few short years before America's entry into World War II. The artist depicted one of the massive steel factories owned by Bethlehem Steel in Pennsylvania. Bethlehem Steel, now defunct, was once one of the largest steel producers in the United States. It produced the steel used in numerous American structural icons, most notably San Francisco's Golden Gate Bridge. It also built 1,127 ships during World War II. In a letter about the painting, Cohn recalled being arrested in Bethlehem City, Pennsylvania, under suspicion of being a Nazi spy while painting a scene similar to this one in the summer of 1939 (The artist, to Harry Rand, February 20, 1978, The American Art Museum curatorial file).