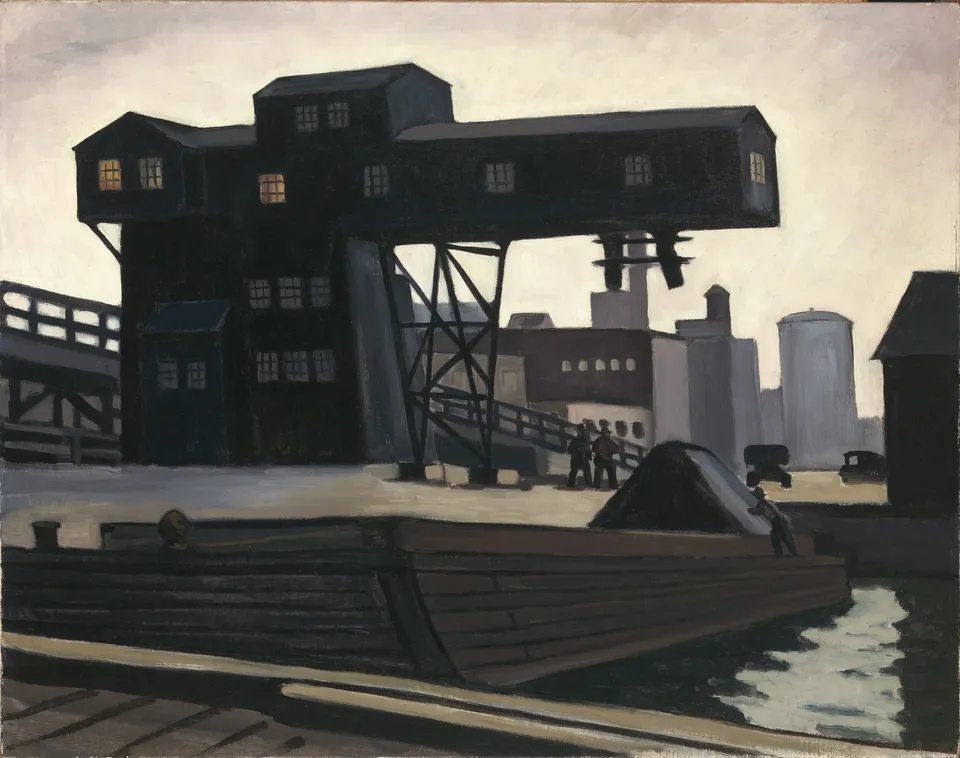 Copied
Max Arthur Cohn,
Coal Tower
, ca. 1934, oil on canvas, Smithsonian American Art Museum, Transfer from the U.S. Department of Labor, 1964.1.4
Title

Coal Tower

Artist

Dimensions

22

1

⁄

8

x

28

in. (

56

.

2

x

71

.

2

cm.)

Credit Line

Transfer from the U.S. Department of Labor

Mediums

Mediums Description

oil on canvas

Classifications

Keywords

New Deal — Public Works of Art Project — New York City
Landscape — time — night
Architecture — industry — factory
Figure group
Cityscape — New York — New York
Architecture — machine
Architecture — boat — barge
Cityscape — wharf
Figure group — male

Object Number

1964.1.4
The London-born artist Max Cohn often painted New York industrial scenes like this one, showing the men and machines that kept the great city working. In this painting the viewer looks up from a pier at the dark silhouette of a coal tower standing over a coal-laden barge. The windows of the tower glow golden, showing that men are inside running the giant scoop that unloads coal from the barge and drops it onto a conveyor belt within the tower. From there the coal that has just arrived by barge from Pennsylvania or New Jersey goes to power one of New York's electrical generating stations or factories. Cohn spent time among the docks and coal towers where he learned how men worked to provide fuel for the city. With a striking combination of light and dark, lines and masses, the artist describes the grimy dockside world. Cohn's paintings reveal his fascination with the rough, modern geometry of New York's barges, tugboats, warehouses, and factories and the men who worked in them.
1934: A New Deal for Artists exhibition label