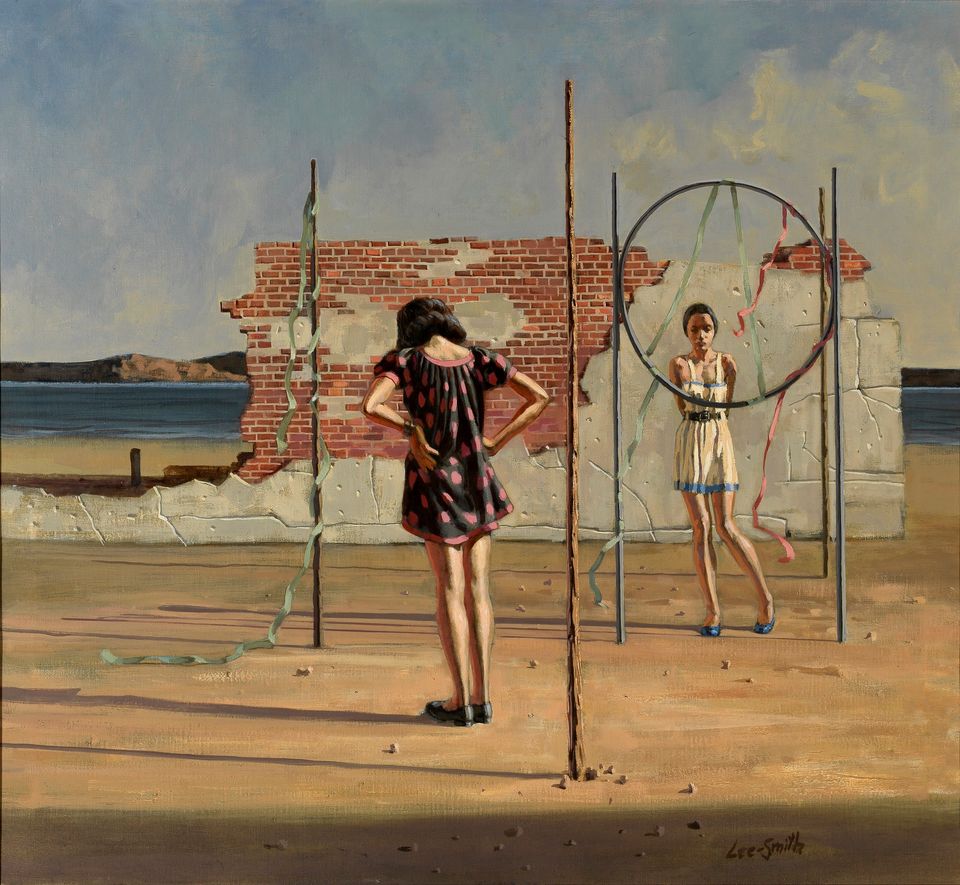 Copied
Hughie Lee-Smith,
Confrontation
, ca. 1970, oil on canvas,
33
x
36
in. (
83
.
8
x
91
.
4
cm), Smithsonian American Art Museum, Bequest of Henry Ward Ranger through the National Academy of Design, 2009.27
Title

Confrontation

Artist

Dimensions

33

x

36

in. (

83

.

8

x

91

.

4

cm)

Credit Line

Bequest of Henry Ward Ranger through the National Academy of Design

Mediums

Mediums Description

oil on canvas

Classifications

Highlights

Keywords

Landscape — beach
Figure group — female
Architecture Exterior — detail — wall
State of being — other — confrontation

Object Number

2009.27
With its half-demolished wall, odd configuration of poles, hula-hoop-like ring, and distant vista of calm water and low mountains, Confrontation presents an incongruous and unsettling image. But something is familiar about the scene; a quality of déjà vu that summons memories of difficult personal encounters. We assume a connection between the two young women, yet it is impossible to know the reason for their estrangement. Throughout his life, Lee-Smith explored the themes of the human condition and the wedges – social, individual, and racial – that thwart human interaction. But in Confrontation, Lee-Smith introduced a sense of possibility. The crumbling wall that separates the women from the landscape is not an insurmountable barrier; the serene world beyond is accessible by skirting boundaries.


African American Art: Harlem Renaissance, Civil Rights Era, and Beyond, 2012
New Acquisition Label
Hughie Lee-Smith's art conveys the alienation and isolation experienced by many African Americans during the middle decades of the twentieth century, yet his work speaks in larger terms about our inability to reach out and connect with others on grounds larger than race. Although Lee-Smith was a direct contemporary of Jacob Lawrence, his art followed a different trajectory, adopting an approach to realism inflected by the sense of isolation and alienation in Edward Hopper's work, and by the surrealistic tendencies of Giorgio di Chirico. That surrealistic edge to his work intensifies the emotional distance conveyed by the people in his paintings.
Over a sixty-year career, Lee-Smith explored psychological corners of the human experience grounded in separation and displacement. As the artist remarked about his work, "I think my paintings have to do with an invisible life—a reality on a different level." Confrontation suggests the tension between the girls and their situation, rather than between the two of them; they radiate alienation—from each other, and from the crumbling infrastructure of their surreal, beachfront surroundings.
Smithsonian American Art Museum, 2009