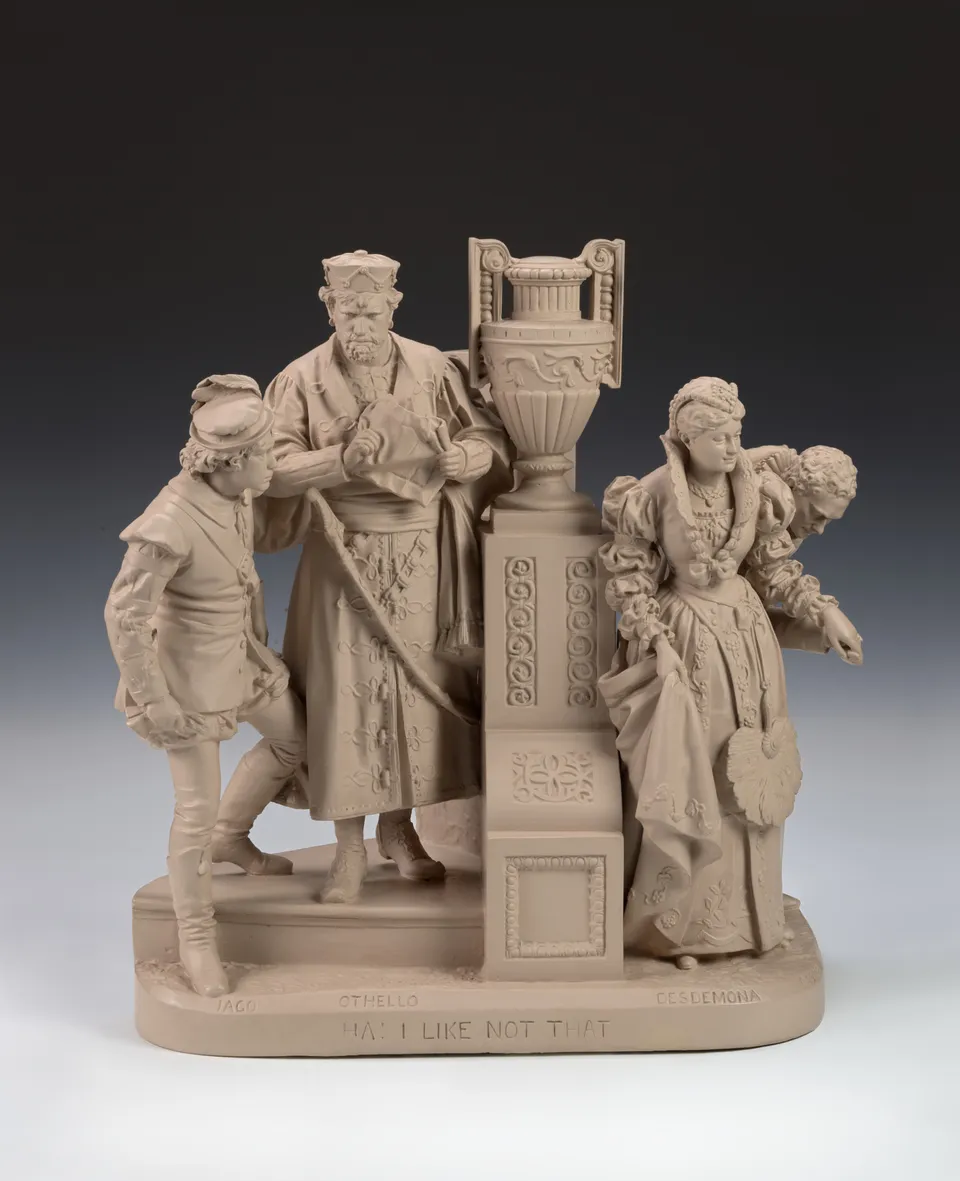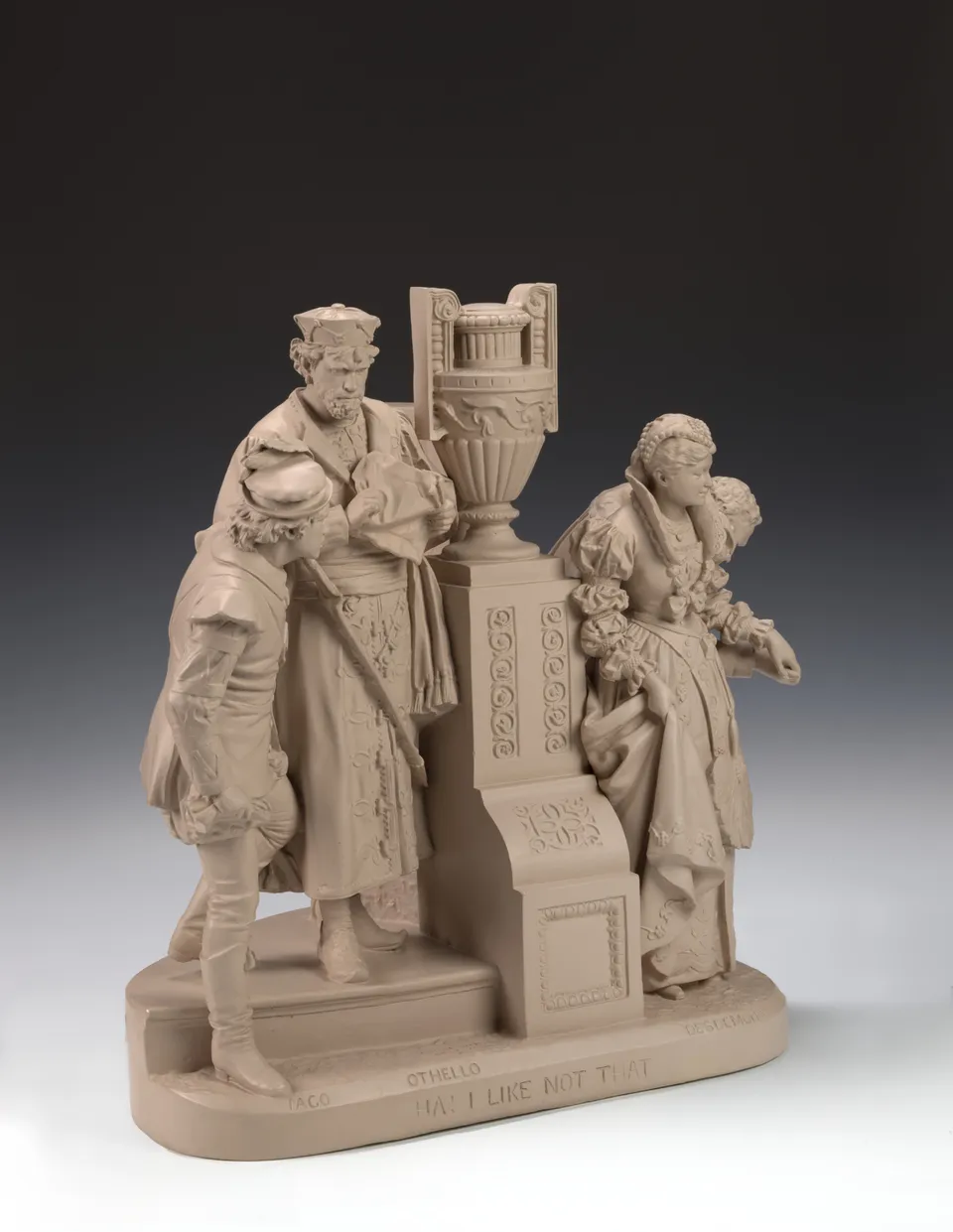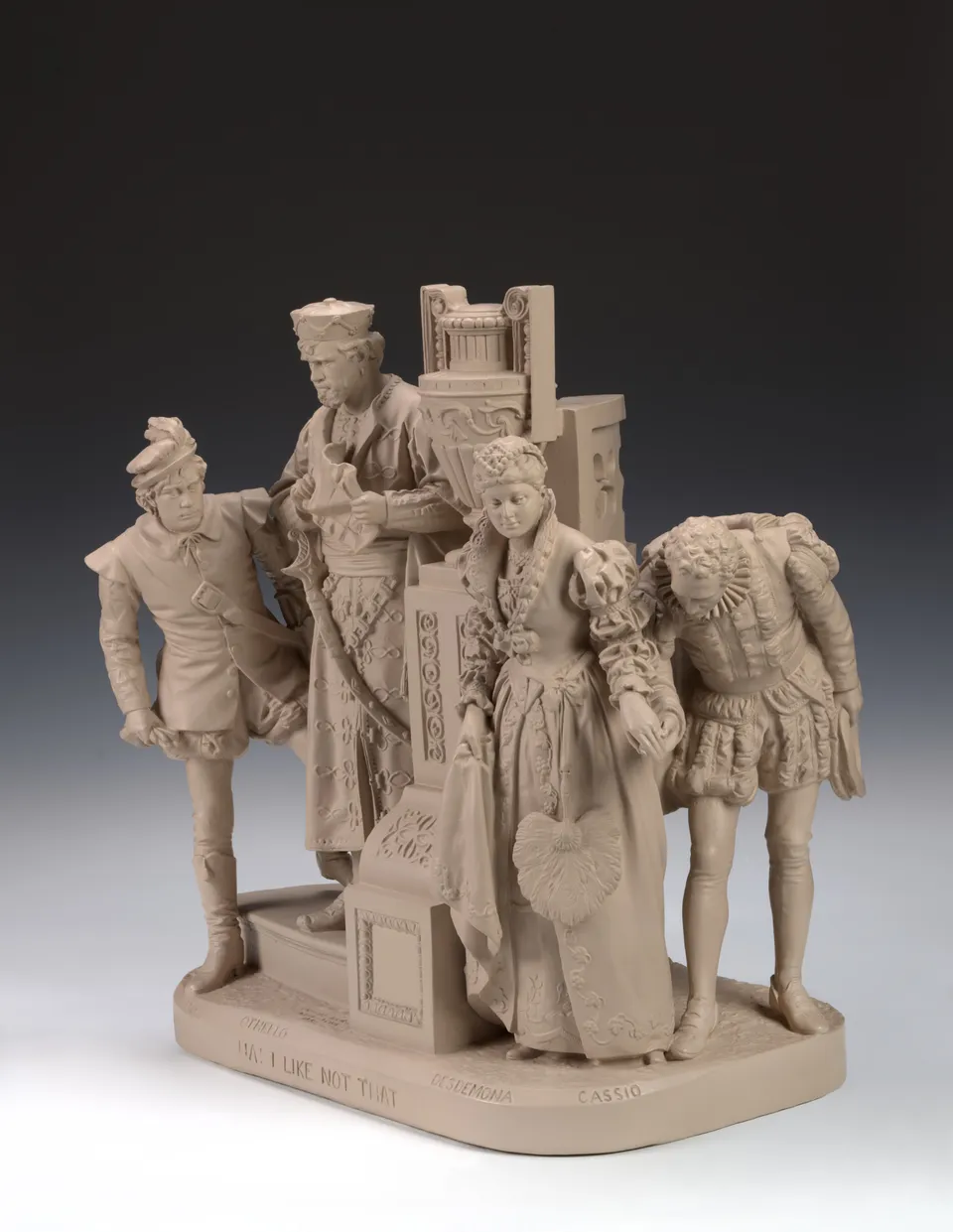 Copied
John Rogers,
"Ha! I Like Not That"
, patented 1882, painted plaster,
22
x
20
3
⁄
4
x
14
3
⁄
8
in. (
55
.
8
x
52
.
6
x
36
.
5
cm), Smithsonian American Art Museum, Gift of John Rogers and Son, 1882.1.4
Title

"

Ha! I Like Not That"

Artist

Dimensions

22

x

20

3

⁄

4

x

14

3

⁄

8

in. (

55

.

8

x

52

.

6

x

36

.

5

cm)

Markings

base top: John Rogers. New York/1882 base front incised: IAGO OTHELLO DESDEMONA CASSIO/HA: I LIKE NOT THAT

Credit Line

Gift of John Rogers and Son

Mediums Description

painted plaster

Classifications

Keywords

Group
Figure group
Performing arts — theater
Literature — Shakespeare — Othello

Object Number

1882.1.4
For this statuette illustrating a scene from Shakespeare's Othello, John Rogers conveys the play's setting--Renaissance Venice--through swords, ceramics, feathers, brocades, leather, and lace. These bring to life a pivotal scene in which the vile Iago, on the far left, plants the seeds of murderous jealousy in Othello, whose wife, Desdemona, appears to receive inappropriate attentions from a rival. A luxurious collar accentuates Desdemona's beauty, while a dagger hints at Iago's treachery. Through such historical detail, this parlor statue fueled Americans' popular conception of Venice as a place of adventure, romance, and above all, sensual excess.
Sargent, Whistler, and Venetian Glass: American Artists and the Magic of Murano, 2021.
Luce Center Label
"Ha! I Like Not That"
refers to a scene from Shakespeare's
Othello
. Othello and Iago have arrived to greet Othello's wife, Desdemona, who is speaking with Cassio. Upon seeing Cassio, the traitorous Iago mutters, "Ha! I like not that," and hints to Othello that Desdemona and Cassio may be having an affair. In this piece the actor Edwin Booth posed for Iago, and Tommaso Salvini may have posed for Othello.