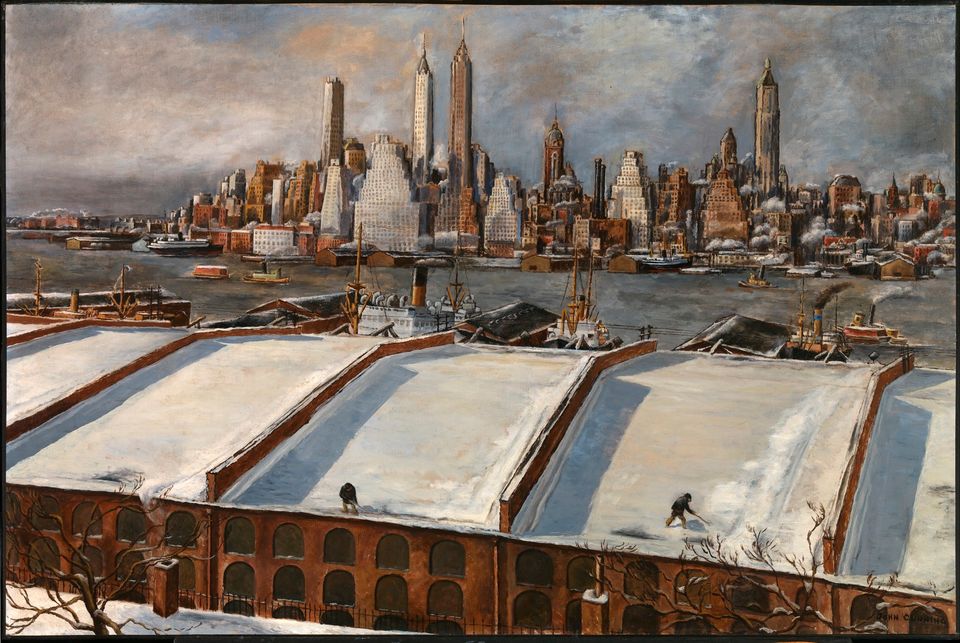 Copied
John Cunning,
Manhattan Skyline
, 1934, oil on canvas,
32
1
⁄
8
x
48
1
⁄
8
in. (
81
.
5
x
122
.
2
cm), Smithsonian American Art Museum, Transfer from the U.S. Department of Labor, 1964.1.44
Title

Manhattan Skyline

Artist

Dimensions

32

1

⁄

8

x

48

1

⁄

8

in. (

81

.

5

x

122

.

2

cm)

Markings

lower right in oil: JOHN CUNNING back in green crayon: X(underlined) 6 stretcher in oil: NYRC--811 frame in green crayon: Box--49

Credit Line

Transfer from the U.S. Department of Labor

Mediums

Mediums Description

oil on canvas

Classifications

Keywords

Landscape
Cityscape — New York — New York
Cityscape — river — East River
Waterscape — harbor — New York Harbor
Cityscape — weather — snow
New Deal — Public Works of Art Project — New York City
Architecture Exterior — commercial — skyscraper
Architecture Exterior — industry — factory

Object Number

1964.1.44
This panoramic view of lower Manhattan seen from Brooklyn was an absorbing artistic project for artist John Cunning. He wrote to the Public Works of Art Project asking for more time. The artist needed many days to study the scene, capturing winter light effects on the many structures he described in detail.
New York City goes about its varied daily businesses in Cunning's painting, despite the Depression. Whether or not their offices were full of workers, the Farmer's Trust Building, 120 Wall Street, the Bank of Manhattan, 60 Wall Tower, and the Singer Building towered proudly against the gray sky. Commuters who still had jobs had come from the outer boroughs in the ferry boats shown tied up at the Manhattan docks. Tugboats steam up and down the East River pulling barges and guiding the great ships that arrived in New York from all over the world. On the Brooklyn shore, cargo ships are tied up for loading or unloading. The men in the foreground are removing snow from the roofs of a coffee warehouse on Water Street near the Brooklyn Bridge.
1934: A New Deal for Artists exhibition label