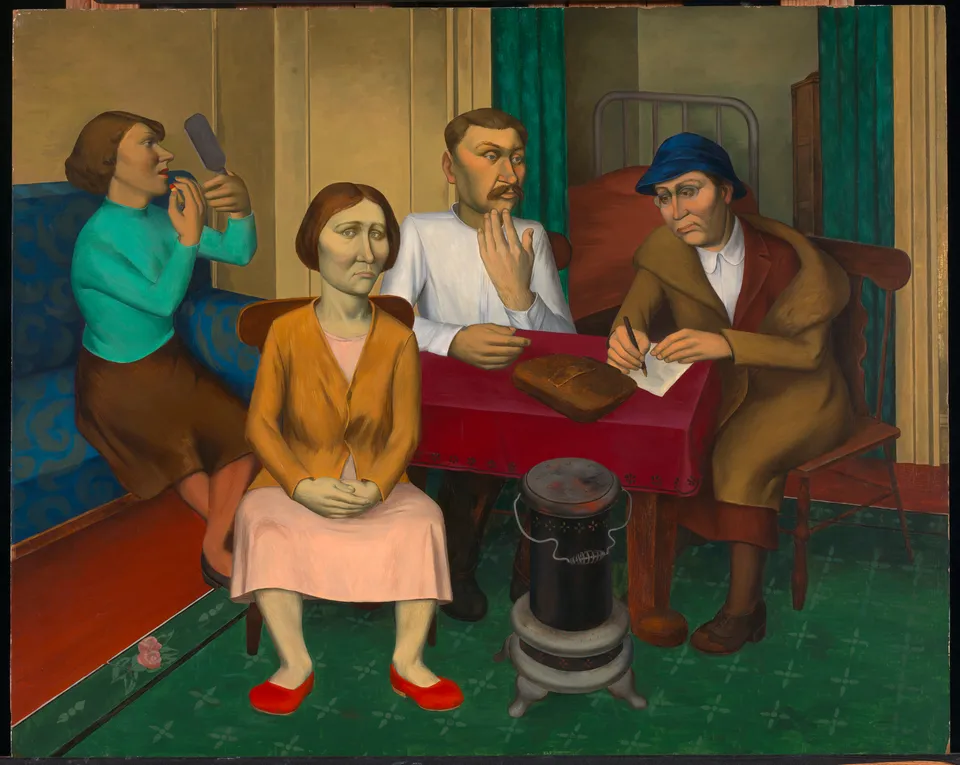 Copied
O. Louis Guglielmi,
Relief Blues
, ca. 1938, tempera on fiberboard, Smithsonian American Art Museum, Transfer from General Services Administration, 1971.447.34
Title

Relief Blues

Artist

Dimensions

24

x

30

in. (

61

.

1

x

76

.

2

cm.)

Credit Line

Transfer from General Services Administration

Mediums

Mediums Description

tempera on fiberboard

Classifications

Keywords

Object — furniture — stove
Architecture Interior — domestic — kitchen
Recreation — leisure — letter reading and writing
State of being — mood — desolation
New Deal — Works Progress Administration, Federal Art Project — New York City
Figure group

Object Number

1971.447.34
This painting shows a family on home relief during the Depression. O. Louis Guglielmi applied for relief during the early 1930s, before he managed to secure a meager wage through the Works Progress Administration. The unemployment that blossomed after the crash of 1929 was demoralizing for many Americans, and here, Guglielmi emphasized the figures' despondent, haunted expressions. A relief worker on the right fills out forms to apply for welfare, while the man of the house can only watch helplessly. He probably had little choice but to ask the government for help, and the painting hints at an even sadder future should his application be refused.