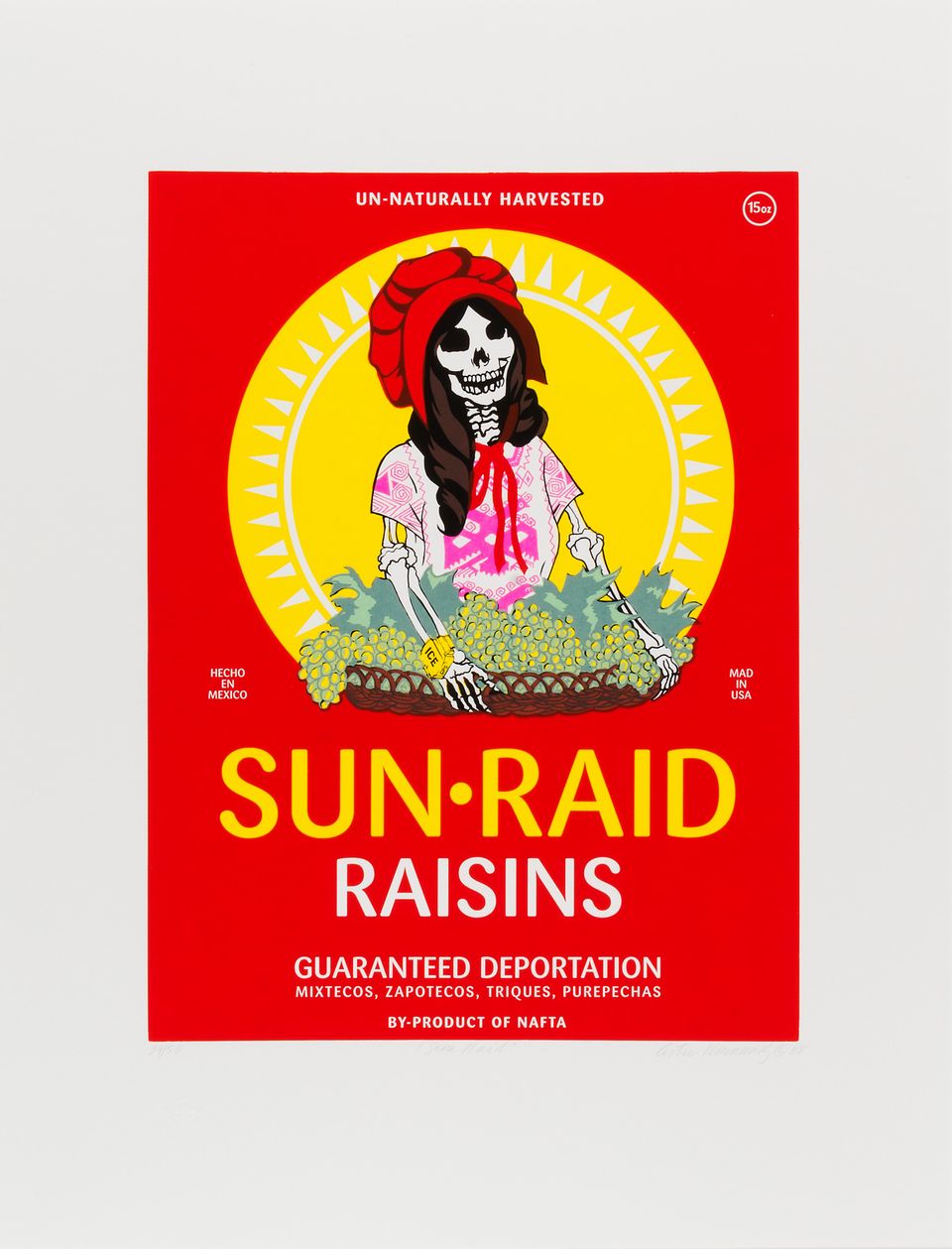 Copied
Ester Hernandez,
Sun Raid
, 2008, screenprint on paper, image:
19
3
⁄
4
×
15
in. (
50
.
2
×
38
.
1
cm) sheet:
29
×
22
1
⁄
4
in. (
73
.
7
×
56
.
5
cm), Smithsonian American Art Museum, Gift of the artist, 2020.12.2, © 2008, Ester Hernández
Title

Sun Raid

Artist

Dimensions

image:

19

3

⁄

4

×

15

in. (

50

.

2

×

38

.

1

cm) sheet:

29

×

22

1

⁄

4

in. (

73

.

7

×

56

.

5

cm)

Markings

on lower left in pencil: 39/50 on lower left embossed chopmark: (crown) [Cornado Studio, Austin, TX] on lower center in pencil: "Sun Raid" on lower right in pencil: Ester Hernandez © 08

Copyright

© 2008, Ester Hernández

Credit Line

Gift of the artist

Mediums Description

screenprint on paper

Classifications

Keywords

Occupation — farm — harvesting
Allegory — death
History — United States — labor history
Figure female — fragment — skeleton
Object — fruit — grape

Object Number

2020.12.2
Twenty-six years after her original, Hernandez reimagines her classic Sun Mad poster as a condemnation of U.S. Immigration and Customs Enforcement. In addition to changing the title from Sun Mad to Sun Raid, she outfits the calavera (skeleton) with an ICE wrist monitor and a huipil, a traditional indigenous garment. This latter reference suggests how indigenous people from Mexico and Central America represent a segment of undocumented immigrants in the U.S. Hernandez issued this print at a time when the George W. Bush administration was being widely criticized for its high level of workplace raids.
¡Printing the Revolution! The Rise and Impact of Chicano Graphics, 1965 to Now, 2020
Description in Spanish
Veintiséis años después de su obra original, Hernandez reimagina su clásico cartel Sun Mad para condenar al Servicio de Inmigración y Aduana de los Estados Unidos (ICE). Además de cambiar el título de Sun Mad a Sun Raid, le agregó à la calavera un monitor de pulsera del ICE y un huipil, que es una prenda de vestir indígena tradicional. Esta última referencia muestra que los pueblos indígenas de México y Centroamérica representan un segmento de los inmigrantes indocumentados de los Estados Unidos. Hernandez publicó este grabado en un momento en que se criticaba mucho al Gobierno de George W. Bush por el gran número de redadas en los lugares de trabajo.
¡Imprimir la revolución! Auge e impacto de las obras gráficas chicanas, desde 1965 hasta hoy, 2020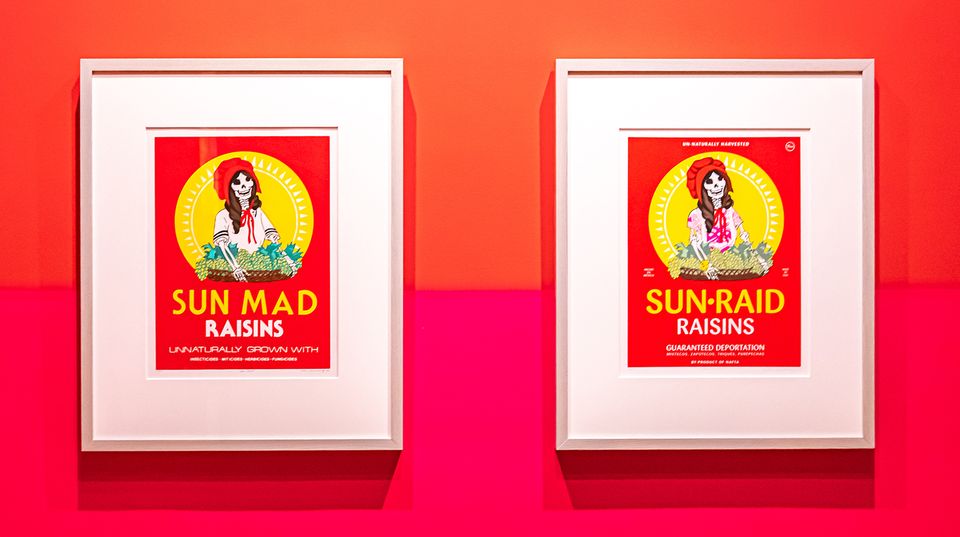 A closer look at two iconic artworks featured in "¡Printing the Revolution!"