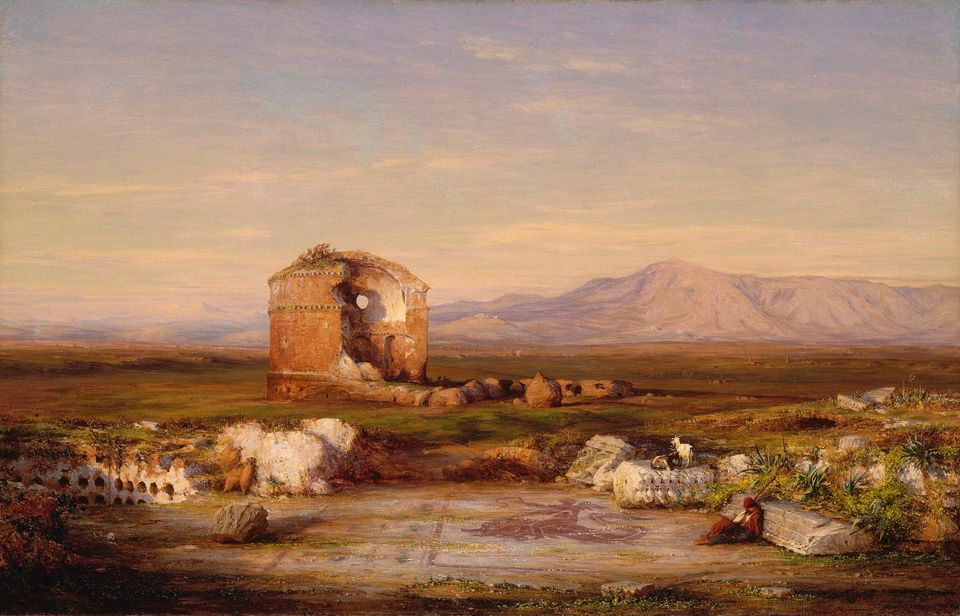 Copied
Thomas Hiram Hotchkiss,
Torre di Schiavi
, 1865, oil on canvas, Smithsonian American Art Museum, Museum purchase, 1977.52
Title

Torre di Schiavi

Artist

Location

Dimensions

22

3

⁄

8

x

34

5

⁄

8

in. (

56

.

9

x

88

.

1

cm.)

Credit Line

Museum purchase

Mediums

Mediums Description

oil on canvas

Classifications

Keywords

Architecture Exterior — civic — tower
Figure
Landscape — Italy
Landscape — mountain — Appenine Mountains

Object Number

1977.52
The landscape where this herdsman sleeps recalls a distant time and place. Thomas Hotchkiss heightened the mystery of this ancient site by including a mosaic of a winged boy on a dolphin from a recently excavated Roman bath as well as a skull and bones in the shadows at the far left. The Torre di Schiavi, or Tower of Slaves, was a popular subject for American artists visiting Italy. The site was associated with an uprising of Roman slaves, an event that would have been particularly meaningful for Americans in 1865, when the Civil War ended and the Thirteenth Amendment abolished slavery.
Exhibition Label, Smithsonian American Art Museum, 2006