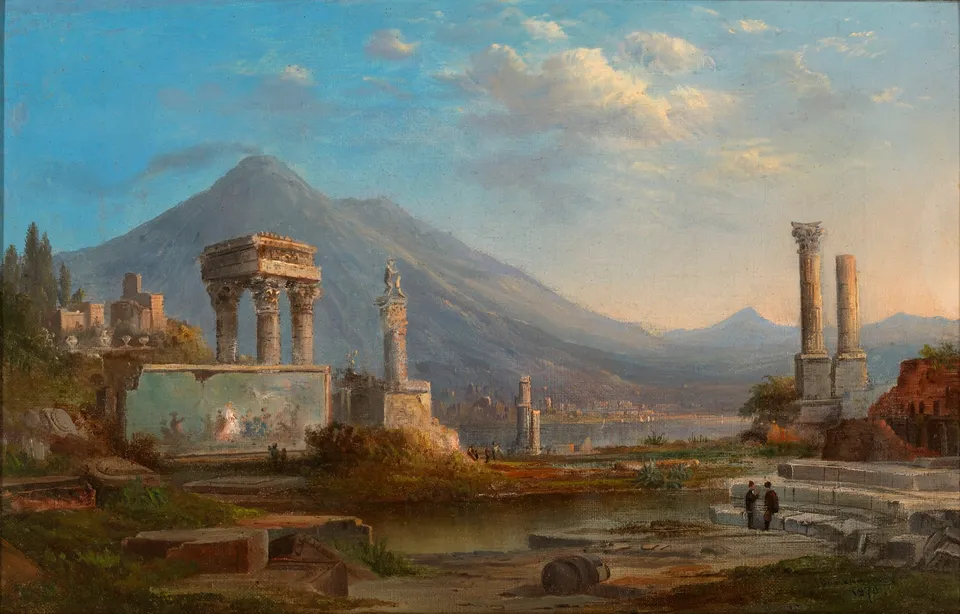 Copied
Robert S. Duncanson,
Vesuvius and Pompeii
, 1870, oil on canvas, Smithsonian American Art Museum, Gift of Joseph Agostinelli, 1983.95.177
Title

Vesuvius and Pompeii

Artist

Location

Dimensions

10

x

15

5

⁄

8

in. (

25

.

4

x

39

.

7

cm.)

Credit Line

Gift of Joseph Agostinelli

Mediums

Mediums Description

oil on canvas

Classifications

Highlights

Keywords

Landscape — phenomenon — volcano
Landscape — mountain — Mount Vesuvius
Architecture Exterior — ruins
Architecture Exterior — classical
Figure group
Architecture — ruins
Cityscape — Italy — Pompeii

Object Number

1983.95.177
Robert S. Duncanson spent a significant amount of time in Italy, and painted several views of Pompeii. Pompeii's dramatic history and the lure of Mount Vesuvius's still violent potential brought many artists to the area in the nineteenth century. This image shows the remains of an amphitheater, with Vesuvius smoking in the background. Duncanson probably painted this scene from memory, placing different ruins together to create a compelling composition.