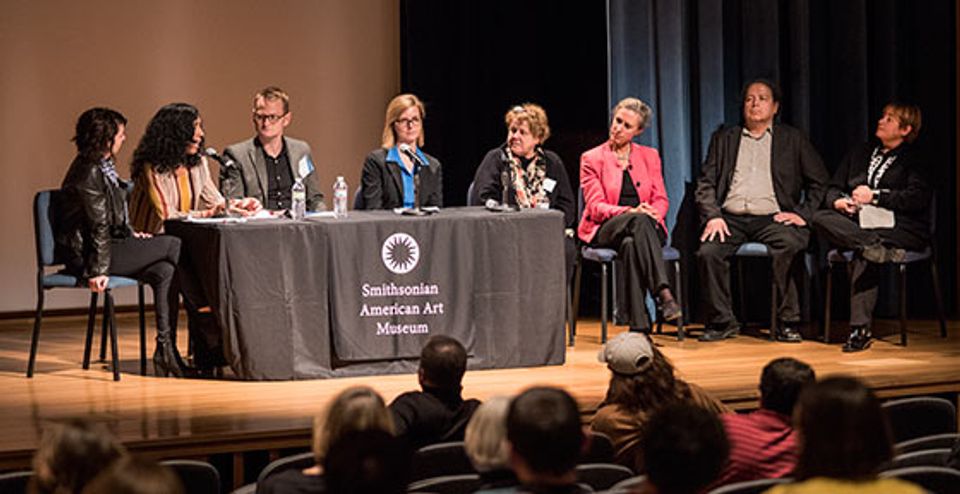 On October 16th-17th, over two hundred international participants gathered at the Smithsonian American Art Museum for the symposium "Shifting Terrain: Mapping a Transnational American Art History," to reflect upon the increasing globalization of American art history during the past decade and how this affects research on art practice here. Others watched the live webcast, now archived and available to view.
Despite art historians' distinctive approaches, most speakers argued for a more inclusive and connected American art history. For curator Asma Naeem, that meant the field should acknowledge emigré artists and take into account geopolitical events outside U.S. borders. Jacqueline Francis urged viewers to pay greater attention to the ways in which all American art influences and reflects our notions of race and identity. Vanessa Schwartz suggested we should consider connections across all forms of visual culture. Paul Chaat Smith spoke of his efforts to send Native American artists to the Venice Biennale, thereby bringing an often underrepresented American perspective to a global audience. Fred Turner encouraged art historians to reach out to other disciplines, such as his field of communication studies. And Claudia Mattos-Avolese argued that art history can never become a truly global endeavor until methodologies from outside Euro-American "centers" are welcomed.
As expected, candid debates ensued. While curator Ethan Lasser applauded museums' recent efforts to display works by U.S. artists alongside those of their international counterparts, he also voiced concerns that the intended connections might be unclear to the novice visitor. Other speakers noted that an attention to the specifics of the local might offer an alternative to national models while recognizing the importance of place and culture to artistic production. For example, in her presentation on sculptor William Edmonson, Jennifer Jane Marshall revealed the ways in which Edmonson was both enmeshed in a global art network and rooted in a particular place--Nashville, Tennessee. In Marshall's view, Edmonson's community ties, his local context, and his "politics of staying" continue to matter.
The symposium revealed significant changes in the way we look at American art, while acknowledging the real challenges posed by this global framework. Although American art scholars do engage with new methods and views, for many, the traditional narratives still have a place.
Amelia Goerlitz, fellowship and academic program coordinator, and Rebecca Singerman, research intern, wrote this post.