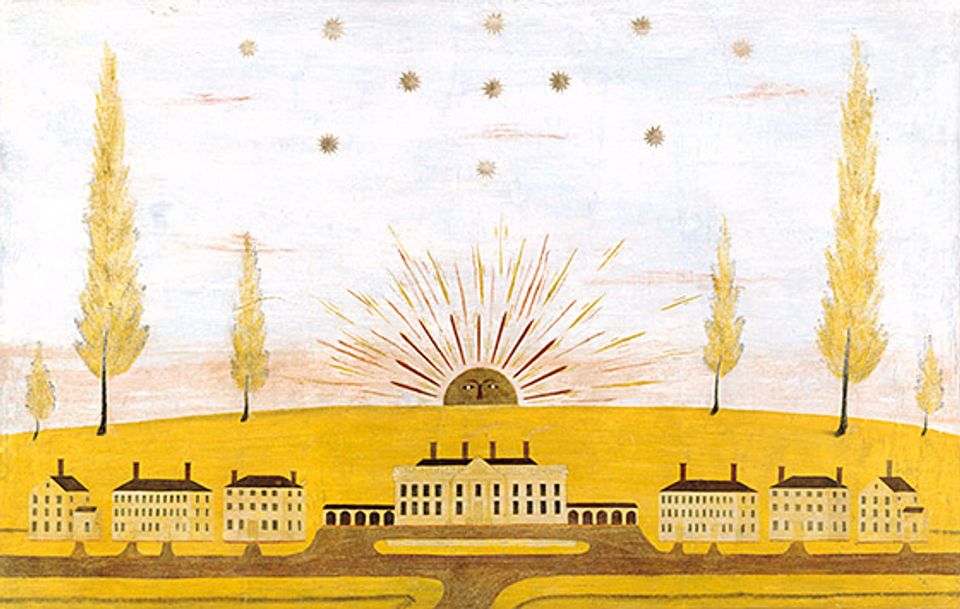 Overmantel, The President's House, about 1824, watercolor on plaster, by Rufus Porter, Gift of the White House Historical Association, 1992, photo courtesy White House Historical Association
Behind every good sunrise lurks an inevitable sunset. This Sunday, May 6, Something of Splendor: Decorative Arts from the White House closes at American Art's Renwick Gallery after a near seven-month run. You only have a few days left to get up and personal with some rare White House finds, including Rufus Porter's, The President's House, from about 1824. Painted in the year's following the War of 1812 and the British burning of the White House, Porter's work, watercolor on plaster, began its life above a fireplace mantel in a New Hampshire tavern. It depicts the sun rising over the White House in a spirit of good cheer and a positively optimistic outlook. The additional buildings portrayed most likely refer to government buildings that once flanked the president's home. Porter's folk work, an important piece of Americana, was removed from its original location around 1950, and acquired by The White House Historical Association in 1992. In addition to being an artist and muralist, Porter was an inventor and became founder and the first editor of Scientific American magazine.
The exhibition is filled with wonderful objects and stories of the people who inhabited the White House and the objects they assembled, collected, and lived with. It is also a tribute to Jacqueline Kennedy, who fostered the creation of the White House Historical Association in 1961. President Kennedy's words from 1962 are inscribed on the wall near the exhibition's end, a perfect takeaway for the viewer: "Anything which dramatizes the great story of the United States—as I think the White House does—is worthy of the closest attention and respect by Americans."