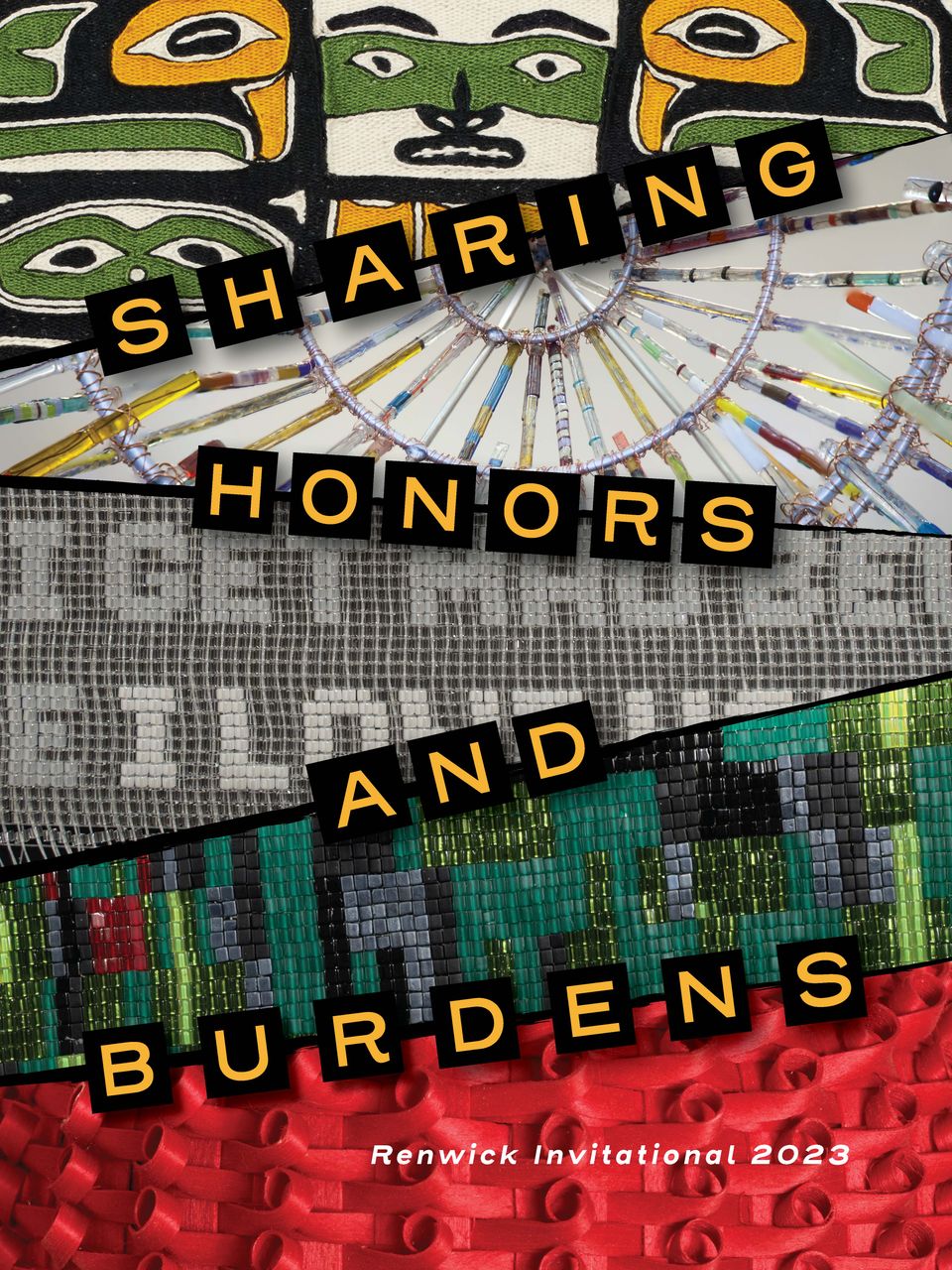 Sharing Honors and Burdens: Renwick Invitational 2023
Lara M. Evans, Miranda Belarde-Lewis, and Anya Montiel, with a foreword by Stephanie Stebich.
Sharing Honors and Burdens: Renwick Invitational 2023 features the work of six artists from Indigenous Nations across Alaska, Washington State, Minnesota, and Maine. Their craft speaks to the responsibility of ushering forward cultural traditions while shaping the future with innovative works of art. Through these works, the artists share the honors and burdens that they carry.
Joe Feddersen (Arrow Lakes/Okanagan) is a printmaker, glass artist, and basket maker who creates geometric patterns sourced from everyday life. Multimedia artist Erica Lord (Athabascan/Iñupiat) crafts beaded burden straps and sled dog blankets with abstracted representations of the diseases that disproportionately impact Native and other marginalized communities. Geo Neptune (Passamaquoddy) is a master basket maker, activist, and educator who uses colorful narrative to emphasize the honor and burden of keeping tradition alive. Sisters Lily Hope and Ursala Hudson (Tlingit) weave labor-intensive textiles that convey Tlingit values of reciprocity and balance, maintaining cultural integrity while experimenting with new forms and materials. Textile artist Maggie Thompson (Fond du Lac Ojibwe) creates large-scale works that explore the intersections of grief and trauma with honor, beauty, and healing.
Authors Lara Evans (Cherokee), Miranda Belarde-Lewis (Zuni/Tlingit), and Anya Montiel (Mexican/Tohono O'odham descent) show how Indigenous worldviews are shaping the art world. While the artists' contemporary craft is rooted in tradition, their art exemplifies responsibilities and relationships shared by everyone today.
Begun in 2000, the Renwick Invitational series celebrates artists deserving wider recognition. Sharing Honors and Burdens is the tenth installment and features all Native American and Alaska Native artists for the first time. Past titles from the series include Forces of Nature (2020), Disrupting Craft (2018), and Visions and Revisions (2016).
Lara M. Evans is the guest curator for the Renwick Invitational 2023 and director of the Research Center for Contemporary Native Arts at the Institute of American Indian Arts in Santa Fe, New Mexico. She is an art historian specializing in contemporary Native American art and is an enrolled member of the Cherokee Nation.
Miranda Belarde-Lewis is an independent curator and the Joseph and Jill McKinstry Endowed Faculty Fellow in Native North American Indigenous Knowledge at the University of Washington's Information School. She is enrolled at Zuni Pueblo and a member of the Takdeintáan Clan of the Tlingit Nation. She curated Preston Singletary: Raven and the Box of Daylight (2022–23) at the National Museum of the American Indian.
Anya Montiel (Mexican/Tohono O'odham descent) is curator at the Smithsonian's National Museum of the American Indian and former curator of American and Native American women's art and craft at the Renwick Gallery. She curated the online exhibition Ancestors Know Who We Are (2022) at the Smithsonian's National Museum of American Indian and was a contributing curator and author for the Renwick Gallery's This Present Moment: Crafting a Better World (2022).
Buy Online
or write to PubOrd@si.edu
Publisher

Smithsonian American Art Museum

Co-Publisher

University of Washington Press

Subjects

ISBN

Softcover

:

978-0-937311-88-2