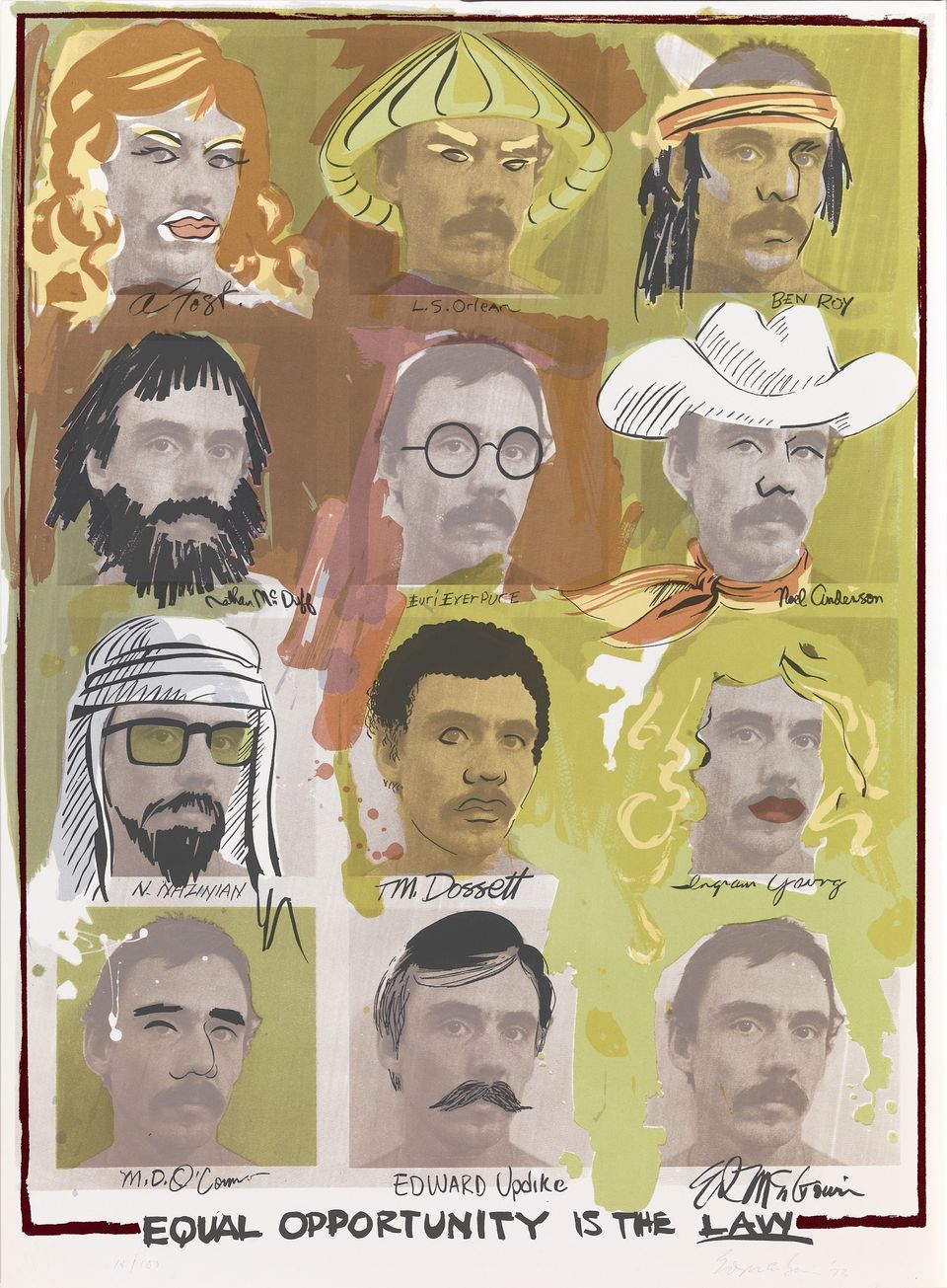 Student Questions
1. How does the portrait in the bottom right corner differ from the other head shots? How many different people do you see?
2. In the modified portraits, which genders, races, and ethnicities can you identify? What clues does Ed McGowin give?
3. Read the caption at the bottom of the poster. What do you think the artist intended to say in this artwork?
About This Artwork
Ed McGowin made this print for a portfolio sponsored by the Equal Employment Opportunity Commission, a federal agency designed to enforce workplace discrimination laws. Comprising ten original prints by ten different artists, the portfolio addressed the theme Equal Employment Opportunity Is the Law. McGowin's print raises a series of simple but serious questions about how we gauge people's racial, ethnic, and sexual identities and how we present our own identities. Because the series was meant to be distributed to workplaces across the United States, McGowin aimed to pose these questions to employers and employees, prompting them to think about their assumptions when looking at coworkers and potential hires.
To create this print, McGowin set himself in front of a camera and snapped a photo of himself. He then reproduced his "headshot" a dozen times in a grid. He printed the original self-portrait in the lower right corner, which he identified by signing his name beneath it. The eleven other self-portraits he altered by drawing and painting over them and by assigning them different names, which he signed below each one. McGowin becomes an actor who adopts different guises: varying skin tones, hair color, and props. McGowin's characters, and their sometimes stereotypical features, raise questions. For example, is the man dressed in a cone-shaped hat Asian, or is he Asian American, or is he a white man wearing a non-Western hat? Does the man in sunglasses and a keffiyeh come from the Middle East or from middle America? How do we know? Scanning from one character to another, we realize how quickly we categorize others and make assumptions based solely upon appearances. In the quick change act of this print, McGowin reveals the complex nature of identity. Even McGowin's "unadulterated" self-portrait is open to question: Is this the real McGowin or is McGowin himself just another act?
The portfolio was created to raise awareness about the 1972 Equal Employment Opportunity Act. The law strengthened the Equal Employment Opportunity Commission, which had been designed to enforce legislation that affected the workplace, most notably the Equal Pay Act of 1963 and the Civil Rights Act of 1964, which together prohibited employment discrimination based on race, color, national origin, religion, and sex. The 1964 act also specifically addressed voting rights and public school desegregation. If McGowin's print was meant to support these laws, it also points up their limits. Designed to protect the rights of minorities and women, the laws did much to codify these categories, solidifying some stereotypical identities that McGowin suggests are more fluid and complex than we often assume.
About This Artist
Ed McGowin (born Hattiesburg, MS 1938)
Between 1970 and 1972, artist Ed McGowin legally changed his name twelve times and created works of art in different styles for each identity. Thus began an ongoing artistic experiment he has called the Name Change project. For more than thirty-five years, McGowin has worked on this project, in part to counter expectations that his work should develop in any one particular way. He explains on his website: "Had I created all of these works under one name, I believe they would have been received very differently…. The different identities under which I made this art may allow for a broader approach to receiving these images, without tying them to past history or future expectations." Recently McGowin has produced and exhibited work independent of the Name Change project in the persona of Thorton Modestus Dossett. In making work under the name of Dossett, McGowin, a white artist, draws on his experiences growing up in Mississippi and attending universities there and in Alabama, all during the tumultuous period when the Civil Rights movement was gaining momentum. During that time, he witnessed profound changes in race relations in the South, which forced him to reexamine his own attitudes. By creating art that explores these issues from Dossett's perspective, McGowin is able to distance himself from his own experience, allowing his own assumptions and memories to come into clearer view.

The Civil Rights movement became a model for other rights movements in the United States and around the world. In 1965, the National Farm Workers Association, led by César Chávez, joined forces with the Agricultural Workers Organizing Committee, which had been striking against California grape growers for equal wages. Eventually forming a multi-racial union, the United Farm Workers (UFW), the organization produced posters such as the two shown here. One brings the plight of agricultural workers to national consciousness, and the other calls for solidarity boycotts of table grapes. The UFW poster designs were indebted to those used by the Black Power movement and by organizations such as the Student Nonviolent Coordinating Committee and the Southern Christian Leadership Conference.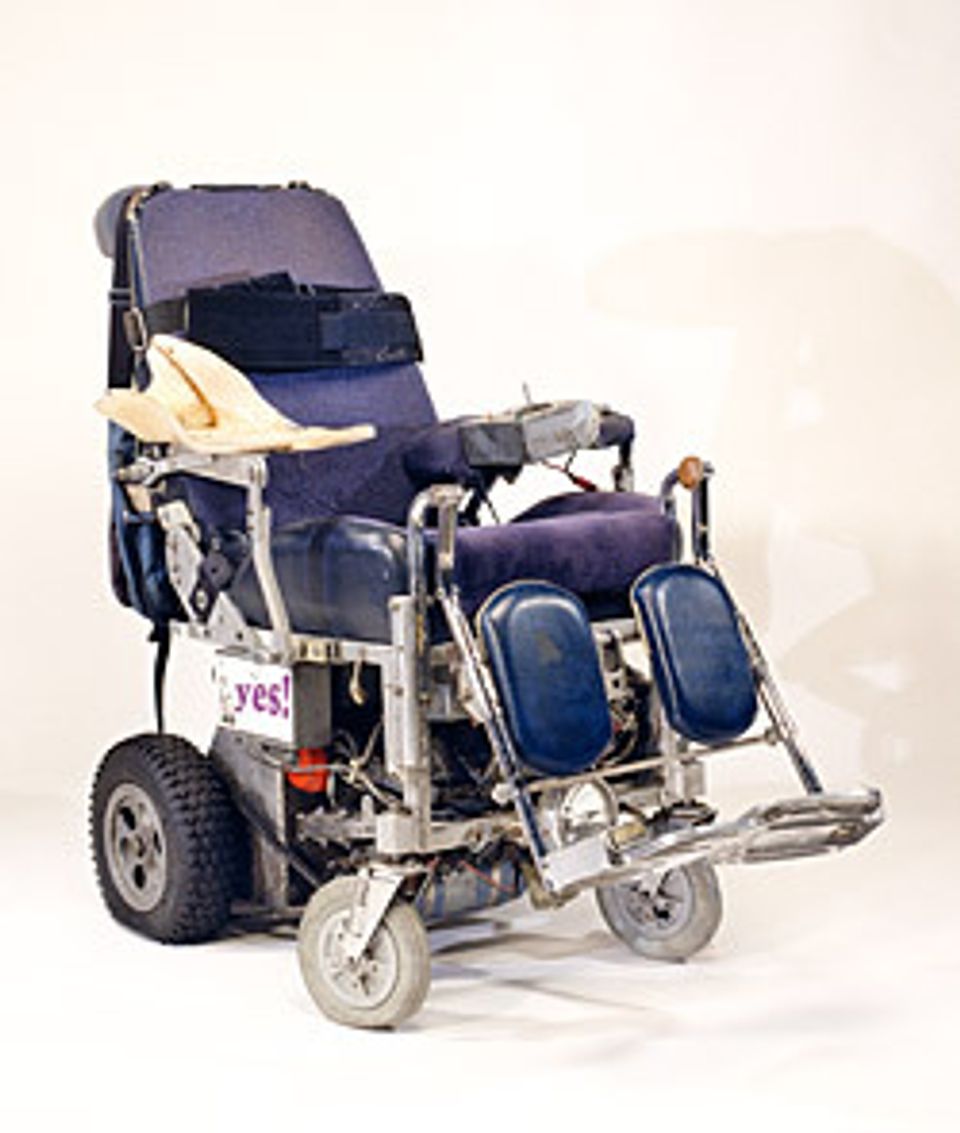 Ed Roberts was paralyzed by polio in 1953 at age fourteen. Inspired by the Civil Rights movement, he led efforts at the University of California, Berkeley, where he was a student in the 1960s, to establish programs and accessibility for disabled students. Following his time at Berkeley, Roberts founded the Independent Living Movement, a campaign to secure civil rights, equal access, and self-sufficiency for people with disabilities. Roberts' personally adapted wheelchair was outfitted with a sports-car seat and go-cart wheels.