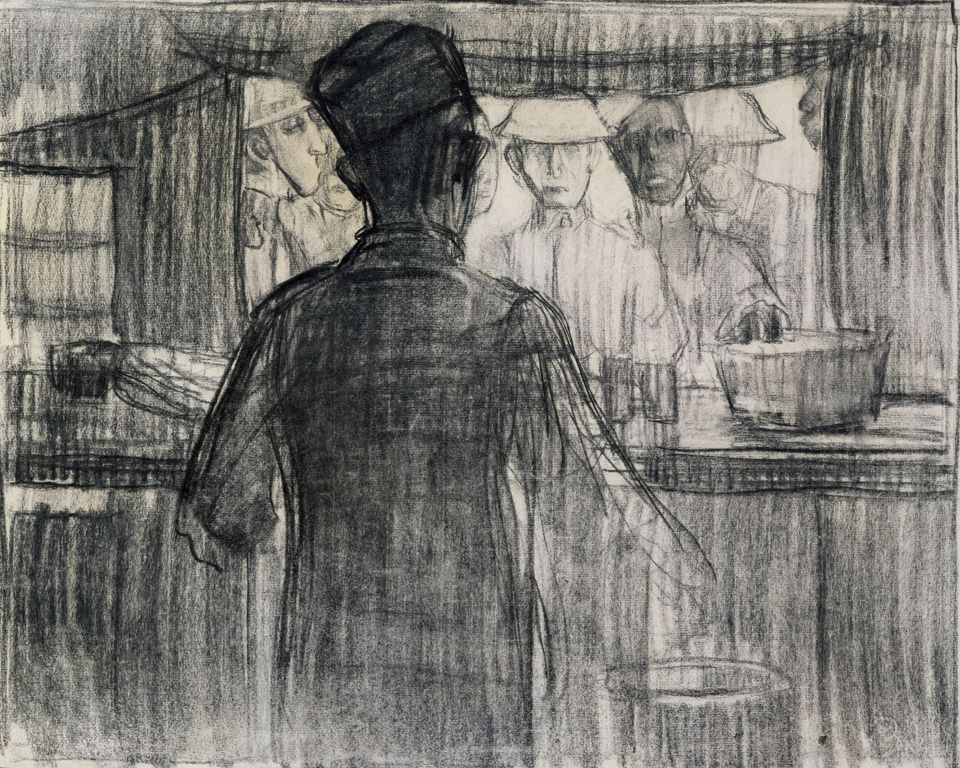 Student Questions
1. Read the title of this artwork. What does it tell you about the scene?

2. Whose viewpoint do we assume? What do you see outside the tent? Why do you think the artist took this perspective?

3. What differences do you notice in the faces of the people in line? What can you tell about the server?
About This Artwork
Henry O. Tanner's charcoal drawing depicts an exceptional event: black and white soldiers lining up together at an American Red Cross canteen during World War I, a time when most of the U.S. armed services were segregated, even in mess halls. The drawing is itself exceptional because of the viewpoint Tanner assumes. Sketched from inside the darkened canteen and behind the server, his drawing opens out onto a bright area where soldiers have gathered to receive their meal. The contrast between inside and outside, between light and dark, echoes in the faces of the soldiers. One black soldier in a line of white ones stands out. But there is more. Part of another black face appears in the upper corner of the window. In addition, the race of the server standing in the shadows is unclear, though he could be African American. Tanner's handling of charcoal in all three of these figures is more detailed than in the others. Unlike the broad hatching that composes the interior or the vague contours that suggest the white soldiers' faces, Tanner delicately modeled the central black soldier, giving him physical depth and detail. Although many American artists created images of wartime during their service, including Red Cross activities during World War I, Tanner is unique among them for drawing attention to the presence of black soldiers.
In late 1917 Tanner, who was already an established African American painter living in Europe, enlisted in the Red Cross at the rank of lieutenant. He was quickly promoted to an assistant director position after instituting a successful morale-boosting program for convalescing soldiers in France. In return for his excellent service, Tanner also got permission to depict some of the Red Cross's warfront activities. Although Tanner's dedication and leadership won him the respect of many white peers, he also experienced racial intolerance during his service. As Tanner recalled, he attended a dinner where a captain, who Tanner once considered a friend, launched into "a tirade against the Negro," disregarding the fact that Tanner was there.
In light of this prejudicial treatment, Tanner's drawing seems poignant. Accentuating the black soldier in the serving line asserts his presence. Yet doing so comes at a cost. In calling attention to the soldier, Tanner also separates him from the other troops, suggesting his own experience of isolation and difference. The drawing's perspective, rendered from deep within the tent, also suggests Tanner's mixed feelings. While patriotic and dedicated to the war effort, Tanner is removed from the action, relegated to the sidelines.
About the Artist
Henry Ossawa Tanner (born Pittsburgh, PA 1859–died Paris, France 1937)
 
Henry O. Tanner was the most renowned African American painter of the late nineteenth and early twentieth centuries. He studied art at the Pennsylvania Academy of Fine Arts with Thomas Eakins and then became the first art professor at Clark College in Atlanta. Tanner visited Rome and Paris in the early 1890s, and, using money from sales of his paintings, he returned to Europe in 1896. He spent most of the rest of his life in France, developing a style that tempered realism with lighter, impressionist colors and elements of mysticism. His work was exhibited widely in the United States and abroad. Like a number of later African American artists and writers, he found more support for his work and less overt racism in Europe than he did in the United States. Two of his most famous paintings, Banjo Lesson and Thankful Poor, feature African Americans, but much of his work depicts biblical figures and explores religious themes.
View a self-portrait drawing of Henry Ossawa Tanner in the collection of the Smithsonian American Art Museum.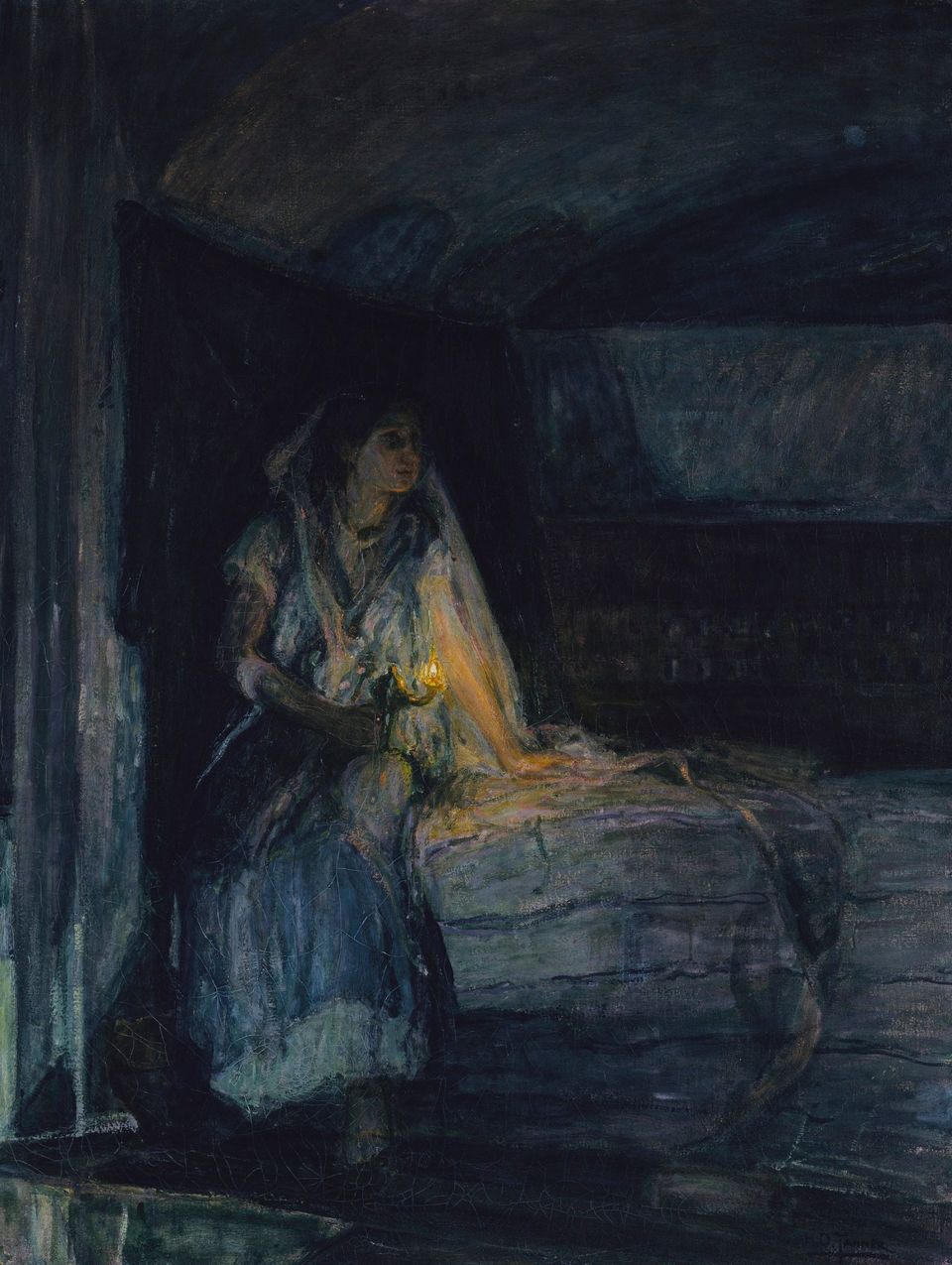 World War I had a profound effect on Tanner's life and art. Before serving in the American Red Cross (1917–1919), he painted this biblically inspired image of Mary, one of many religious canvases he painted throughout his career. The shadowy scene, which depicts Mary just before she learns she is pregnant with the future savior, may tap into some of the anxiety Tanner felt during a tumultuous year. In 1914, his mother passed away, and the outbreak of war forced his family to leave their home in France and go to England.

Major Peter L. Robinson, born in Spotsylvania, Virginia, to former slaves, wore both this helmet and binoculars while serving as a first lieutenant and later a major, during World War I. More than 350,000 African Americans joined the armed forces in combat and support roles during the Great War. For many, the military was held in great esteem. Not only did the service increase career opportunities and stability, but it also allowed black soldiers to prove their worth as productive citizens.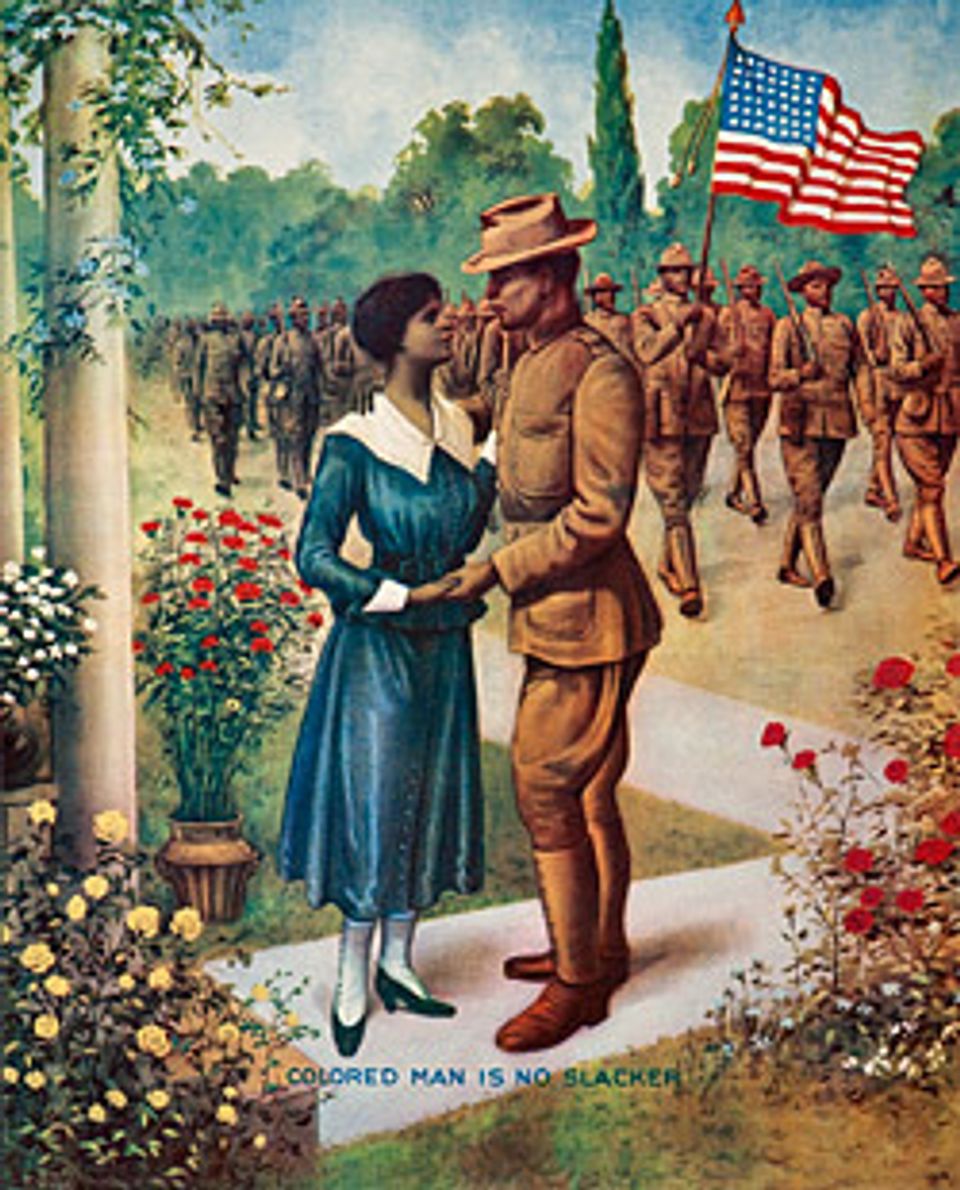 Images like Colored Man Is No Slacker, which appeared in magazines and advertisements during World War I, celebrated black soldiers' patriotism, courage, and wholesome family values. Their dissemination not only combated negative stereotypes but also asserted that African Americans were deeply invested in the defense of the nation.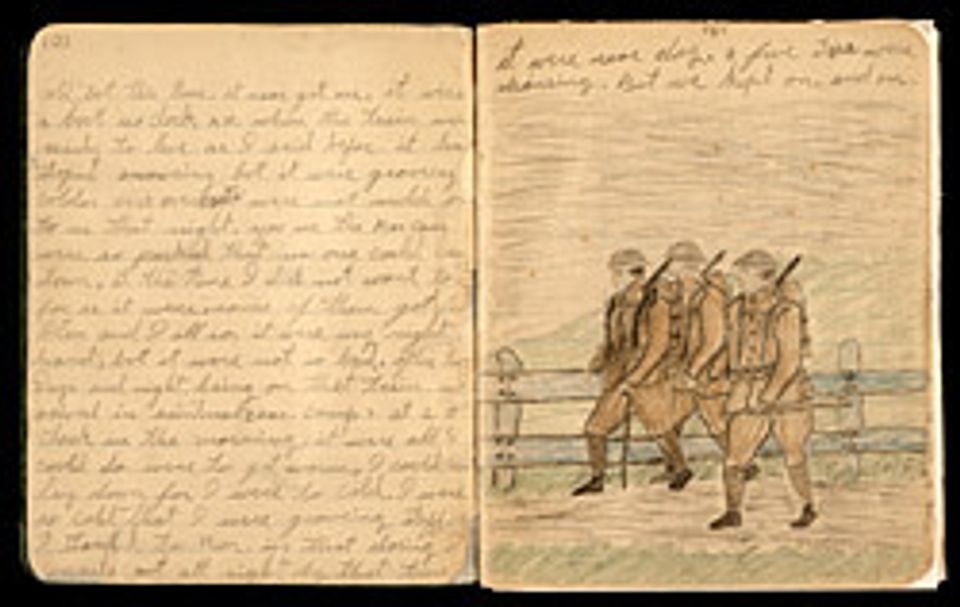 The war prompted a number of African American artists to see the world differently. In his wartime journals, the artist Horace Pippin describes and illustrates his experiences in France while serving in the 15th New York Infantry and in the 369th Colored Infantry Regiment, the renowned "Harlem Hellfighters" who spent more days on the front lines than any U.S. soldiers. Looking back on his service, Pippin wrote, "the war of 1917 … brought out all of … the art in me." By the 1930s, he became celebrated as one of America's great folk artists.