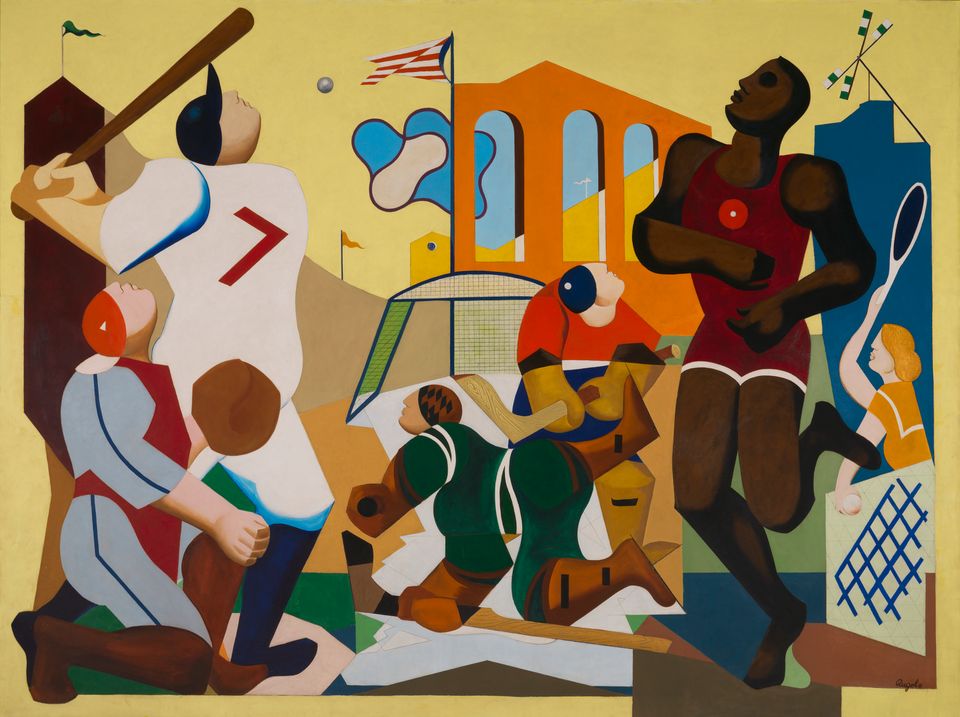 Student Questions
1. Which is the dominant figure in the painting? Why?

2. Which sports activities does Joseph Rugolo depict?

3. How does Rugolo convey action and energy in the painting? What feelings does it conjure about sporting events?
About This Artwork
Joseph Rugolo's vibrant Mural of Sports is a bustling scene that surges with energy as athletes compete in four different sports: baseball, hockey, track, and tennis. Despite all this activity, Rugolo composed a coherent scene by using simplified geometric forms and colors and by creating a fairly symmetrical design. For example, the catcher kneeling on the left balances with the tennis player on the right, and the standing slugger on the left pairs with the runner on the right. However, Rugolo also distinguished this runner by painting him differently. Whereas Rugolo depicted the other athletes in sharp profile and only lightly modeled their faces and limbs, he differentiated the runner by turning him slightly forward, as if running toward the viewer, and by rendering him more three-dimensionally, with careful shading of the runner's neck, biceps, calves, and feet. Rugolo also gave him an important feature that the others lack, an eye.
Rugolo painted Mural of Sports for the gymnasium at New York City's Roosevelt High School. Commissioned by the Works Progress Administration, the painting was meant to inspire students by showing America's greatest athletes. Rugolo identified the tennis player as Helen Wills Moody, who won nineteen Grand Slam singles titles during her career, including her eighth Wimbledon championship in 1938, the year he completed his mural. The artist also identified the runner, the star of the painting, as Jesse Owens.
In 1936, just before Rugolo painted Mural of Sports, Owens won four gold medals at the Summer Olympic Games in Berlin. Owens's victory was celebrated around the world, and by many Americans in particular, because it challenged the propaganda taking hold in Nazi Germany, which insisted on white "Aryan" racial superiority. Even while many Americans celebrated Owens's victory, African American athletes were not treated equally in the United States. The most popular sports remained segregated; that is, separate teams and facilities were maintained for black and white players. Owens, like many African American athletes at the time, was championed as an American hero when competing internationally yet was treated as a second-class citizen at home. In making Owens the focal point of this mural, Rugolo might have been making a subtle commentary on U.S. ambivalence toward African American athletes.
About This Artist
Joseph Rugolo (born New York City 1911–died New York City 1983)
 
Painter Joseph Rugolo was among the thousands of artists hired in the 1930s by the Works Progress Administration (WPA) to create murals with social and historical themes for buildings across the country. Like many artists who enjoyed government support in those years, Rugolo credited the WPA with allowing him to continue his career as a painter and support his family. The son of a bricklayer, he attended public school in New York City and won a scholarship to attend the National Academy of Design, where he studied from 1927 to 1930. During the 1920s, Rugolo assisted with several major murals, including murals for City Hall in Buffalo, New York, and the New York City Supreme Court Building. Among the works he completed while working for the WPA from 1935 to 1942, most of which are now lost, was a mural for the Chronic Disease Hospital on Roosevelt Island in New York City.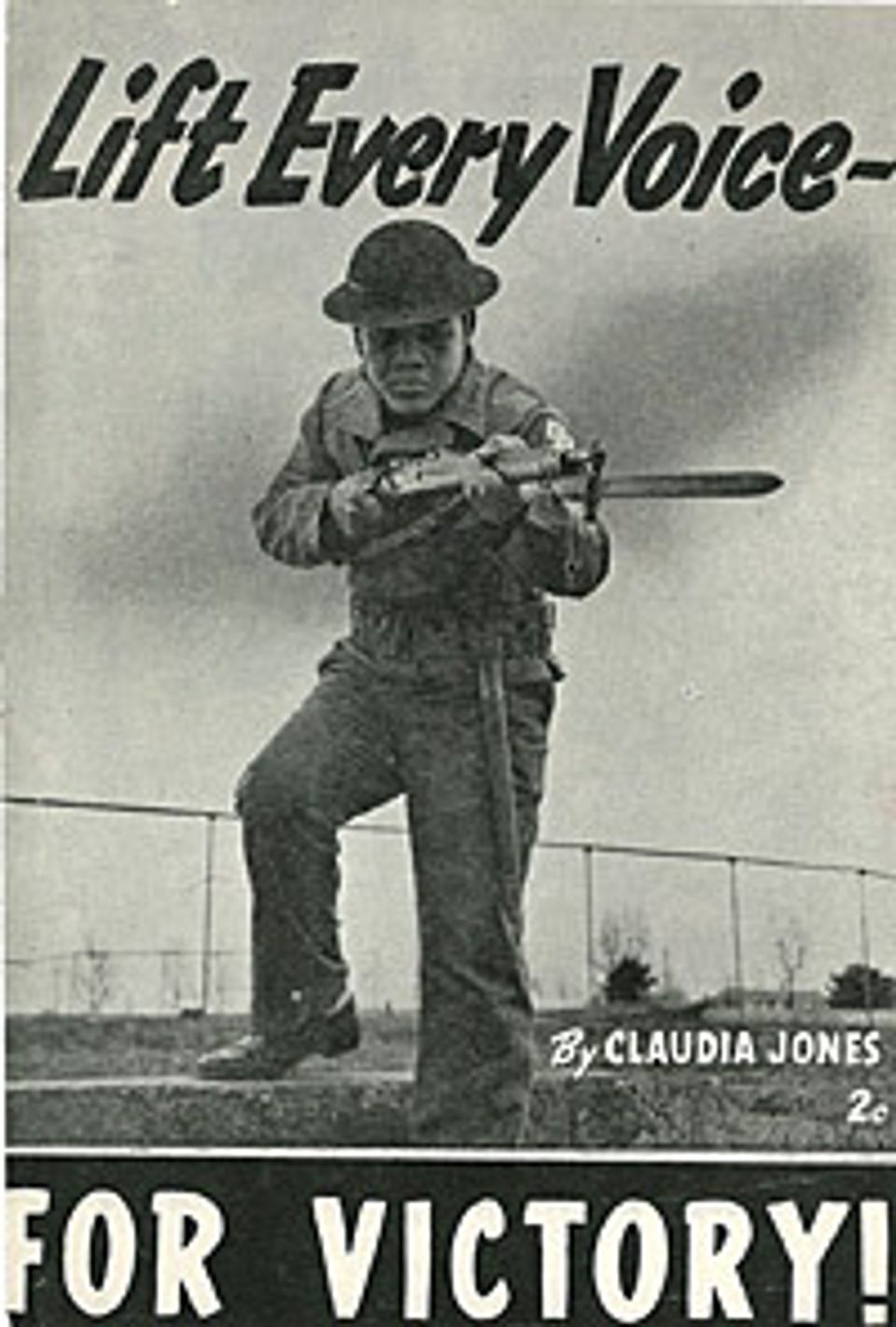 Runner Jesse Owens, whom Joseph Rugolo included in his mural, and boxer Joe Louis, seen in this World War II recruitment poster, were perhaps the best-known American athletes in the 1930s. Despite ongoing segregation, both sportsmen became national heroes: Jesse Owens, for winning four gold medals at the 1936 Berlin Olympics; and Joe Louis, for knocking out German boxer Max Schmeling in 1938. When Europeans were battling Nazi Germany, these victories—Owens's on German soil, Louis's against a German opponent—made the athletes famous worldwide. Later, Louis enlisted in the U.S. military and used his fame to support the war effort. Such depictions broadcast a positive image of African Americans worldwide, which helped legitimize sports figures as key players within the emerging Civil Rights movement.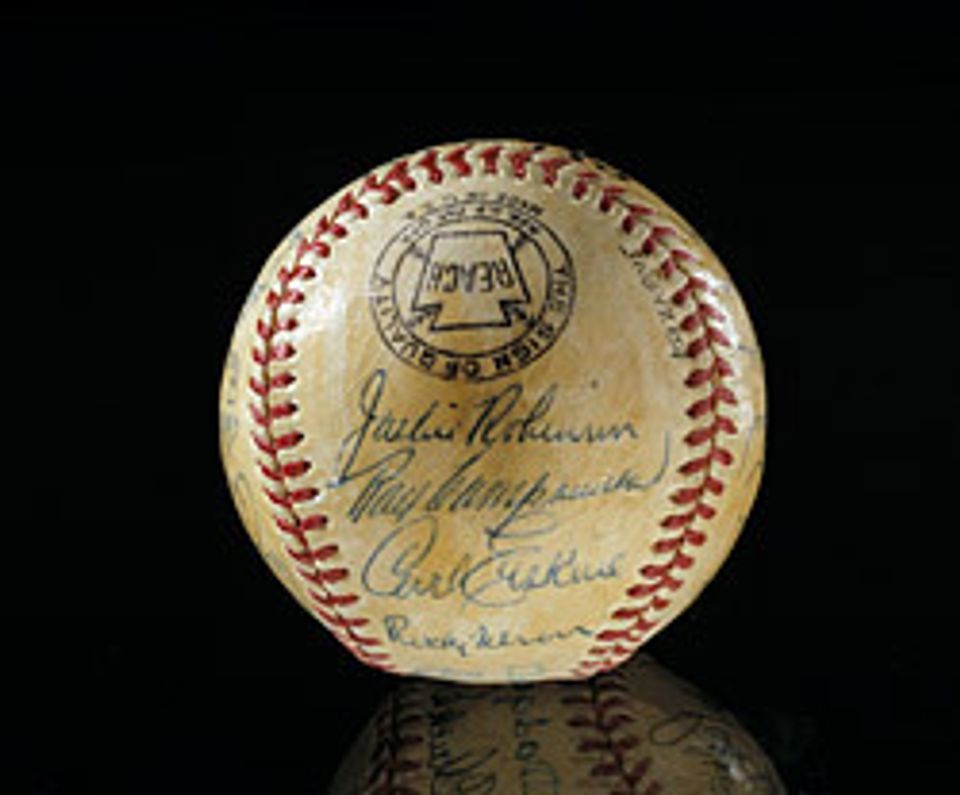 In 1946, Jackie Robinson became the first black major-league baseball player of the twentieth century when he signed with the Brooklyn Dodgers. Although his career was plagued by racist insults, Robinson's resilience paved the way for the integration of Major League Baseball and increased the visibility of African American athletes in mainstream culture. Fans came to treasure baseball memorabilia related to black heroes, such as trading cards, toys, and signed baseballs, like this one autographed by Robinson.

By the 1950s, African American athletes, like tennis player Althea Gibson, seen here, began appearing regularly in mainstream newspapers, magazines, movies, and television. In 1956, Gibson became the first African American woman to win a Grand Slam title, and in 1957 she became the first to win Wimbledon, which she won again in 1958. Like many midcentury black athletes, recognition of Gibson's achievements and her wholesome image made her a positive role model who subtly supported the Civil Rights movement.