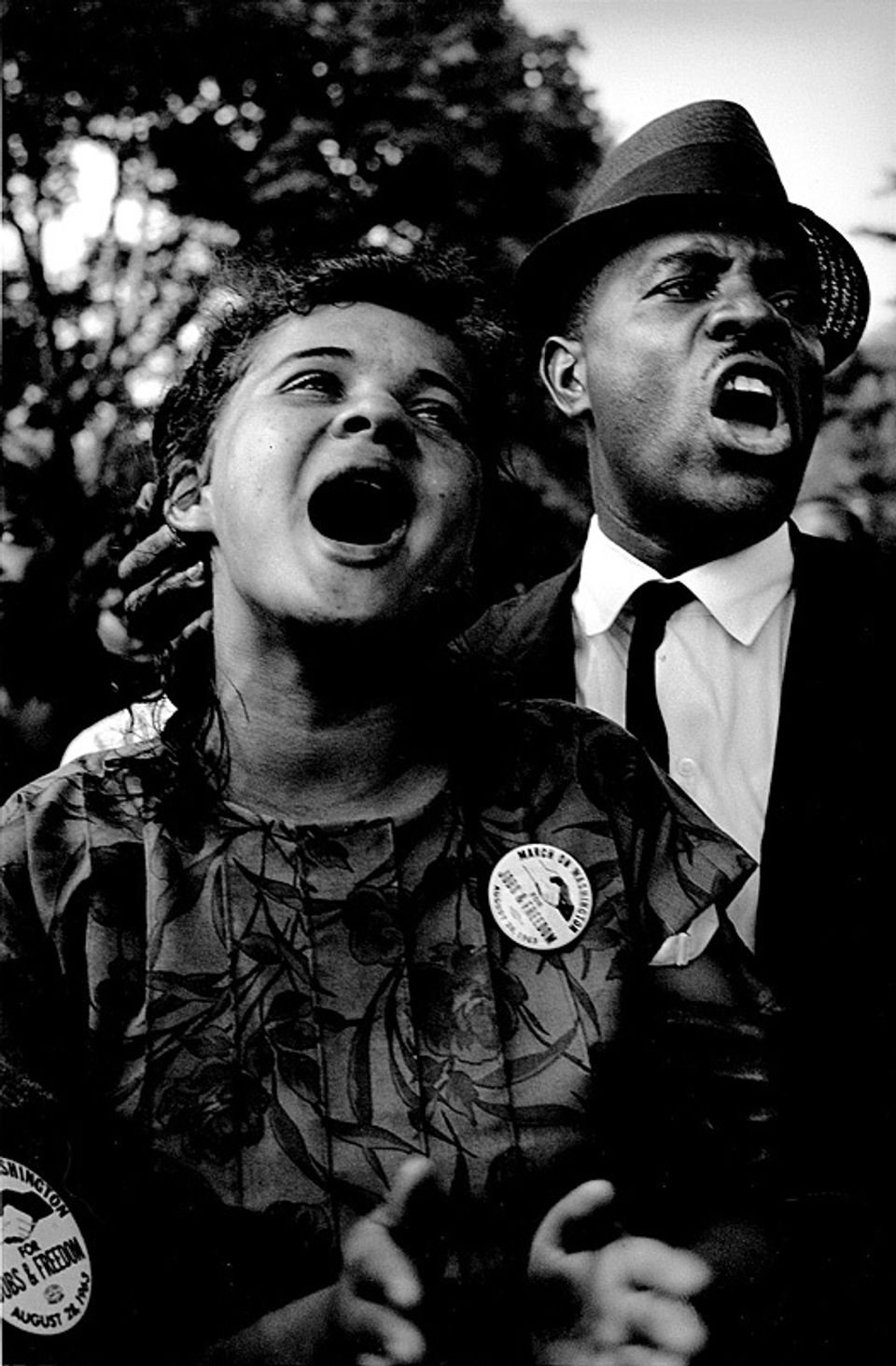 Student Questions
1. What are the two people in this photograph doing?

2. Freed closes in very tightly on the two people's faces. How would the mood of the image change if he showed these two people in a full-length shot from a greater distance? How would the overall effect be changed if Freed photographed them as part of a larger group?

3. Enlarge the picture and look closely at the button. What does it say? What symbol is used? What do you know about the march mentioned in the title and on the button?
About This Artwork
Leonard Freed's photograph of a singing couple captures the emotional intensity of the 1963 March on Washington and the unifying power of song. Respectably dressed, a man and woman stand close together; their torsos nearly fill the space in the image. Caught in a moment of vibrant expression, faces joyful and determined, hands clapping, heads gazing upward, the couple encapsulates the energy shared by more than two hundred thousand participants in singing that day's anthem, "We Shall Overcome."
The woman's badge signals their attendance at the March on Washington for Jobs and Freedom on August 28, 1963. The presence of other marchers is subtly suggested by another button worn on the lapel of a marcher, which barely makes it into the left edge of the picture. On this momentous occasion, instead of showing the speakers and singers on the Lincoln Memorial's stage or the massive crowds, Freed focuses on this man and woman, providing a personal insight to the unity and passion of the event.
The program's most famous participant was Martin Luther King Jr., who gave his stirring "I Have a Dream" speech. But the program included many other accomplished speakers and performers. It opened with the National Anthem, sung by African American opera singer Marian Anderson, and gospel legend Mahalia Jackson sang "How I Got Over." Films of the march show people enthusiastically clapping along to Jackson's exuberant performance.
African Americans have used music and song throughout their history to celebrate in times of joy, cope in times of hardship, and fortify themselves in times of stress. During the struggle for equality and justice, music helped to unify participants and strengthen their resolve. Civil rights activists also discovered that while a single voice may be drowned out, many voices cannot be ignored. Singing together became a potent tool of the Civil Rights movement, representing the commitment and solidarity of ordinary people like those shown in Freed's photograph, without whom little progress could have been made.
About This Artist
Leonard Freed (born Brooklyn, NY 1929–died Garrison, NY 2006)
As a photojournalist, Leonard Freed documented both dramatic world events and everyday life beginning in the late 1950s. As a young man, Freed traveled to Europe and settled in Amsterdam, where he studied photography. In 1970, he joined Magnum, a photographic cooperative committed to protecting artistic autonomy and to producing high-quality documentary photography meant to elicit concern for its subjects. Freed's photographs capture the range of human experience, frequently exposing the peculiar situations, both public and private, that people find themselves in. He said, "The more ambiguous the photograph is, the better it is. Otherwise it would be propaganda." During the Civil Rights movement, Freed traveled with Martin Luther King Jr., documenting his political activism. The photographs Freed took during this period were published in his book, Black in White America. Freed accepted assignments around the world, and his work was published in major European and American magazines and newspapers.

To galvanize public opinion and encourage action, civil rights activists created graphics for ephemera, like this button and brochure from the March on Washington. Their use of iconic, memorable designs and highly symbolic emblems, like the black–white handshake, at once publicized the March and formed a visible sense of community.