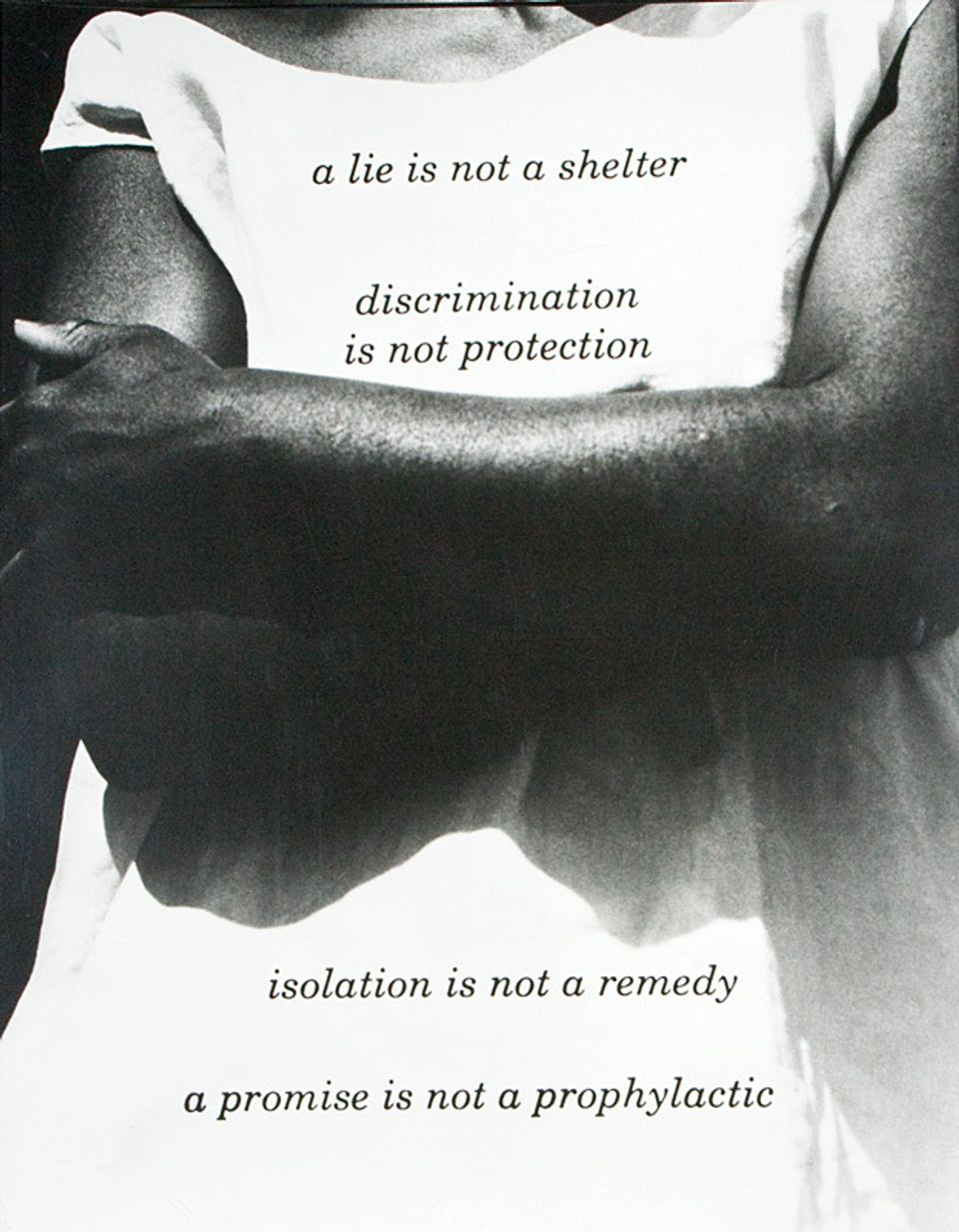 Student Questions
1. Do you know the meaning of all the words used in the artwork? If not, write down the definitions of unfamiliar terms. What do the sentences tell us?

2. How do the crossed arms underscore the meaning behind the sentences? What tone do they help impart?

3. Why do you think the photographer cropped out the figure's head?
About This Artwork
Lorna Simpson's photograph encourages viewers to confront their assumptions and prejudices. It shows a black woman in a white dress, holding her arms firmly across her body. A light shines down on her, casting dramatic shadows onto her abdomen and intensifying the image's contrast, which imparts a somewhat ominous feeling. Her stance is composed, strong, and defiant, but her face is cropped out, rendering the woman anonymous and enhancing the unsettling mood. Simpson compels viewers to realize that any judgment about this woman will be based on incomplete information, on assumptions rather than on a true understanding of this individual.
The four phrases printed on the image reveal even more complex ideas. Each claims that something—a lie, discrimination, isolation, or a promise—is not something else—a shelter, protection, remedy, or prophylactic. As a series of negations, these paired phrases echo the image's revelatory tone, which becomes clear when the phrases are read as retorts. For example, when Simpson writes, "a lie is not a shelter," it is as if she is responding to the claim, "I lied to protect you." Thus, her simple line contradicts and exposes assumptions.
Simpson made the photograph in 1989 for the Art Against AIDS Project, which aimed to raise awareness about a disease then largely misunderstood and ignored by the general public. In this context, the words Simpson uses—like discriminate, isolate, promise, protect, and remedy—go hand-in-hand with the misinformation then spreading about HIV/AIDS. At a moment when infection rates were rising quickly among African American women (as they remain), Simpson's photograph and its message had particular urgency.
About This Artist
Lorna Simpson (born 1960, Brooklyn, NY)
Lorna Simpson is a pioneer of conceptual photography, which explores an idea or set of ideas, often using staged or altered photographs combined with words. By focusing much of her work on African American women, Simpson has questioned how views about gender, identity, race, and memory shape experiences and relationships. Before graduating from college, Simpson traveled widely, producing documentary photographs. Thinking critically about documentary photography, Simpson gained recognition in the 1980s when she began combining large-scale pictures with provocative captions that use wordplay and ambiguity to reveal how assumptions influence perception. In the 1990s, she began making multi-panel portraits, often using repetition, framing, and cropping to draw attention to the depersonalization of her subjects. Recently Simpson's work has focused on video and film. She received a BFA in photography from the School of Visual Arts, New York City, and an MFA from the University of California, San Diego. The recipient of numerous awards, her works have been exhibited widely and collected internationally.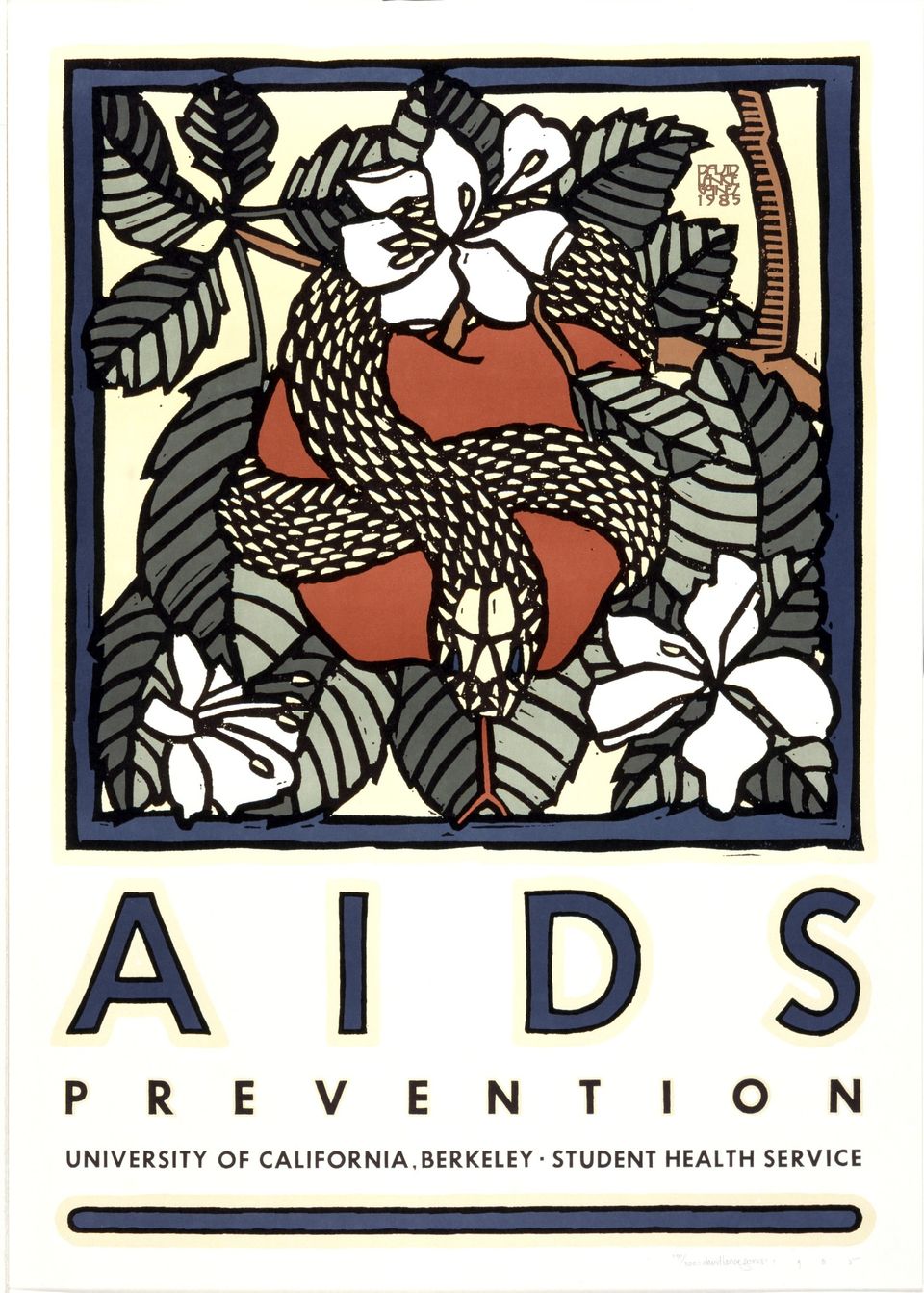 As the AIDS epidemic spread, many artists helped raise awareness about the widely misunderstood disease. This poster, like many on this site, uses bold design elements to influence viewer opinion and behavior. The stark depiction of a snake wrapped around a bright red apple refers to the Bible and drew criticism because it seems to connect AIDS with sin. However, the poster succeeds in conveying a powerful message about the danger posed by risky behavior.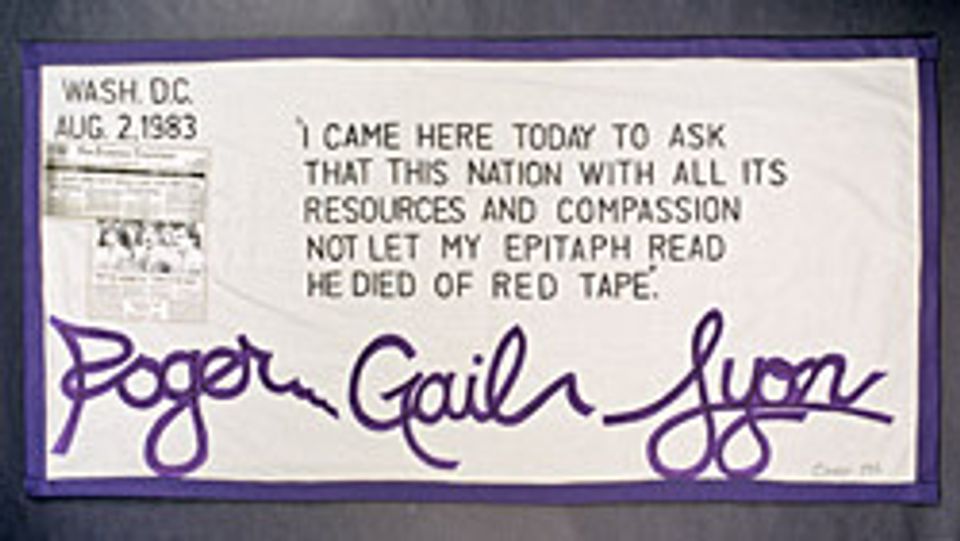 While professional artists have used their work in the fight against AIDS, the AIDS Memorial Quilt has invited the public to make sections commemorating individuals stricken by the disease. Composed of thousands of panels, the quilt measures more than 1,293,300 square feet and includes more than 91,000 names. With its vast size and community support, the quilt is a poignant tool for expressing shared feelings of loss and for raising money and support to help end the epidemic.

Like Lorna Simpson, Glenn Ligon uses words in his artworks and raises questions about racial and other kinds of identity. In Black Like Me #2, Ligon repeats the quote "All traces of the Griffin I had been were wiped from existence," which is taken from the 1961 book Black Like Me. The book chronicles the experiences of white journalist John Howard Griffin as he travelled in the South disguised as a black man. The painting repeats this quote in thicker and darker paint until the lines are nearly illegible. This is one of the works selected by President and Mrs. Obama to hang in the White House.