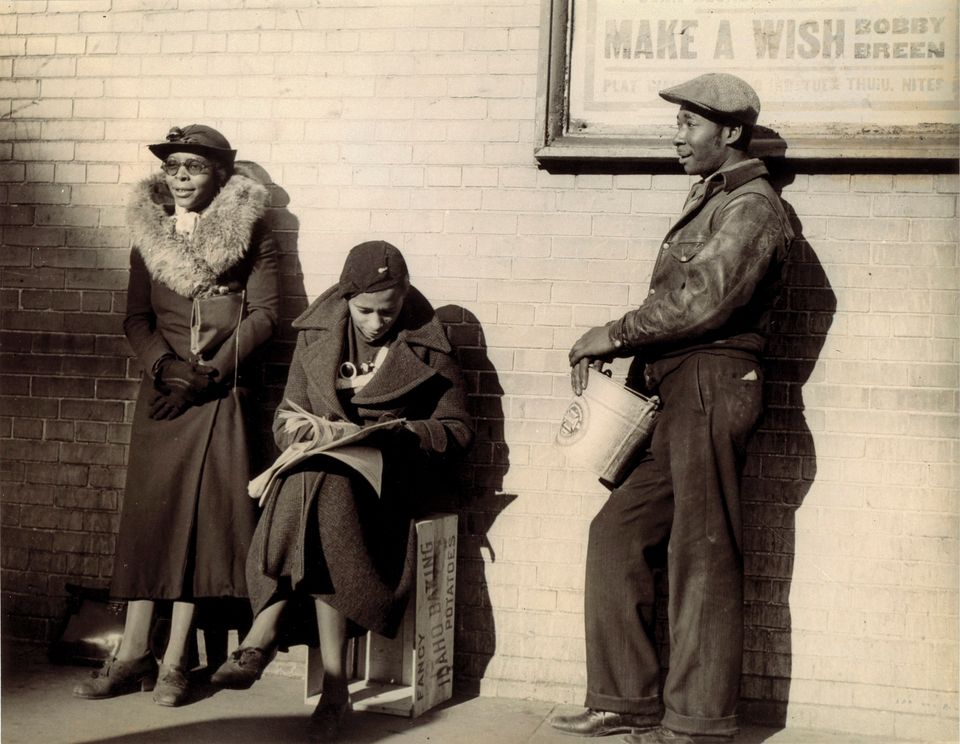 Student Questions
1. Describe the three people you see in this photograph. What do you think they are doing?

2. What does the sign on the wall say?

3. What questions does this photograph raise?
About This Artwork
Robert McNeill took this New York City photograph on a bright, chilly day in 1938. The sun cuts sharp silhouettes of three African Americans—two women and a man—onto a wall. One woman, wearing a feathered hat, glasses, a long coat with a fur collar, and gloves, stands back on the heels of her sturdy shoes and leans against the wall. The other woman, wrapped in a heavy winter coat, sits on an upturned potato crate and bends forward to read a newspaper. The man, wearing a cap and a dusty jacket, holds a pail. He stands propped against the wall, facing the women. Above him a billboard reads "Make a Wish," an advertisement for the popular 1937 film by that name.
As McNeill's subtitle indicates, these people are at the so-called Bronx Slave Market, a place where African Americans would wait for white people to choose workers for day-long jobs. Many felt this process was particularly demeaning, largely because it evoked the slave auctions of the past. Nonetheless, because many African Americans had an especially hard time finding work during the Great Depression, they endured this indignity, hoping to eke out an income.
Images of down-and-out workers had become commonplace in the Depression, thanks in part to the federal agencies charged with documenting the period. A 1938 Works Progress Administration (WPA) report could have almost described McNeill's photo when it sketched the Bronx Slave Market in this way: "There, seated on crates and boxes, were a dejected gathering of Negro women of various ages and descriptions... [As] the November wind swept and whistled through them, they ducked their heads and tried to huddle within themselves as they pushed close to the wall." This report helped effect changes, in this case by raising awareness and shaming the city into creating an official Day-Work Office for the area. However, even as such projects sought to help African Americans, they also promoted a stereotype. By showing black people as exploited laborers persecuted by racism, such descriptions suggested a passive role for black workers, when in fact many were successful in shaping their own lives.
By frankly exposing the conditions workers faced, McNeill's photograph takes part in this documentary convention. Yet Make a Wish also resists condescension by capturing the lighter mood created by the people awaiting work: the standing woman smiles as she looks ahead; the man seems to join her, smiling in her general direction; and the seated woman is immersed in her paper, perhaps scanning the listings for a job. The day may be cold, the outlook may seem bleak, but this is hardly the "dejected gathering" described by the WPA report. As a result, Make a Wish strikes a balance between the realities of the Depression and the workers' heartening expressions of self possession and amusement.
Moreover, unlike many documentary photographers, McNeill resists enlisting Make a Wish in any sort of propaganda. Instead, he uses irony to convey the ambiguity of the workers' situation. In referencing the movie ad in his title, McNeill invites viewers to speculate on its relationship to the photo. Make a Wish was an uplifting comedy in which white child-star Bobby Breen (named in the billboard) overcomes life's difficulties through lighthearted songs and youthful pluck. Does such a theme provide relief from life's troubles, or is it a wry commentary on futility? Do the workers seem wishful? Or are they engaged in the rigors of life? McNeill leaves the thoughts and motives of his subjects private—and the photo's interpretation to us.
About This Artist
Robert McNeill (born Washington, DC 1917–died Washington, DC 2005)

By making photographs of both the ordinary and extraordinary aspects of life in black communities, Robert McNeill demonstrated that the African American experience is quite varied. McNeill spent most of his life in Washington, D.C., studying photography both there and in New York City. As a student in 1936, he published his first photograph, which featured Olympic track star Jesse Owens. In 1938, he was assigned a Works Progress Administration (WPA) project in Virginia taking photographs for publications, including The Negro in Virginia. Following his work for the WPA, McNeill opened a Washington photography studio that specialized in black celebrities; his subjects included boxer Joe Louis, singers Marian Anderson and Ella Fitzgerald, and dancer Bill "Bojangles" Robinson. He suspended his business while he served in World War II, and in 1950, he closed it permanently to work as a federal government photographer.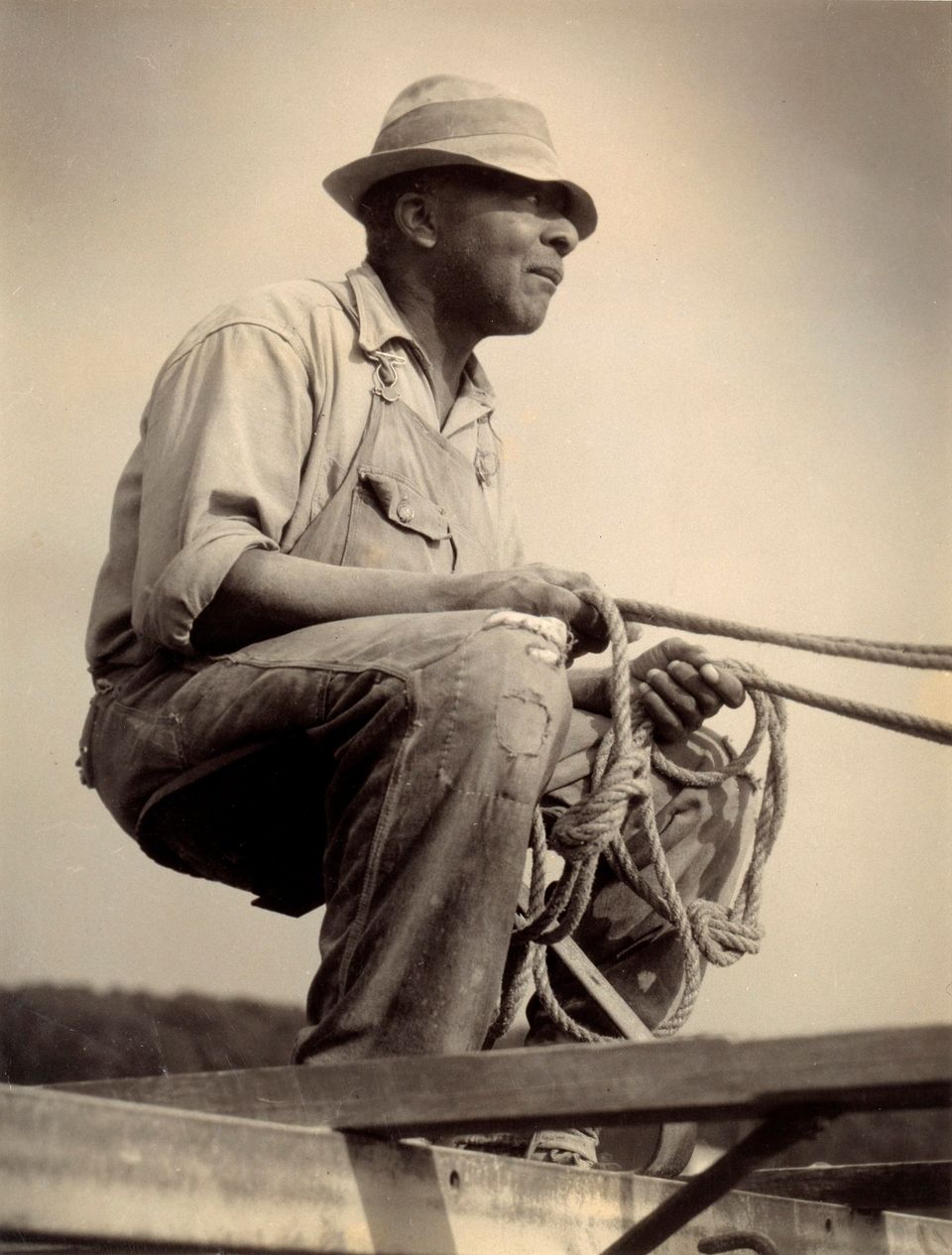 Robert McNeill took his urban photo Make a Wish the same year that he captured this rural farmer in Virginia. The planter, pictured from a low vantage and silhouetted against a bright sky, appears heroic as he performs his spring ritual. Showing the farmer's work in a positive light, the picture was well suited for the Works Progress Administration book The Negro in Virginia, which McNeill was then illustrating.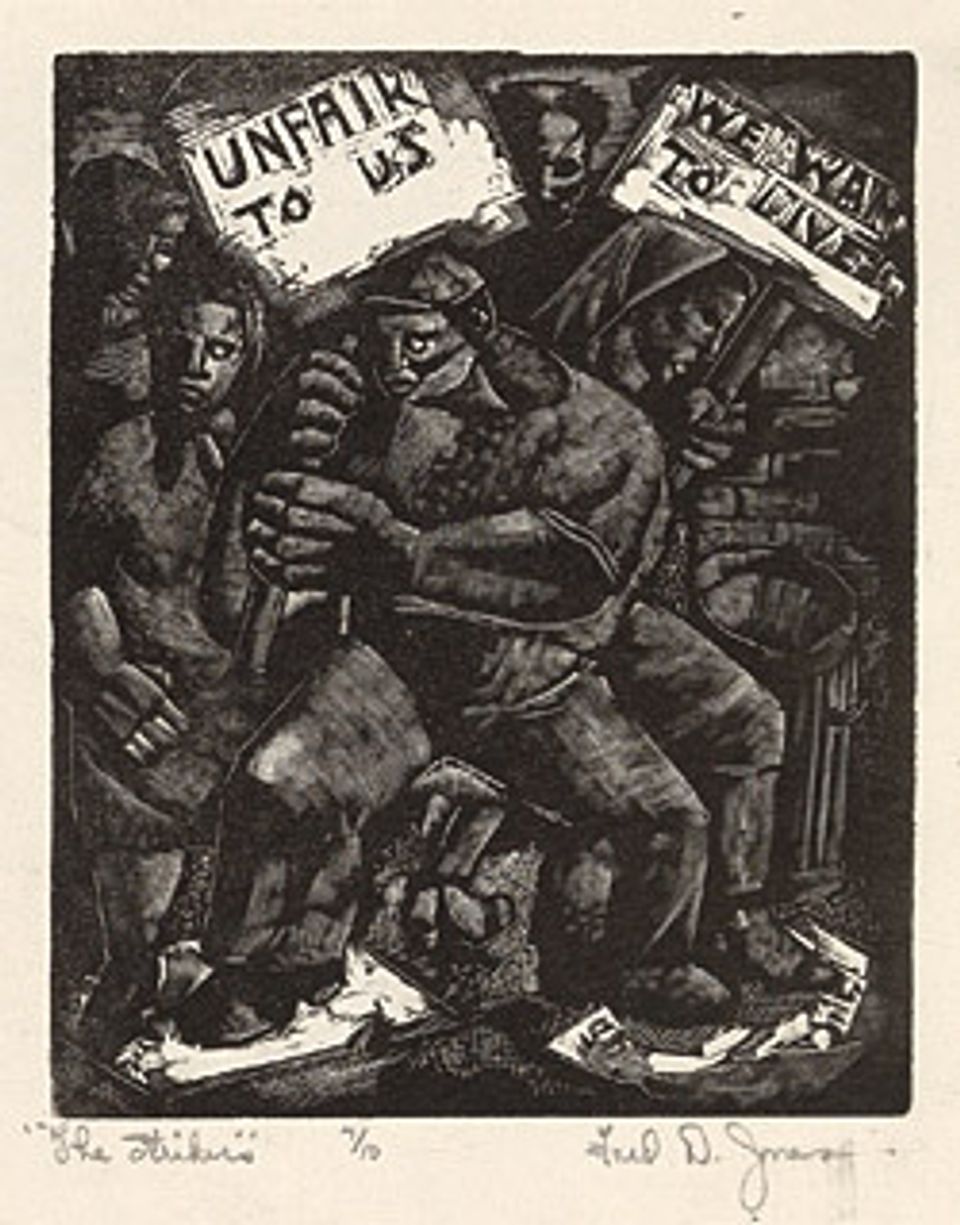 Like McNeill's photo of day laborers, much artwork produced during the 1930s emphasized the plight of American workers. Here, Frederick Jones engraved a scene of strikers with exaggerated features in an expressive composition that emphasizes the workers' trudging steps. Meant to induce sympathy, these pro-labor images often showed white and black workers,typically men, demonstrating together, uniting them in their activism while subtly appealing for equal rights.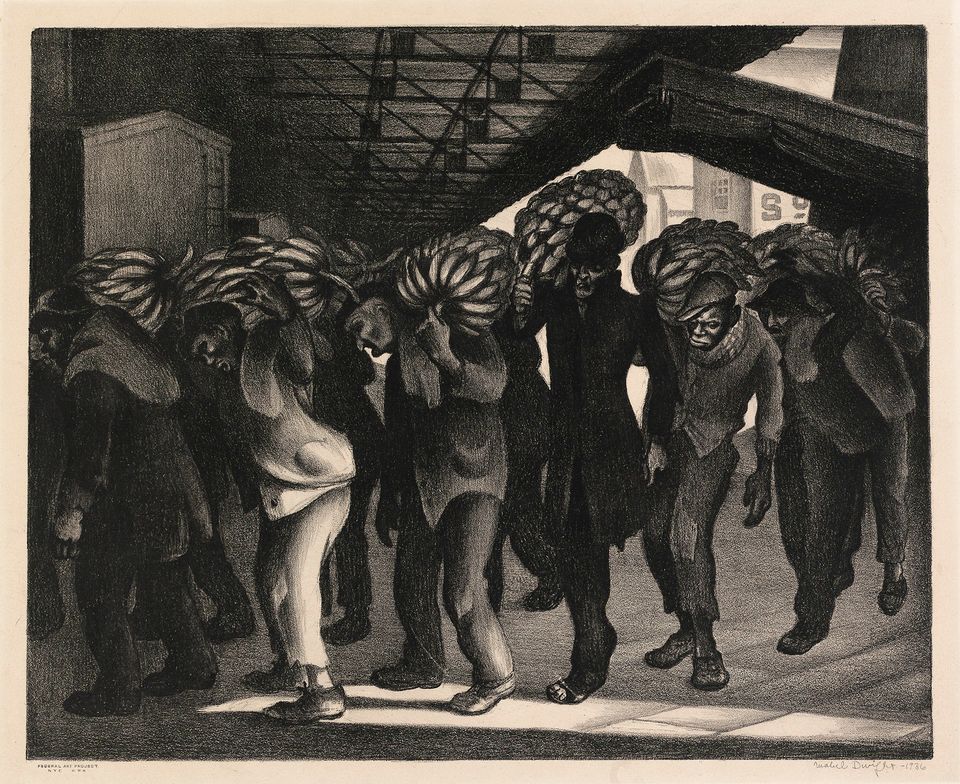 In Mabel Dwight's Banana Men, the heavy bundles that the hunched figures carry are joined by the dark overhanging structures that seem to weigh on the workers, too, as if the very city is built upon them. While such imagery might evoke sympathy, it also defines these men by their labor, denying them the complex individuality McNeill conveys in his photographs.