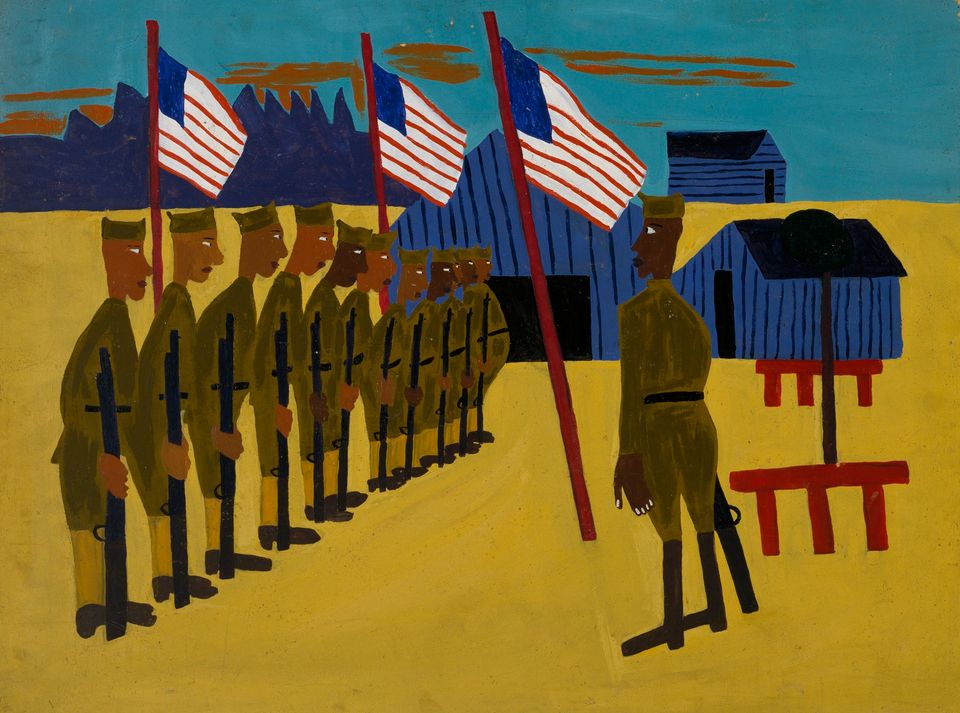 Student Questions
1. How does William H. Johnson's composition convey a sense of order? What is repeated?

2. How many recruits are there? (You might need to enlarge the image to count carefully.) What is similar about all of the recruits and the drill sergeant? How do they differ from one another?

3. What elements hover over the scene? How do they relate to the figures? What do you think they symbolize?
About This Artwork
This painting of World War II recruits, or "crutes," looks playful, but William H. Johnson used bold colors and simplified forms to underscore a serious message: the loyalty of African American soldiers. The American flags in the painting's middle ground and the "purple mountain majesty" in the background affirm their patriotism. While the recruits and the officer have varying complexions, this drill clearly involves an all-black unit.
In choosing this subject, Johnson touched on an important theme in civil rights history: the role of African Americans in the armed services. During World War II, nearly one million blacks served in the military. Even though African Americans were barred from combat positions until the latter stages of the war, the Army began to acknowledge black soldiers' dedicated service, and a number of them attained positions of authority. Nonetheless, most units remained segregated throughout the war. On July 26, 1948, a few years after the war ended, President Harry S. Truman issued Executive Order 9981, which began desegregation of the military. This order came largely in response to pressure from African Americans who were frustrated with ongoing racial segregation and violence back on the home front. Having served the country at home and abroad, many demanded the government live up to its wartime rhetoric of promoting democracy and freedom. Despite the 1948 executive order, the military was not fully integrated until the Vietnam War two decades later.
Johnson's composition emphasizes the recruits' deep connection to the war effort and to the nation itself. Sets of repeated lines and shapes, including the recruits in a file, the guns aligned at their sides, the stripes in the flags, and even the siding of the barracks, convey precision and rhythm, unifying all the elements of the scene. Johnson's painting style reveals his study of art history and cultural heritage. The artist developed this style around 1938, when he returned to the United States after living in Europe for many years. Inspired by motifs from African art and those he encountered in the rural South where he was raised, Johnson adopted a "consciously naive" approach with flattened figures, approximated perspective, and a limited palette. In doing so, Johnson revived and helped create a rich African American aesthetic tradition.
About This Artist
William H. Johnson (born Florence, SC 1901–died Central Islip, NY 1970)
Best known for his folk art–style paintings, William H. Johnson was one of the most prolific American artists of the twentieth century. Born in South Carolina, Johnson later moved to New York, where he studied at the National Academy of Design. He then traveled to Paris in the 1920s, where he met fellow African American painter Henry Ossawa Tanner. Johnson lived in Europe for more than a decade, working, traveling, and absorbing a wide variety of cultures and artistic styles. In 1938, on the eve of World War II, he moved back to the United States and began working at the Harlem Community Art Center. Johnson had his first major exhibition in New York in 1941. Instead of reflecting European expressionism, which he had learned abroad, his new work unveiled a style that was consciously naive and built solidly around themes of ordinary African American life. When an art critic asked Johnson why he had changed his style, Johnson said: "It was not a change but a development. In all my years of painting, I have had one absorbing and inspiring idea, and have worked towards it with unyielding zeal: to give—in simple and stark form—the story of the Negro as he has existed." Devastated by the death of his wife in 1944, Johnson's career came to an abrupt end. After a brief attempt to build a series of narrative paintings around events and figures in African American history and an abbreviated return to his wife's homeland of Denmark, Johnson was hospitalized in New York. He spent the last twenty-three years of his life in the hospital and died in obscurity, though people have since come to recognize the importance of his artwork.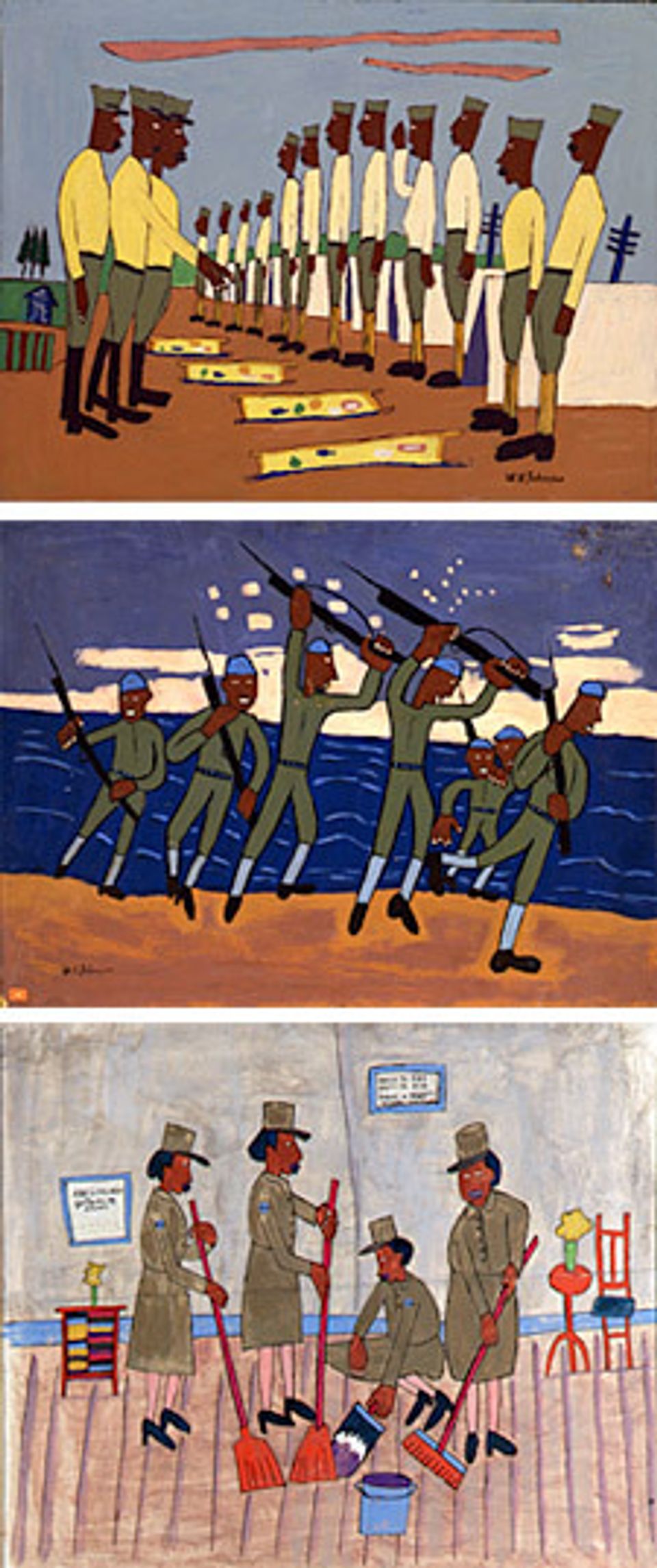 During World War II, Johnson, along with many American artists, responded to a call by the U.S. Office of Emergency Management for art that could "inform the public about war and defense activities." His paintings from this period, including "Crute" Drill, record the diverse ways African Americans supported the war effort. At the same time, they highlight the U.S. Army's segregation. Yet Johnson avoids blatant protest when depicting the training, fighting, and support activities. Instead he used subtle humor and a deliberately naive style to lay bare the wartime pursuits.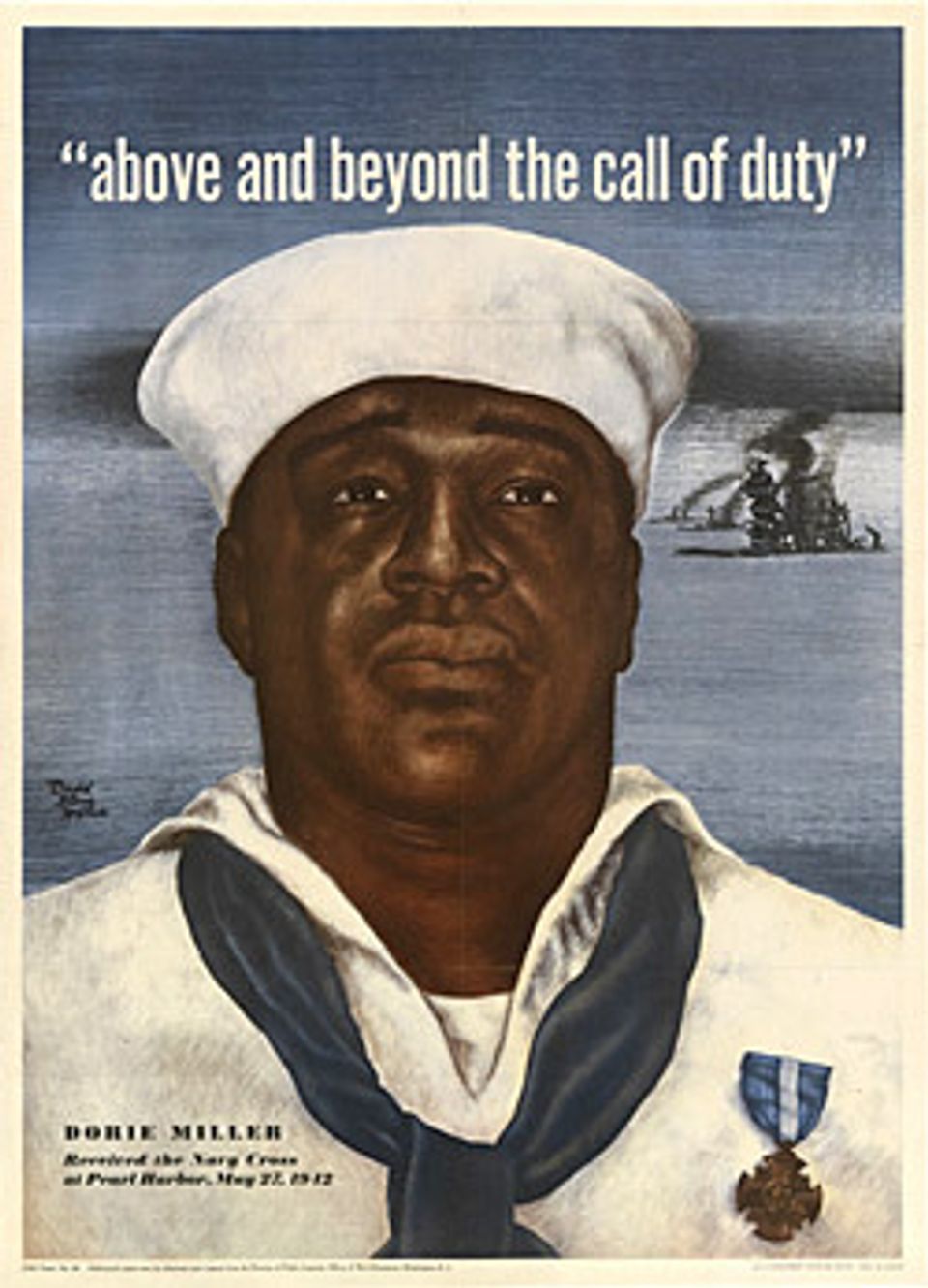 Johnson's wartime paintings focused on average soldiers and everyday tasks, but the U.S. government eventually circulated posters of black heroes to invoke patriotism and win recruits. This U.S. Navy recruiting poster captioned "Above and beyond the call of duty" was one of the first to feature an African American. Dorie Miller, shown here, gained fame for his actions at Pearl Harbor. Without prior training, Miller commanded an unattended anti-aircraft gun to attack Japanese planes during the assault. For his selfless bravery, he was awarded the Navy Cross, which he wears here. This poster affirmed the valor of African American troops, and such recognition became a source of pride among the black community.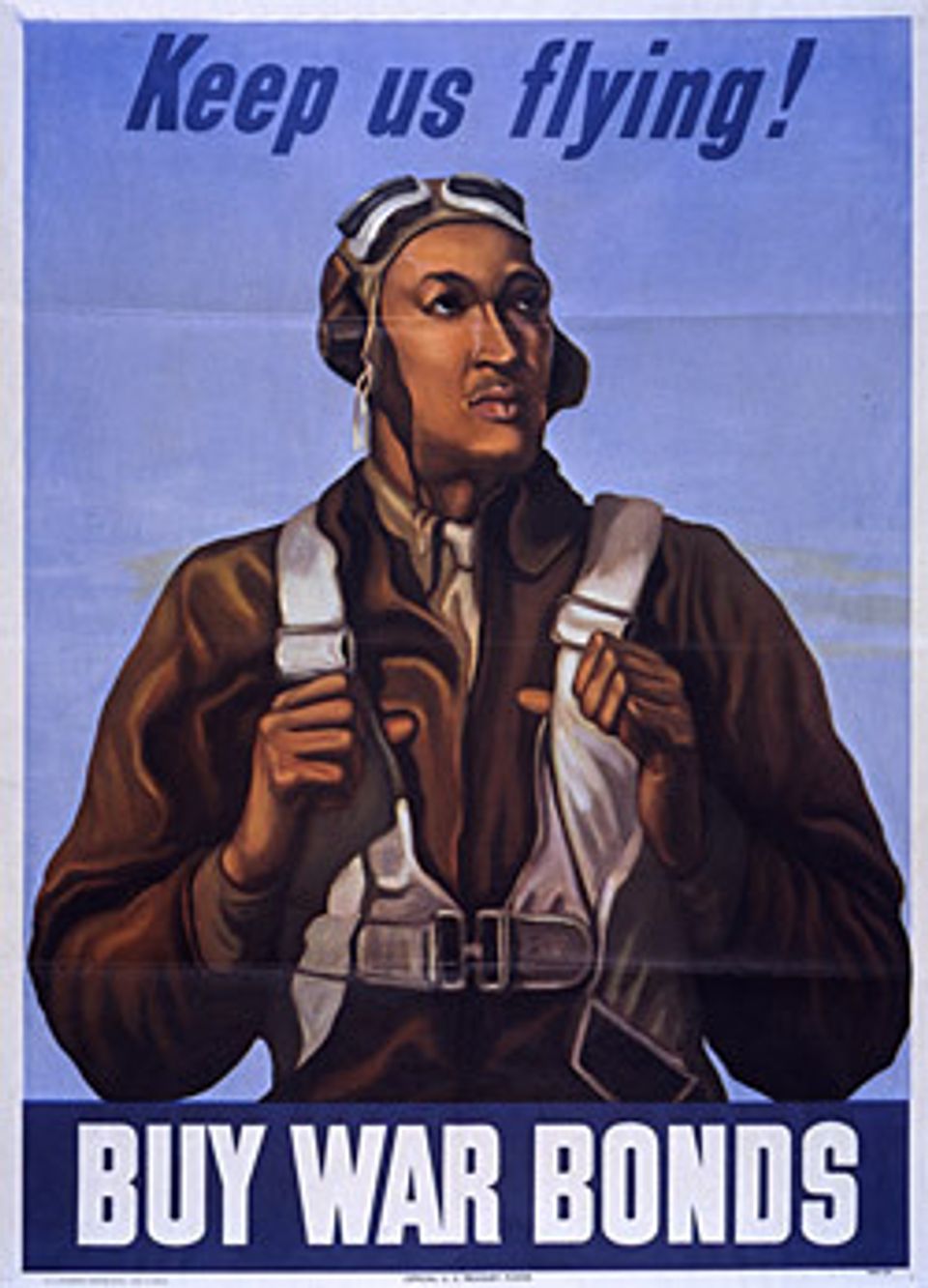 Members of the 99th Fighter Squadron, an all-black unit trained in Tuskegee, Alabama, were the first African American aviators in the U.S. military. They gained fame for their successful missions in North Africa and Italy. Recognizing their contributions, the U.S. Treasury sponsored this advertisement to sell war bonds. Keep us flying! was based on a painting of Major Robert Diez, a Tuskegee airman who flew 93 missions for the 99th Fighter Squadron. The squadron's distinguished record of service helped change attitudes about black Americans in the military, and this advertisement marks government's increasing efforts to appeal to an African American audience.
Listen to 3 audio clips about African Americans serving in World War II
Ezra Awumey talks with Sam Harmon about segregation during shore leave; Roscoe Brown Jr. and Javier Henriquez discuss Tuskegee airmen; and Leon May and Angela May talk about black marines.
Warning: This audio clip contains a word used to describe African Americans that is considered to be offensive by many. Historically, the word was used to describe African Americans in a derogatory manner. We have included it in this material because we feel that it is our duty to present oral histories and primary sources that tell the entire historical truth without censorship. In this recording, the word is spoken by individuals whose lives were touched by racism. In our complex society, the word is still used today in popular culture, among cohorts, and by those who one might classify as racist. Please listen to the recording prior to classroom use to determine if it is appropriate for your students. If you elect not to use this electronic resource, please note that non-audio materials do not contain any use of this word.