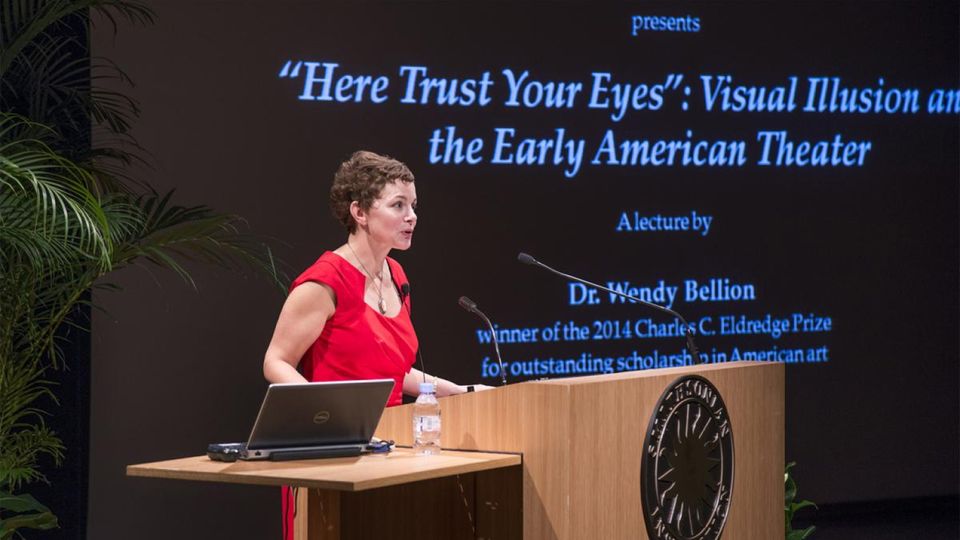 The Charles C. Eldredge Prize is awarded annually by the Smithsonian American Art Museum for outstanding scholarship in the field of American art
A cash award of $3,000 is made to the author of a recent book-length publication that provides new insight into works of art, the artists who made them, or aspects of history and theory that enrich our understanding of America's artistic heritage.
The Eldredge Prize seeks to recognize originality and thoroughness of research, excellence of writing, clarity of method, and significance for professional or public audiences. It is especially meant to honor those authors who deepen or focus debates in the field, or who broaden the discipline by reaching beyond traditional boundaries.
Funding for the Charles C. Eldredge Prize is provided by the American Art Forum, a patrons' support organization of the Smithsonian American Art Museum. The prize was instituted to honor Charles C. Eldredge, who founded the American Art Forum in 1986 during his tenure as director of the museum.
Single-author, book-length publications—including monographs, exhibition catalogues, catalogues raisonnés, and collected essays—in the field of American art history published in the three previous calendar years are eligible.
Publications devoted to all aspects of the visual arts of the United States collected or exhibited by the Smithsonian American Art Museum may be nominated. This includes the fields of painting, sculpture, graphic arts, photography and the moving image, decorative arts, craft, and folk art. Books focusing on methodology, criticism, patronage, iconography, and social history may also be nominated. Studies of architecture will not be considered. No work written by an employee of the Smithsonian American Art Museum or produced by its publications office is eligible.
Books are judged by three scholars of American art, appointed by the director of the museum. No member of its staff, governing board, advisory commission, or support organizations may serve as a juror. The jury reviews nominated books for originality and excellence of research, writing, and methodology, and considers their significance to the field. The jury's selection is announced in the spring.
Guidelines for Nomination
Deadline: January 15th is the deadline for nominations.
To nominate a book, send a one-page letter that explains the work's importance to the field of American art history and discusses the quality of the author's scholarship and methodology. Publications may be nominated by more than one person, and may be nominated in more than one competition if published in the eligible years. Nominations by authors or publishers for their own books will not be considered. Send letters of nomination to:

The Charles C. Eldredge Prize
Smithsonian American Art Museum
MRC 970, PO Box 37012
Washington, DC 20013-7012
Email: eldredge@si.edu
Fax: (202) 633-8372