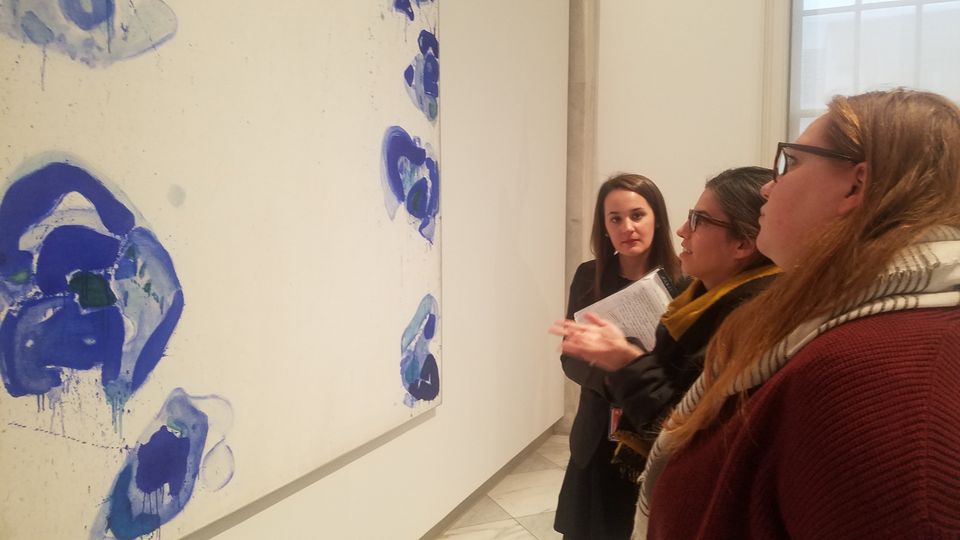 One fellowship will be awarded annually in support of a one-month (thirty-day) residency. Residencies must take place between June 1, 2024, and May 31, 2025, and begin on the 1st or 15th of the month. The Audrey Flack Short-Term Fellow will receive a stipend of $5,000 to support travel to and living expenses in Washington, D.C. Housing is not provided.
The Audrey Flack Short-Term Fellow will be provided with a Smithsonian badge and a study carrel in SAAM's Research and Scholars Center, located just one floor above the Archives of American Art and the American Art/Portrait Gallery Library. During their tenure, the fellow will have the chance to share their research with other SAAM fellows and attend various lunchtime seminars and professional development events.
The Audrey Flack Short-Term Fellowship is open to predoctoral, postdoctoral, and senior scholars researching topics in American art who reside, work, or attend school outside of commuting distance from Washington, D.C. Researchers whose personal circumstances (i.e., financial constraints, employment conditions, care-giving responsibilities, or other limitations) preclude them from participating in longer-term residencies are encouraged to apply. Applicants should submit a statement justifying the rationale for a short-term fellowship.
Projects that require access to SAAM's collections and staff expertise are prioritized, although those that utilize other Smithsonian resources are eligible.
SAAM believes that recruiting and maintaining an inclusive and diverse cohort of fellows is critical to our mission. We welcome applications from qualified persons of color; who are Indigenous; with disabilities; who are LGBTQ+; first-generation college graduates; those from low-income households; and who are veterans. The Smithsonian does not discriminate on grounds of race, color, religion, sex (including gender identity, sexual orientation, and pregnancy), national origin, age, disability, genetic information, parental status, or marital status.
No employee or contractor of the Smithsonian Institution may hold a Smithsonian fellowship during the time of their employment or contract, nor may an award be offered to any person who has been employed by or under contract to the Institution in the previous year, without prior approval.  
Application: forthcoming
Deadline: February 1, 2024

Applicants must identify a member of SAAM's research staff to serve as the primary fellowship advisor. To find a potential advisor whose research interests match yours, browse the museum's staff listings in the Smithsonian Opportunities for Research and Study guide or search our Staff Bios.  Applicants should consult with potential advisors before applying to ensure that the collections and archives they require will be accessible during the tenure proposed.
Applicants who are conducting research with Indigenous communities should describe the current state of consultation or collaboration with Indigenous artists and estates, knowledge holders, and communities relevant to the work, and demonstrate how the research is accountable to these rights holders. A letter of support from a tribal community member, knowledge holder, artist, or artist's estate will strengthen a proposal and may be submitted as an additional reference letter.
Audrey Flack (b. 1931) is an internationally acclaimed painter, sculptor, and a leader of photorealism. Her work resides in the collections of major art museums around the country, including SAAM, and her papers are available in the Archives of American Art. Known for her feminist and feminine subject matter, Flack has built her successful career as a painter, printmaker, and sculptor while raising two children, one with autism.