Objects Conservation Lab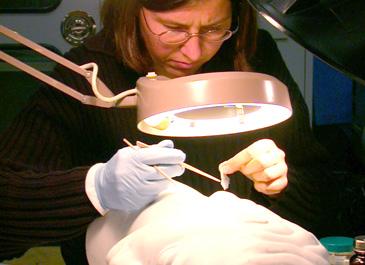 The three-dimensional objects treated in this lab are made of a variety of materials and often times a combination of materials. Conservators working here are trained and equipped to handle different types of stone, wood, metal, bone, shell, ceramic, leather, rubber, and synthetic materials. Treatments vary depending on the size, shape, and composition of the object, from the tiniest miniature locket to multi-ton sculptures.
Like all conservators, an objects conservator's responsibilities include research, monitoring environmental conditions, and evaluating preservation concerns for objects on loan, on exhibition, and in storage.
Conserving 3-Dimensional Objects