Artist
Albert Paley
born Philadelphia, PA 1944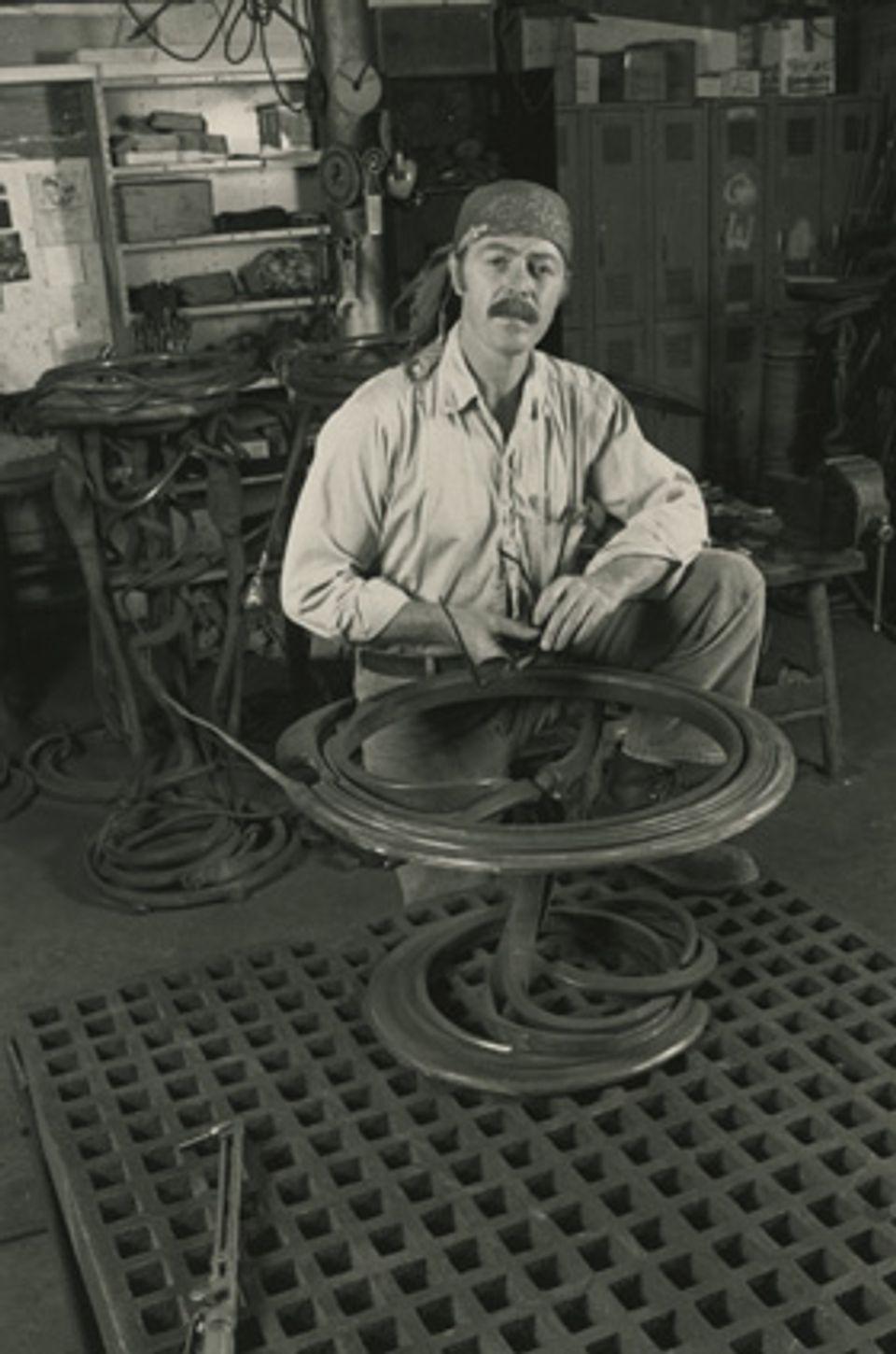 Active in

Rochester, New York, United States
Biography
Albert Paley earned B.F.A. and M.F.A. degrees at Tyler School of Art, Temple University, in 1966 and 1969 respectively. In 1969 he joined the faculty of the School for American Craftsmen at Rochester Institute of Technology, and the following year established gold-and metalsmithing studios in his Rochester home. He has also taught at the State University of New York at Brockport.
Seeking to transform the jeweler's art, Paley reinvented every aspect of the traditional pendant, necklace, or brooch, in order to highlight the relationship of the piece to the body. The most advanced of these "wearable sculptures" recapitulate and reinforce bodily structure and movement.
Paley was a highly successful jewelry artist in 1974 when he won the Renwick Gallery's national design competition and was awarded the commission to design decorative metalwork doors for the gallery shop. His Portal Gates [SAAM, 1975.117.1A-B] opened the door to a new career for Paley, leading to numerous commissions and world renown for his monumental architectural ironwork and sculpture. Paley's ironwork pays homage to European art nouveau and American abstract expressionism.
Kenneth R. Trapp and Howard Risatti Skilled Work: American Craft in the Renwick Gallery (Washington, D.C.: National Museum of American Art with the Smithsonian Institution Press, 1998)
Luce Artist Biography
Albert Paley began his career as a jeweler before progressing to larger-scaled metalworks, including furniture and architectural sculpture. Influenced by teacher and metalsmith Stanley Lechtzin, Paley questioned the purpose, method, and meaning of modern jewelry through his large, sculptural compositions. In 1974 the Renwick Gallery commissioned him to design and fabricate Portal Gates, a work that brought him international recognition. From this point, Paley abandoned jewelry for a different kind of career as an artist-blacksmith, forging ferrous metal into pieces that combine organic forms from European art nouveau and postwar American abstract expressionism. "The only thing that's really alive is the process of creation. After that it is gone, it's only past reference." Artist quoted in Albert Paley: The Paradox of Iron, 1982