Artist
Edward Moulthrop
born Rochester, NY 1916-died Atlanta, GA 2003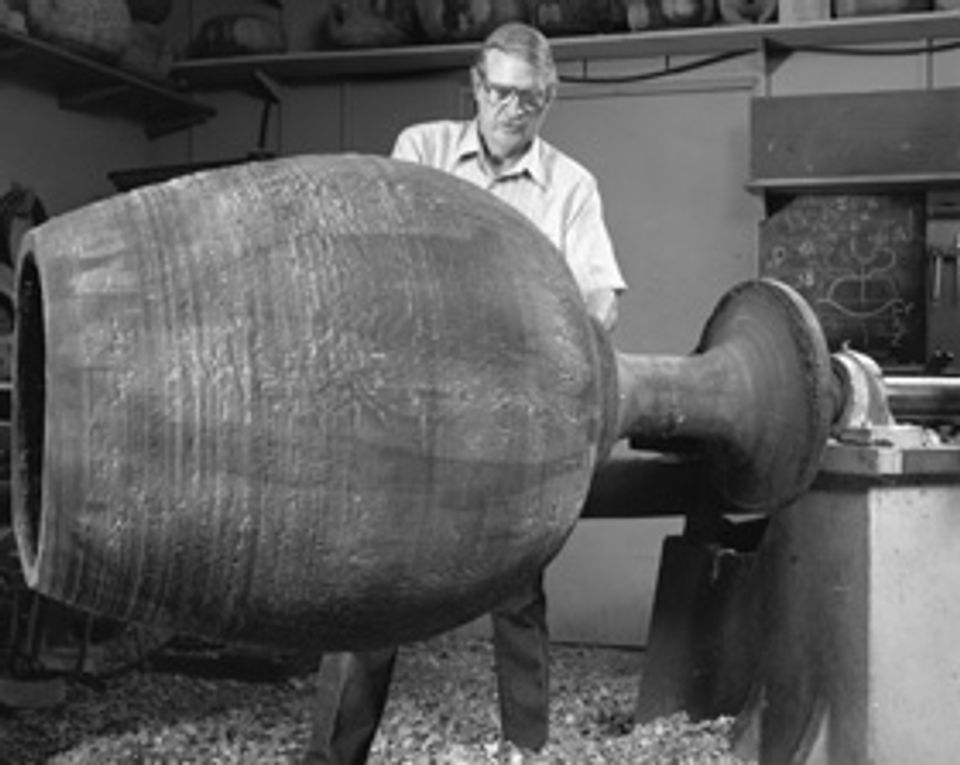 Biography
Born in Cleveland, Edward Moulthrop earned a B.A. degree in architecture in 1939 at Case Institute of Technology and an M.F.A. at Princeton University in 1941.
Trained as an architect, Moulthrop is a self-taught woodturner and a major figure in the contemporary woodturning movement in America. He creates enormous architectonic vessels made of woods indigenous to the southeastern region of the country, where he lives and works. He particularly favors rotted wood, which, when turned, reveals striations on the vessel's surface. To produce his vessels, Moulthrop uses mammoth cutting tools of his own design, a large-scale lathe he also made, and polyethylene glycol.
Moulthrop has received many awards, including two medals from the American Institute of Architects in 1978 and 1980 and the Georgia Governor's Award in the Arts in 1981.
Kenneth R. Trapp and Howard Risatti Skilled Work: American Craft in the Renwick Gallery (Washington, D.C.: National Museum of American Art with the Smithsonian Institution Press, 1998)
Luce Artist Biography
Ed Moulthrop purchased his first lathe from Popular Mechanics magazine when he was fifteen. There were no instructions or tools with the machine, so he fashioned his own equipment and taught himself to operate it, developing an experimental approach that continued throughout his life. Moulthrop was a true pioneer of woodturning, known for his revolutionary large vessels that could be more than forty inches wide. He used the whole diameter of the log "to show the full radiating pattern." These huge pieces of wood often weighed more than one and a half tons and required an electric lift to mount them on the lathe.