Artist
Ernest L. Blumenschein
born Pittsburgh, PA 1874-died Albuquerque, NM 1960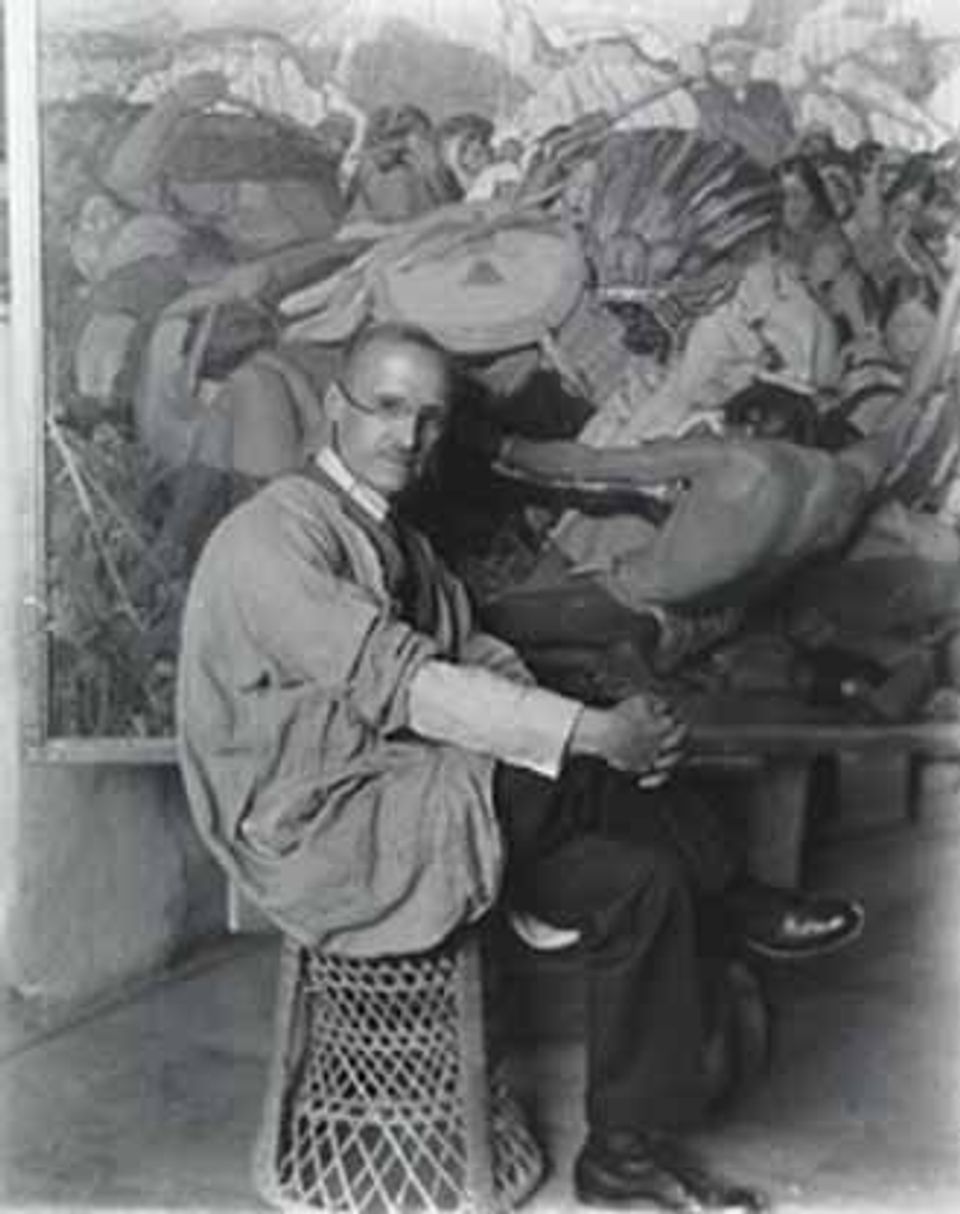 Also known as

Ernest Leonard Blumenschein
Ernest Blumenschein

Active in

Taos, New Mexico, United States
Biography
Painter and one of the founders of the Taos Society of Artists in Taos, N. M. For many years he divided his time between New York City—where he worked as an illustrator and taught at the Art Students League—and Taos, finally moving to the West in 1919. His landscapes often depicted Native-American and Mexican-American subjects.
Joan Stahl American Artists in Photographic Portraits from the Peter A. Juley & Son Collection (Washington, D.C. and Mineola, New York: National Museum of American Art and Dover Publications, Inc., 1995)
Artist Biography
Painter. Born in Pittsburgh and raised in Dayton, Ohio, Blumenschein was offered a scholarship to study violin at the Cincinnati Conservatory when he was seventeen. After a year of music training, however, he chose to follow his interest in art. He studied first at the Cincinnati Art Academy, then at the Art Students League in New York and the Académie Julian in Paris, where in 1895 he met Joseph Henry Sharp, who had already been to Taos, and Bert G. Phillips. On the advice of Sharp, Bumenschein and Phillips set out on a sketching trip to Taos in 1898. Blumenschein returned to Paris in 1899 and remained, with the exception of one trip home, until 1909. From 1910 until 1918, he spent summers in New Mexico and the rest of the year in New York, where he continued to work as an illustrator and to teach at the Art Students League. In 1915 he was a founding member of the Taos Society of Artists with Phillips, Sharp, Oscar E. Berninghaus, E. Irving Couse, and W. Herbert Dunton. His colleagues regarded him as the most accomplished painter of the group. After moving permanently to Taos in 1919, Blumenschein and his artist wife Mary contributed significantly to the development of the art community.
References
"Blumenschein Is Interviewed," pp. 84–86.
Henning. Ernest L. Blumenschein Retrospective.
Brown, Sherry. "Ernest L. Blumenschein, 1874–1960" Artists of the Rockies and the Golden West 9 (Spring 1982): 68–75.
Bickerstaff. Pioneer Artists of Taos, pp. 29–50.
Charles Eldredge, Julie Schimmel, and William H. Truettner Art in New Mexico, 1900–1945: Paths to Taos and Santa Fe (Washington, DC: National Museum of American Art, Smithsonian Institution, 1986)
Luce Artist Biography
Ernest Blumenschein studied violin at the Cincinnati College of Music, but after working as an illustrator for his high school newspaper, he sensed that he had found his calling. To pay for courses at the Art Students League, he played for the New York Symphony for two years, under the direction of Czech composer Anton Dvorák. He saved enough money to move to Paris to sharpen his painting skills. Back in the United States, an assignment for McClure's Magazine took him to Taos, New Mexico, for the first time. Charmed by the Southwest, Blumenschein eventually settled there along with other East Coast artists who had grown tired of life in the city. As Blumenschein later recalled, "We all drifted into Taos like skilled hands looking for a good steady job . . . We lived only to paint. And that is what happens to every artist who passes this way." (Henning, ed., Ernest L. Blumenschein Retrospective, 1978)