Artist
George Inness
born Newburgh, NY 1825-died Bridge of Allan, Scotland 1894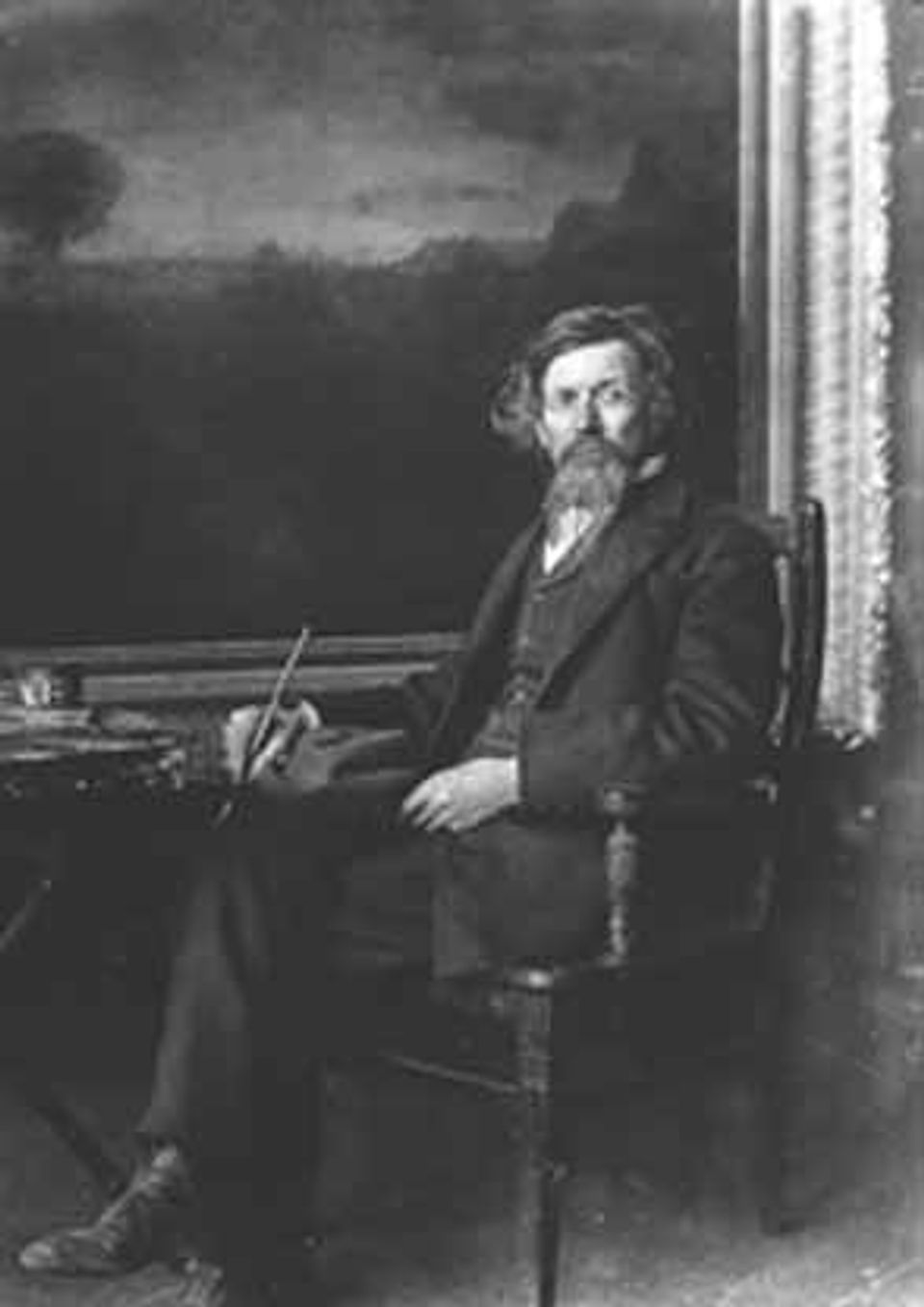 Died

Bridge of Allan, Scotland

Active in

California, United States
New York, New York, United States
Montclair, New Jersey, United States
Biography
Landscape painter, largely self-taught. Inness absorbed influences of the Barbizon and Hudson River Schools. The rich colors and emotional intensity in his later works were likely derived from his study of the pantheistic philosophy of Emanuel Swedenborg.
Joan Stahl American Artists in Photographic Portraits from the Peter A. Juley & Son Collection (Washington, D.C. and Mineola, New York: National Museum of American Art and Dover Publications, Inc., 1995)
Artist Biography
George Inness was born in New York City and grew up on a farm in Newark, New Jersey. His minimal art training consisted of time spent with an itinerant artist, John Jesse Barker (who had studied with Thomas Sully), and a year's apprenticeship to a map engraver. In 1844 he began exhibiting in New York, and later spent a month working with the landscape painter Regis Gignoux. During most of his life, he kept a studio in New York. Although he claimed that his concentration was limited by his "fearful nervous disease"—epilepsy—by 1860 he was considered "a man of unquestionable genius." At the outbreak of the Civil War, lacking the good health to enlist, he offered bounties to those who did and painted uplifting allegorical landscapes. During the same years, Swedenborgianism would significantly influence his art and life. So would residence in New England. In 1860 he moved to Medfield, Massachusetts, where he spent four years painting pastoral scenes in the fresh air in an effort to restore his health. He returned during the summer of 1875, living at the Kearsarge House at the base of the White Mountains. He painted several landscapes of the mountain, but concentrated on atmospheric effects rather than the grandeur of the scenery, which most previous artists had emphasized. During two subsequent summers on Nantucket (1879 and 1883) Inness's style softened further, approaching the tonalist harmonies that prevailed in his late work.
William H. Truettner and Roger B. Stein, editors, with contributions by Dona Brown, Thomas Andrew Denenberg, Judith K. Maxwell, Stephen Nissenbaum, Bruce Robertson, Roger B. Stein, and William H. Truettner Picturing Old New England: Image and Memory (Washington, D.C.; New Haven, Conn; and London: National Museum of American Art with Yale University Press, 1999)
Luce Artist Biography
George Inness knew from a young age that he wanted to be an artist. His family had other ideas, however, and when George was a teenager, his father bought him a grocery store. The future artist was determined not to be a grocer and spent most of his time in the store painting, hiding under the counter whenever customers appeared. His father eventually relented and George was sent to New York to apprentice with an engraving firm. Poor health forced his return to New Jersey, but he continued painting and, in 1843, was accepted into the National Academy of Design. He rejected the fashion for sentimental narrative scenes, and instead painted quiet, poetic landscapes of the natural world. A follower of the spiritualist Emanuel Swedenborg, Inness believed that man, nature, and the divine were all in harmony, and he wanted his work to reflect this. He described his paintings as "civilized landscapes" rather than wildernesses, and often included fields, structures, or figures as evidence of man's presence.