Artist
John Henry Twachtman
born Cincinnati, OH 1853-died Gloucester, MA 1902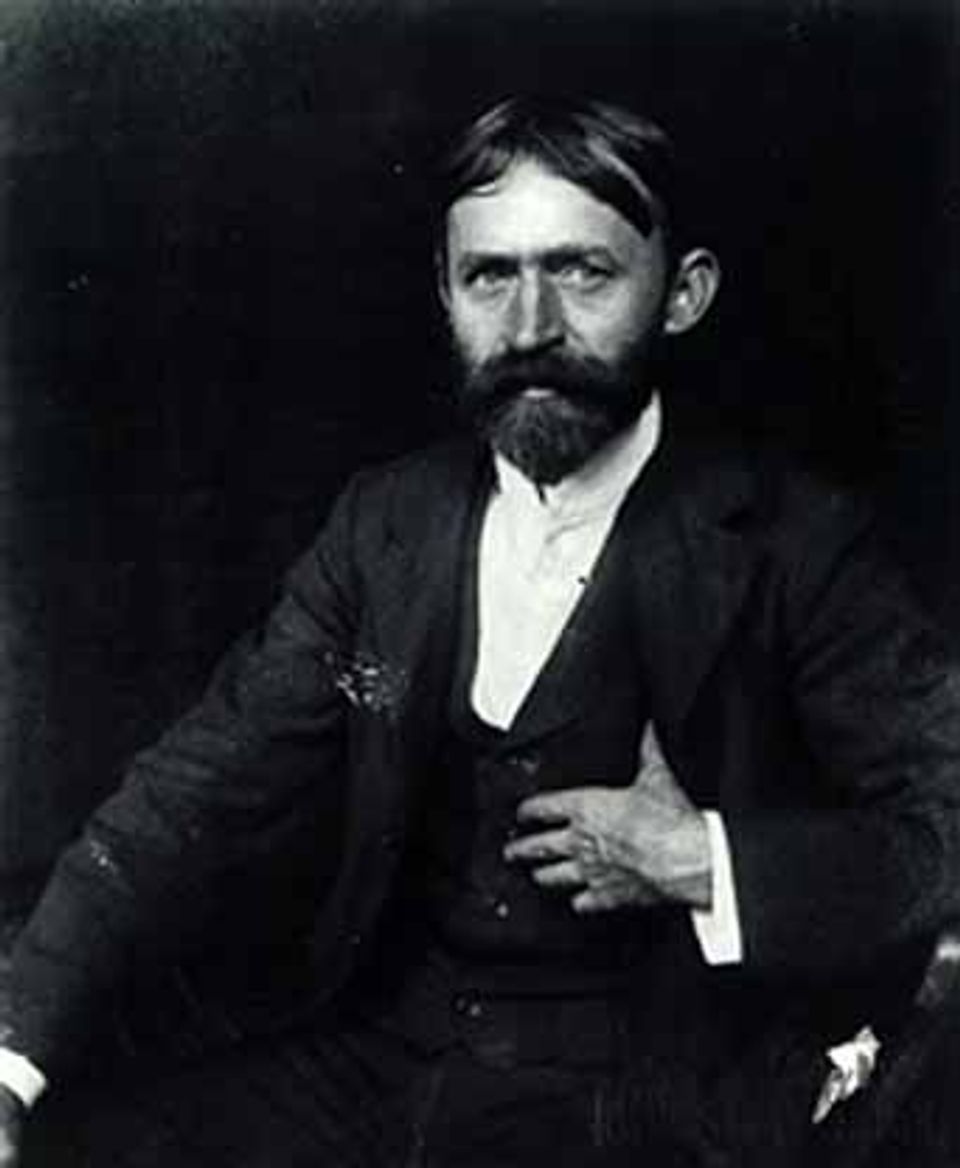 Born

Cincinnati, Ohio, United States

Active in

Munich, Germany
Greenwich, Connecticut, United States
Biography
Painter, founding member of The Ten. He studied with Frank Duveneck, and his early canvases reflected the influence of the Munich Academy. The mature work showed a concern for light and subtle tonalities, expressed in poetic and monochromatic evocations of the landscape.
Joan Stahl American Artists in Photographic Portraits from the Peter A. Juley & Son Collection (Washington, D.C. and Mineola, New York: National Museum of American Art and Dover Publications, Inc., 1995)
Artist Biography
John Twachtman, the son of German immigrants, was born in Cincinnati, Ohio, and had his first art training at the Ohio Mechanics Institute. In 1871 he enrolled in the McMicken School of Design where he studied with Frank Duveneck, who had just returned from several years of work in Munich. At Duveneck's urging Twachtman journeyed to Munich and enrolled in the Royal Academy of Fine Arts. There he readily acquired skills in modeling forms, dark tonality, and bravura brushwork. Armed with these skills he set out for Venice, seeking to apply them to the city's ambient light and air, but with mixed results.
In 1883 he traveled to Paris to study at the Académie Julian and suffered a violent reaction against his brownish Munich training. Deeply impressed by the painting of Whistler and the impressionists, and encouraged by Theodore Robinson and Childe Hassam, he moved toward a lighter palette and a more abstract simplification of forms. During his years in France he produced the most popular and profitable work of his career. Prompted perhaps by Whistler's delicate and evocative Venetian pastels, Twachtman now reduced detail and with broad, flat planes of thinly washed grays and green produced magnificently simple and suggestive canvases such as Arques-la-Bataille (1885), now at the Metropolitan Museum of Art. The Japanese influence beautifully proclaimed itself.
In 1887, Twachtman returned to America and settled in an old farmhouse surrounded by seventeen acres at Cos Cob, Connecticut. Nearby, his closest colleague and most intimate friend, J. Alden Weir, had just previously settled down. Though Twachtman enjoyed several warm friendships in the artistic community he was essentially a "loner," a moody man given to fits of depression and most at ease communing with nature. "To be isolated is a fine thing and we are then nearer to nature," he wrote. His friends called him a true Thoreauvian.
At his new home Twachtman found or fabricated natural forms, which he painted repeatedly and in all seasons. He preferred to paint close-ups, "bits" as he called them, rather than broad panoramic views. With high or no horizons these were often painted on square canvases, which stabilized the image by minimizing dynamic movement in any direction. Within these parameters his strong sense of design and feel for abstraction gave solid structure to his work. His brushwork now became more impressionist and better attuned to the atmospheric effect he desired.
He became most skilled at depicting winter scenes, studies in whiteness, more tonalist than impressionist. He loved the winter and "that feeling of quiet and all nature is hushed to silence." Modern realism, he complained, "consists too much of representation of things." On canvas, he reduced winter to its essentials enabling him to evoke the poetic, mystical mood of nature.
The appeal of these works proved elusive to the public and the paintings did not sell, and Twachtman became increasingly depressed and discouraged. Domestic difficulties had prompted a separation from his wife and children. In 1900 he was induced to venture his efforts in another direction. Gloucester, Massachusetts, offered a new and different subject to his brush. On the picturesque waterfront of New England's premier fishing town his work moved away from the dissolution of form seen in his Cos Cob paintings toward a much more objective rendering of concrete subject matter. The sinuous contours of brooks and snowdrifts were replaced by the geometric forms of docks and vessels. Angles replaced curves and structure became more explicit and central.
Sadly the rejuvenation proved brief. In August 1902 a ruptured appendix prematurely ended his life. His place among the Ten American Painters, which he had only recently joined, was assumed by William Merritt Chase.
Emery Battis Artist Biographies for the exhibition American Impressionism: Treasures from the Smithsonian American Art Museum (Washington, D.C.: Smithsonian American Art Museum, 2000)
Luce Artist Biography
John Henry Twachtman was witty and irreverent, and he was known for playing practical jokes on unsuspecting friends. He was a waiflike figure who wore a long, thin mustache and a closely trimmed beard, and his student Violet Oakley remembered that his eyes were "often half hidden under a sort of tangle of fair hair." (Peters, John Henry Twachtman: An American Impressionist, 1999) Twachtman was a force in the art world, founding an informal art school at Cos Cob, Connecticut, and teaching in New York. He spent most of his career painting the landscape of his Connecticut property in quiet scenes inspired by Japanese prints. In these intimate paintings he often placed the horizon line at the top of the canvas, giving the viewer a sense of being nestled in the landscape. (Pyne, "John Twachtman and the Therapeutic Landscape," in Chotner et al., John Twachtman: Connecticut Landscapes, 1989)