Artist
John Sloan
born Lock Haven, PA 1871-died Hanover, NH 1951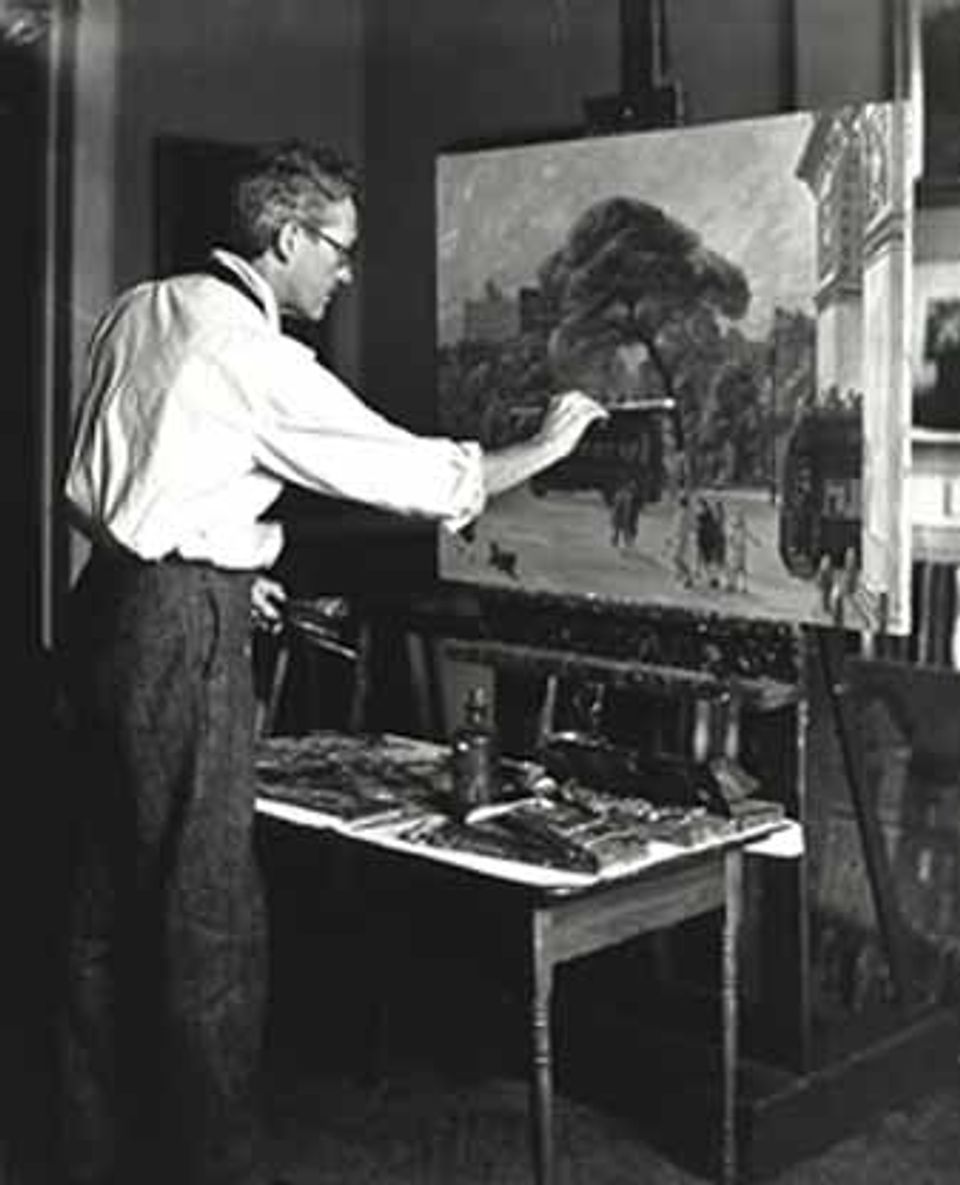 Active in

Philadelphia, Pennsylvania, United States
Gloucester, Massachusetts, United States
Sante Fe, New Mexico, United States
New York, New York, United States
Biography
Painter, illustrator and teacher. With William Glackens, George Luks, Robert Henri, and Everett Shinn, Sloan was part of the Ashcan School. His sympathetic, but unsentimental, depictions of urban life and the working class expressed his commitment to social reform.
Joan Stahl American Artists in Photographic Portraits from the Peter A. Juley & Son Collection (Washington, D.C. and Mineola, New York: National Museum of American Art and Dover Publications, Inc., 1995)
Artist Biography
In 1888, having grown up in Philadelphia, Sloan had to leave high school in his senior year when his father's business failed. He took a job as a cashier with a book and print dealer and found he was able to sell the greeting cards and copies of etchings by Rembrandt and Dürer that he had made. His subsequent training consisted of commercial artwork—calendars, illustrations, and greeting cards—and an evening class in drawing at The Pennsylvania Academy of the Fine Arts taught by Thomas Anshutz. Sloan began his career as an illustrator for newspapers and magazines, a profession that had attracted other future Ashcan painters then living in Philadelphia. When they—Henri, Luks, Glackens, and Shinn—moved to New York, Sloan followed, improved his oil technique, and was soon a full-fledged, exhibiting member of the Ashcan group.
In Gloucester for only five summers (1914–18), Sloan painted primarily landscapes and seascapes, but a total of almost 300 works—more than in the preceding twenty-four years of his career. These summers gave Sloan an opportunity to explore approaches to painting that he had not had the time or resources to explore while earning a living as an illustrator. Just as many saw New England as a touchstone for the founding ideas of the nation, the region served as a source of renewed creativity for Sloan.
Joann Moser Singular Impressions: The Monotype in America (Washington, D.C. and London: Smithsonian Institution Press for the National Museum of American Art, 1997)