Artist
Joseph E. Yoakum
born Ash Grove, MO 1891-died Chicago, IL 1972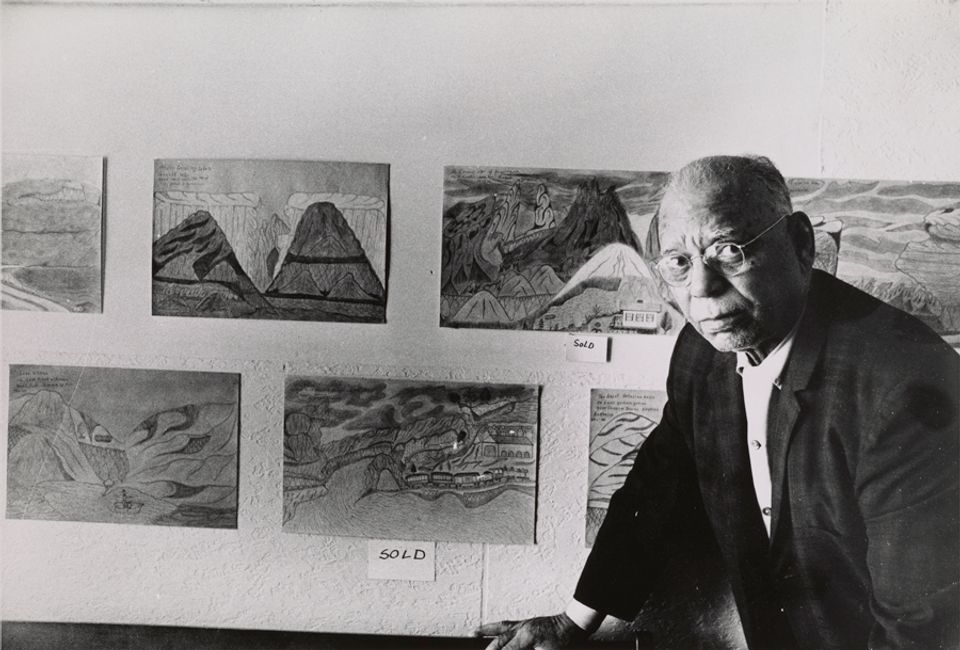 Biography
Yoakum began drawing in the early 1960s. Most of his work consists of radiantly colored landscapes with mountains, water, trees, and winding roads in abstract and complex configurations. his period of greatest activity—1965 to 1970—when he usually made one drawing a day.
Yoakum maintained he had seen all the places represented in his drawings, a statement that may not be true in some instances. He traveled a great deal, beginning in his early teens when he ran away from home and became a circus handyman. Yoakum's drawings can be considered memory images growing out of either actual or imagined experiences. All of his drawings have titles that grew longer and more specific over the years. He dated hisworks with a rubber stamp—an oddly impersonal, labor-saving device.
Lynda Roscoe Hartigan Made with Passion: The Hemphill Folk Art Collection in the National Museum of American Art (Washington, D.C. and London: National Museum of American Art with the Smithsonian Institution Press, 1990)
Artist Biography
"I tell you—There's few places I haven't been—of any size that is. And there's nothing I haven't suffered to see things first hand." —Joseph Yoakum, quoted in Christine Ramberg, diary excerpts, 29 May 1969,Whitney Halstead Papers: 2 (Archives of American Art, Smithsonian Institution, Washington, D.C.)
Athough Joseph Yoakum gave vastly different accounts of his background, he was, throughout his life, classified as an African American. Sometimes Yoakum claimed that he was a full-blooded "Nava-joe" Indian, one of twelve or thirteen children born to a farmer on an Indian reservation in Window Rock, Arizona. At other times he insisted that he was of African-American descent. He described his mother as a strong woman who was a doctor and knowledgeable in the use of herbal medicines. Yoakum's family moved to Kansas City, Missouri, during his early childhood. His father was employed briefly in the railroad yards prior to settling permanently on a farm in nearby Walnut Grove in southwest Missouri. Although Yoakum said that his formal schooling consisted of only three or four months, the character of the notations on his drawings suggests greater exposure to formal training.
The early years of Yoakum's life were apparently nomadic. He claimed to have run away from home during his early teens to join a circus. He also claimed to have worked with Buffalo Bill before 1903, when he became the personal valet of John Ringling of the Ringling Brothers Circus. Between 1905 and 1910, Yoakum may have visited Europe, Russia, Mexico, the Middle East, China, Siberia, Canada, Central America, and South America. His first marriage occurred around 1910 and produced five children. He married again in 1929.
Yoakum served in the Unites States Army during World War I and was stationed at one time in France. The specific location and nature of his activities after his military discharge until his artistic career began in the early 1960s are uncertain. Yoakum said that he worked at a variety of jobs throughout the United States. In the early 1940s, he and his wife operated an ice cream parlor on Chicago's South Side. By the late 1950s, however, Yoakum was widowed, retired, and living in a housing project for the elderly in Chicago. In 1966, Yoakum moved from the project to a storefront on the South Side. He lived there until he was hospitalized and placed in a nursing home in 1971; he died there the following year.
According to Yoakum, he was motivated to draw as the result of a dream around 1962. He described his process of working as a "spiritual enfoldment," meaning that his imagery was revealed as he worked. Yoakum's earliest drawings were done on small pieces of white or Manila paper with pen or pencil and little or no color. He graduated to larger pieces of paper and applied more color to his drawings as he drew with greater frequency.
Although Yoakum enjoyed doing celebrity-oriented portraits, the majority of his drawings are landscapes. In his hundreds of variations, real or imagined, mountains and water are the major themes. Between 1965 and 1970, Yoakum drew constantly and sometimes completed several pictures a day, often similar in theme, yet distinctly different in design. He kept an assortment of travel books, an atlas, and the Encyclopedia Britannica and took great pains to include inscriptions that name geographical details ranging from valleys to continents. Nonetheless, the scenes in Yoakum's landscapes are generally not identifiable. Yoakum usually signed and dated his landscapes in the upper left corner. Occasionally he used a rubber stamp to indicate the date—adding what he called a "touch of class." Yoakum's world was intensely private. His religious beliefs were rooted in the view that God and nature were the same thing. He expressed this belief in hundreds of drawings that are delicate, sensitive, and poetic—in contrast to the bold, if not brash, character of most contemporary folk art.
Regenia A. Perry Free within Ourselves: African-American Artists in the Collection of the National Museum of American Art (Washington, D.C.: National Museum of American Art in Association with Pomegranate Art Books, 1992)