Artist
Luis Jiménez
born El Paso, TX 1940-died Hondo, NM 2006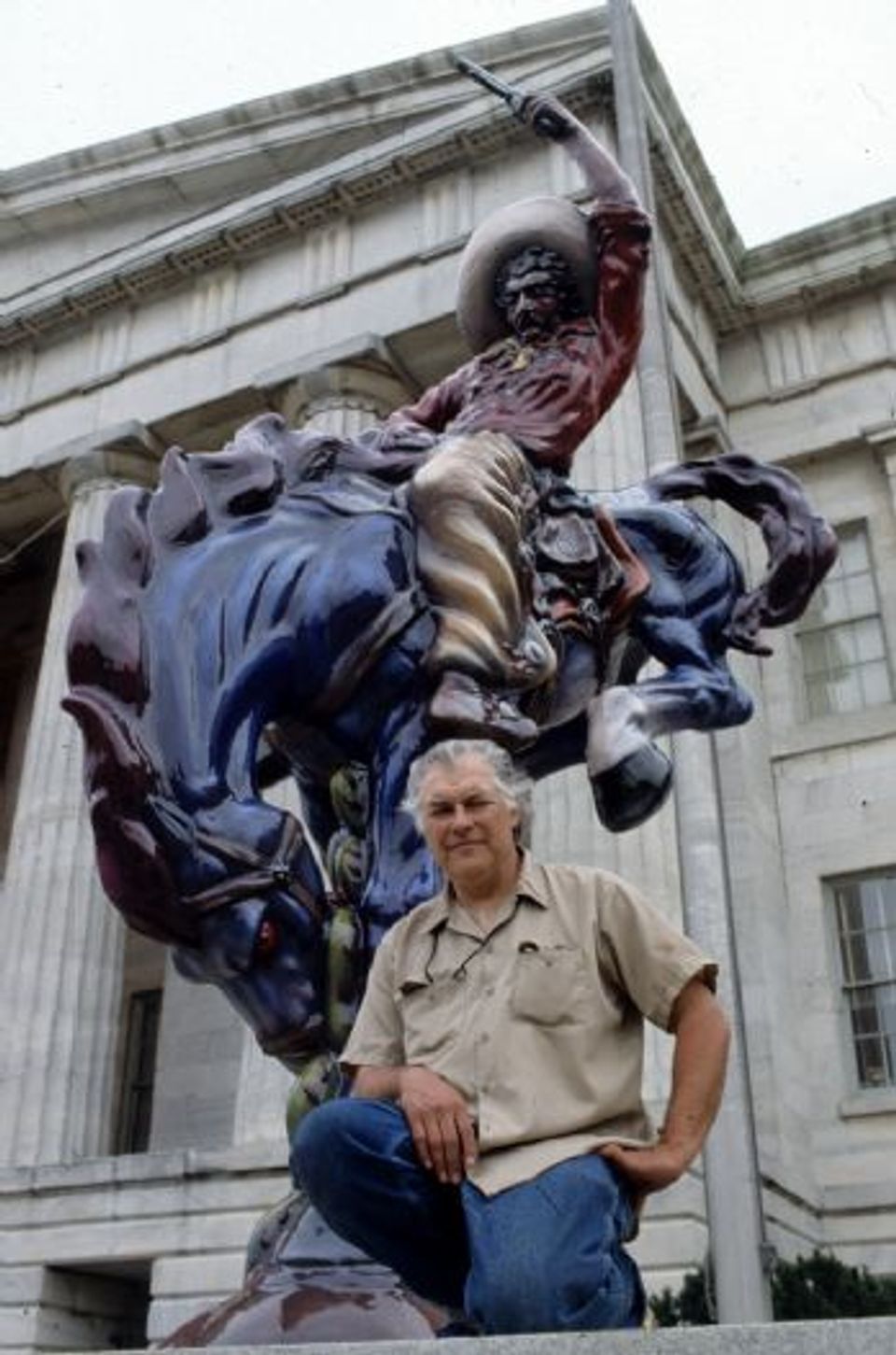 Also known as

Luis Alfonso Jiménez Jr.
Luis A. Jiménez
Luis A. Jiménez Jr.
Luis Alfonso Jiménez
Luis Jimenez

Born

El Paso, Texas, United States
Biography
Born in Texas, lives in New Mexico. Sculptor, teacher whose large fiberglass figures capture the color and vigor of Hispanic-American women and men.
Charles Sullivan, ed American Beauties: Women in Art and Literature (New York: Henry N. Abrams, Inc., in association with National Museum of American Art, 1993)
Artist Biography
Luis Jiménez studied architecture and art at the University of Texas at Austin, receiving his B.F.A. degree in 1964. Following a brief stay in Mexico and six years in New York, he returned to the Southwest in the early 1970s. He now divides his time between El Paso, Texas, and Hondo, New Mexico.
Although Jiménez is primarily a sculptor, he is also accomplished at color lithographs and colored-pencil drawings. He executes preparatory drawings to work out the conceptual and and formal configurations of his sculptures, which are made of fiberglass cast in a mold, then painted and coated with epoxy. His New York sulptures, such as Man on Fire, [SAAM, 1979.124] involve themes of political and social satire, while those made after his return to the Southwest focus on that region's Mexican and Anglo-American communities.
Man on Fire, a larger than life-size sculpture, was inspired by Jose Clemente Orozco's 1938–39 dome painting in the Cabanas Orphanage in Guadalajara, Mexico. The work, which evokes the story of Cuauhtemoc, the legendary Aztec warrior who was tortured to death with fire by the Spaniards soon after the Conquest of Mexico in 1521, also reflects Luis Jiménez's keen awareness of Vietnamese monks who practiced self-immolation as a protest against the war in the 1960s.
Jiménez combines size, color, and pose to create a dramatic and heroic effect in this impressive work. The flaming figure strikes a triumphant stance with legs spread apart. The flames swirl up from a container placed between the figure's legs, moving up the right side of the torso across the back, around the head, and finally over the entire surface of the extended left arm.
Hispanic-American Art (brochure, Washington, D.C.: National Museum of American Art)
Luce Artist Biography
As a child, Luis Jiménez apprenticed at his father's neon-sign studio. He studied art and architecture at the University of Texas and then traveled to Mexico City, where he studied the famous Mexican muralists. Jiménez taught art at an El Paso junior high school until he was temporarily paralyzed from the chest down in a car accident. In 1966 the artist moved to New York, where he began making painted fiberglass figurative works inspired by the everyday lives of Latin Americans living in the Southwest. His work shows his concern for working-class people and those who have suffered from discrimination. One such work, Vaquero, celebrates the Mexican tradition of the caballero and can be seen outside the Smithsonian American Art Museum.