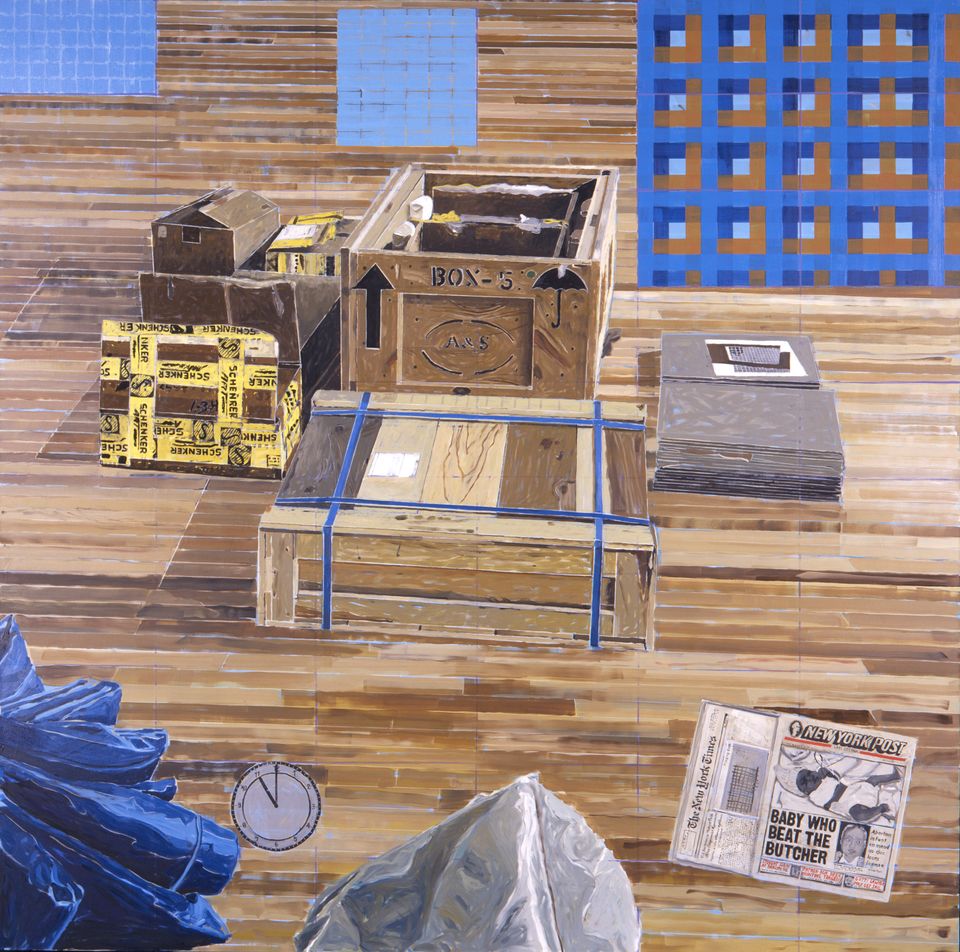 Copied
Jennifer Bartlett,
Air: 24 Hours, Eleven A.M.
, ca. 1991-1992, oil on canvas, Smithsonian American Art Museum, Gift of Mr. and Mrs. Barney A. Ebsworth, 1997.49, © 1992, Jennifer Bartlett
Title

Air:

24

Hours, Eleven A.M.

Artist

Dimensions

84

x

84

x

1

5

⁄

8

in. (

213

.

4

x

213

.

4

x

4

.

1

cm)

Copyright

© 1992, Jennifer Bartlett

Credit Line

Gift of Mr. and Mrs. Barney A. Ebsworth

Mediums

Mediums Description

oil on canvas

Classifications

Keywords

Object — written matter — newspaper
Object — other — container
Allegory — time — day

Object Number

1997.49
Jennifer Bartlett painted twenty four canvases marking each hour in a day at her studio. Here, strips of wall paneling and flooring represent the sixty minutes and thirty-six hundred seconds in an hour. But the artist throws in several confusing elements to destabilize this orderly and rational grid. A viewer can barely tell where the floor ends and the wall begins. Blue squares evoke windows and solid objects simultaneously. Throughout the painting, this same blue pushes out through gaps in the brown grid, as though the studio were about to disintegrate. A lurid tabloid and other seemingly unrelated objects suggest a story that we can't quite pin down. Bartlett claims that she has "an infinite capacity for work and none for reflection," and she may have intended only to record the appearance of her studio at a particular moment. The newspapers, packing material and boxes, however, suggest events "out there" intruding on the tightly controlled world of Bartlett's studio.