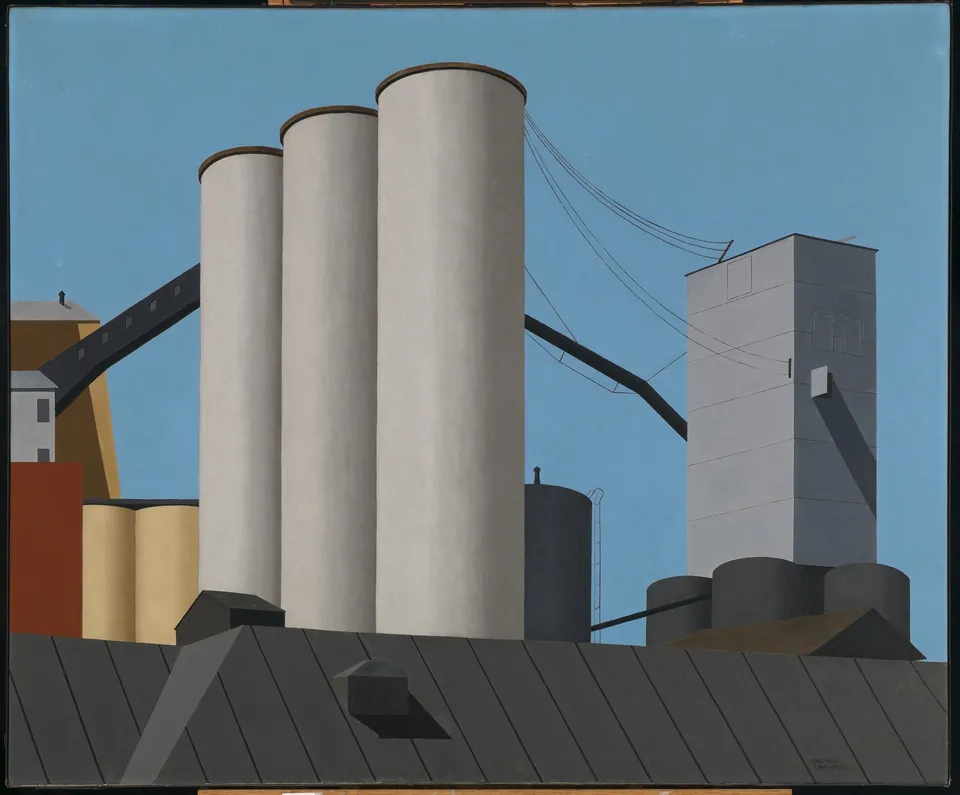 Copied
Ralston Crawford,
Buffalo Grain Elevators
, 1937, oil on canvas,
40
1
⁄
4
x
50
1
⁄
4
in. (
102
.
1
x
127
.
6
cm.), Smithsonian American Art Museum, Museum purchase, 1976.133
Title

Buffalo Grain Elevators

Artist

Location

Dimensions

40

1

⁄

4

x

50

1

⁄

4

in. (

102

.

1

x

127

.

6

cm.)

Credit Line

Museum purchase

Mediums

Mediums Description

oil on canvas

Classifications

Keywords

Landscape — New York — Buffalo
Architecture Exterior — industry — grain elevator

Object Number

1976.133
Beginning in the 1860s, vast reserves of Midwestern grain were shipped across the Great Lakes to Buffalo, where as many as 280 million bushels a year were stored and milled. Crawford intensified the monumental scale and severe beauty of the storehouses by simplifying what he saw into abstract forms. The solid blue tone of the sky becomes a shape all its own, interlocking with the silhouettes of roofs and elevators.
But this painting is more than an artist's exercise. Crawford grew up in the city and shipped aboard Great Lakes freighters with his father. In the late 1930s, Buffalo began to lose its central position in the grain business when Ontario's Welland Canal opened, providing cheaper freight routes to the East Coast. Crawford used chilly colors and raking light to suggest an industrial complex frozen in silence, signaling the end of an era in his hometown.